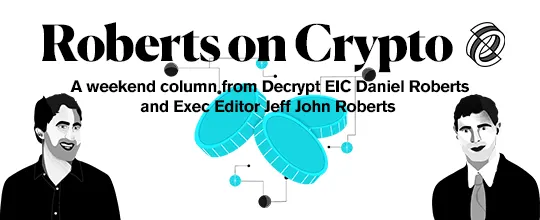 Here's something you might have missed this week amid news that cryptocurrency exchange FTX had raised $900 million in the largest ever funding round for a crypto exchange: Binance, an early investor, exited its position. (Binance was an early investor in FTX in 2019.)
FTX CEO Sam Bankman-Fried and Binance CEO Changpeng "CZ" Zhao, in multiple (separate) interviews, both tried to frame the breakup as routine and unremarkable.
But come on.
CZ told Forbes the move was "part of a normal investment cycle." Bankman-Fried, in an extensive interview with Decrypt's Adriana Hamacher, said, "I think it just makes sense given the role that our businesses are playing in the space. It can also give us more flexibility going forward."
It's what Bankman-Fried said next, when asked for his take on Binance's recent string of regulatory problems, that is most telling: "It's been quite the barrage. I'm not involved in the conversations between them and regulators, and so all I can do is speculate, but something I'll say is that we try really hard to be as cooperative as we can with regulators… I think that when you don't do that, and when you sort of appear less flexible or responsive, I think that's more likely to lead to cases where regulators might feel like they have no choice but to start bringing the hammer." Later, he added, "I think there are some differences between how we run our businesses. I think there are ways I would have reacted, responded, and run things differently."
Bankman-Fried has been careful not to say he bought out Binance's shares in order to distance his company from Binance. So I'll do it for him: that's obviously the reason.
The largest crypto exchange in the world has been under fire from multiple regulators in recent weeks, including in the U.K., Italy, Japan, and the Cayman Islands. As a result, multiple banks and payment processors cut off customer transfers to Binance.
Rival crypto exchanges now see an opportunity, in contrast, to play nice (or at least look like they want to play nice) with regulators. As a Businessweek story framed it earlier this month, Coinbase, Kraken, and Gemini "have a plan to beat Binance: play by the rules." And that was even before FTX bought out Binance's shares. (The FT reports that hedge funds are also backing away from Binance.)
To be fair, Binance, like every other exchange, says it has no issue with regulators. "Everyone thinks that Binance doesn't want to comply with U.S. regulations, or any regulations," CZ told me in May. "But that's totally off. Binance is actually the most compliant organization in the world, I think, in the crypto space." (Don't laugh.)
Binance clearly made a killing on its FTX investment. Neither side is disclosing financials, but Bankman-Fried says, "Obviously they did quite well," and CZ told Forbes, "We've seen tremendous growth from them, we're very happy with that." FTX launched barely two years ago, and already boasts an $18 billion valuation. Now as FTX and Binance increasingly compete with each other, they're likely to start looking more like frenemies than friends. (On the other hand, Coinbase Ventures invested in the $900 million round.)
As the space grows and all the big exchanges seek to attract customers while also navigating the necessary evil of regulation, you get the sense the other exchanges are "all in this together" while Binance increasingly stands alone, an island unto itself.
This is Roberts on Crypto, a weekend column from Decrypt Editor-in-Chief Daniel Roberts and Decrypt Executive Editor Jeff John Roberts. Sign up for the Decrypt Debrief email newsletter to receive it in your inbox in the future. And read last weekend's column: A Ripple Reckoning at the SEC.