In brief
Dfinity has announced the launch of The Internet Computer, a token ICP, and a new identity solution.
Its ambitious plan is to transform the Internet into a giant, global computer with the use of smart contracts.
The Dfinity Foundation today announced the commercial launch of the Internet Computer. It has an ambitious goal: to become humanity's primary compute platform for building the software—including decentralized versions of Linkedin, TikTok, and WhatsApp—that will change the way the world works. 
After five years in development, and a $102 million raise from investors including Andreessen Horowitz and Polychain Capital, the much-anticipated project is finally launching, alongside a utility token, ICP—which will list directly on Coinbase, and an intriguing new identity solution. 
In an exclusive interview ahead of the launch, founder Dominic (Dom) Williams told Decrypt about Dfinity's ambitious plans to transform the Internet into a giant, global computer with the use of smart contracts, and how this decentralized system will take on the $370 billion cloud computing market—freeing the world of its dependence on centralized server farms.
Williams believes that smart contracts are "unstoppable," and the key to a more open Internet. The role of the Internet Computer, the world's first decentralized blockchain running at web speed and with unlimited capacity, is to essentially remove current blockchains' limitations. They include fixed computational capacity, and storage, which have constrained their use on platforms like Ethereum to "a very small financial domain this far."
"A gigabyte of storage on the Ethereum blockchain will cost you about $5 million, [whereas] on the Internet Computer, it will cost you less than $5. So these are huge advances," he said.
The whole stack
"We look at blockchain as the replacement for everything, and we want to create a blockchain singularity," said Williams. According to him, the popularity of Decentralized finance (DeFi) rests on the unique properties of smart contracts, and especially their composability. He envisages a future, not twenty years from now, where not just DeFi, but "all humanity's systems and services are built on the Internet Computer—built on a public blockchain."
But Dfinity's plans don't end there. Also in its sights is other, legacy IT infrastructure, including software stacks, databases, and firewalls. "The vision we have is that people essentially abandon traditional IT and build on the public Internet," said Williams.
Did you know?
Dominic Williams created the popular 1990's computer game "Fight My Monster," and still gets fans asking him to recreate it.
Dfinity aims to usher in the next generation of mega apps, providing a new way to build websites, enterprise systems, and Internet services directly onto the platform. The Internet Computer, said Williams, "actually serves web, it's the only blockchain in the world that does this." And it does it with end-to-end security, he added. 
The launch includes a number of applications already built on the new network: a fledgling DeFi system, messaging app OpenChat, a decentralized LinkedIn application, Distrikt, and CanCan, which is like TikTok.
The Zurich-based non-profit also announced a breakthrough in identity solutions. Launched alongside the Internet Computer, "Internet Identity" dispenses with the need for unwieldy passwords and cryptographic keys. 
Instead, each user has a unique number, which they don't need to keep secret, and which they can use to authenticate their devices, using a feature common to many smartphones and laptops: a tamper-proof TPM chip. Simply possessing an authenticated device is enough to identify users of the Dfinity services running on the Internet Computer, and the service will also be available to non-blockchain applications. 
The heart of the Internet Computer
The Internet Computer's secret sauce is "Chain Key Technology," it splits smart contract function execution into two types: "update calls" and "query calls," which allows it to finalize transactions in one-to-two seconds.
The Network Nervous System (NNS)— is like the brain of the Internet Computer; it manages everything from its economics and upgrades to onboarding independent data centers and the dedicated node machines, which have been built with the company's proprietary technology. 
Question: Who knows anything about @dfinity ? What do I need to know? (Not shilling - not even sure if it will list as a token? I clearly don't own any as was not one of the anointed ones.) I hear very, very big things. Thanks team.

— Raoul Pal (@RaoulGMI) April 25, 2021
Uk-based blockchain investment company KR1 plc, was an early seed investor in Dfinity in 2018, when the whole industry was experiencing a prolonged "crypto winter." "Ever since we invested in Dfinity back then its mission has been clear, which is to be the world's decentralized supercomputer hosting the next generation of autonomous software," George McDonaugh, the company's managing director and co-founder told Decrypt. "At no point during that time has the project wavered from this goal and we are excited to see its token go live after years of hard work."
Not everyone is as confident about the Internet Computer's ultimate success, and its lengthy years of development may have lost Dfinity some ground in the race. 
Some have compared the Internet computer to Akash Network, a decentralized cloud computing marketplace, which also recently launched to attract developers to build on its decentralized cloud infrastructure. The marketplace has investment of $2 million from Digital Asset Capital Management, among others, and has partnered with leading data-centre provider Equinix Metal, the Cosmos and Solana blockchains and oracle-provider Chainlink. 
Now independent and rival devs will be scrutinizing the Internet Computer's source code, which is being released into the public domain for the first time, as the technology is effectively spun out as part of the public Internet.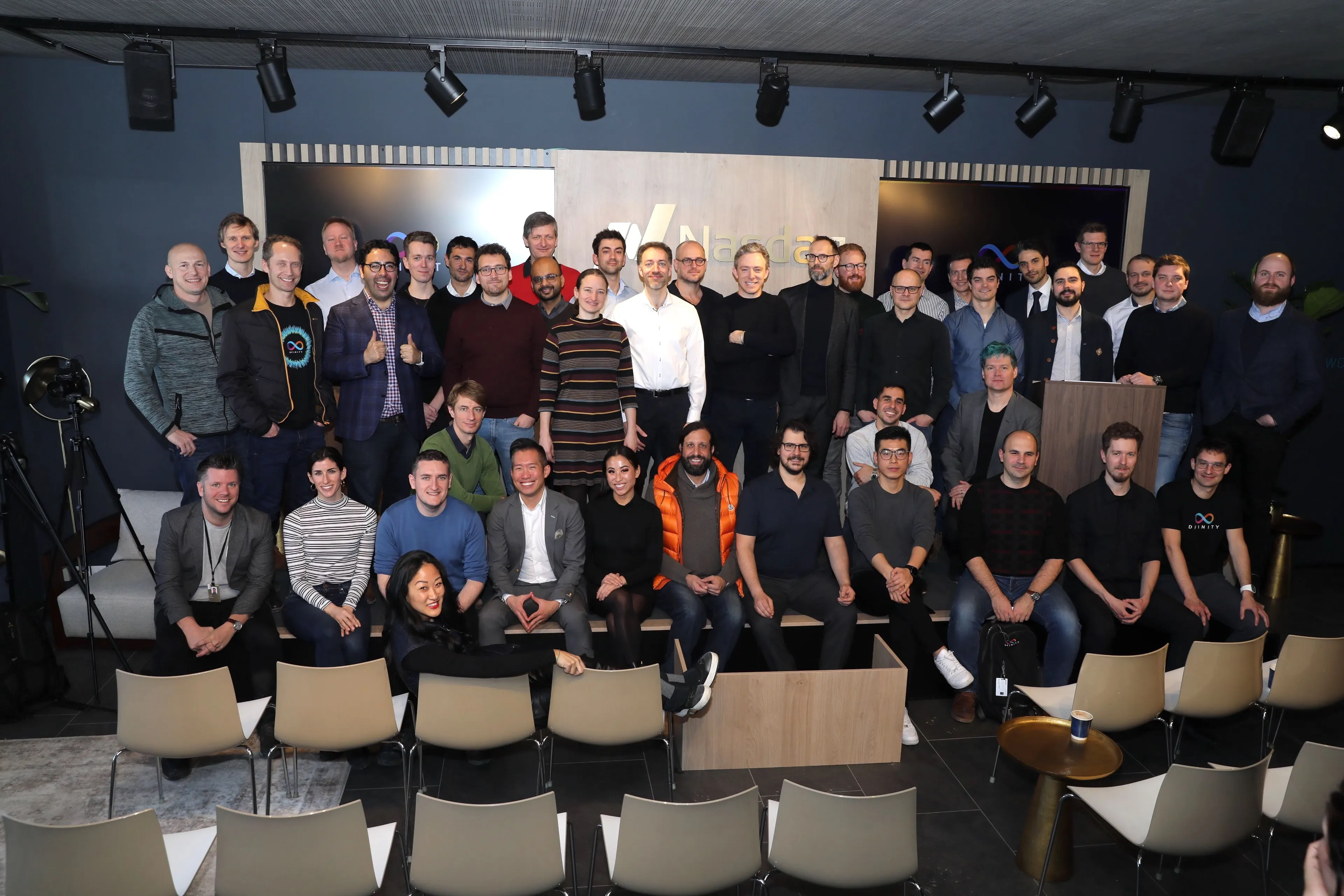 At launch, the Internet Computer is supported by 48 independent data centers throughout the world, which between them run 1,300 nodes. It aims to expand to 123 data centers and 4,300 nodes by the end of the year, and many more after that. 
To power the system, a utility token, ICP, was also launched today. The token will list directly on major crypto exchanges, including Coinbase, from Monday; there are a total of 469,213,710. 
As well as providing gas for the network, ICP can also be used to participate in network governance, allowing holders to vote on the proposals that will shape the future of the Internet Computer.  
The idea is that users create something called "voting neurons," which enable them to either vote manually, or automatically by configuring their neuron to follow other neurons. 
"Once we've got Genesis data and people are able to start creating neurons, then the network will be under the control of the community properly and fully," said Williams. 
But Dfinity's task is far from over, according to Williams. He finds it disturbing that people build decentralized blockchains with nodes that rely on the cloud, which is like "abrogating control to the cloud provider." He is convinced that his Internet Computer will one day become "humanity's primary compute platform for building software," and that the 'Open Internet' will—within 20 years—supersede the current closed, proprietary system.
But disrupting a cloud computing industry which some say will be worth $1 trillion by 2026 is not Dfinity's only goal. "This is about changing the way the world builds, and reimagining systems and services across the board—and in the end, changing society by changing the systems that society runs on," he said. "Very shortly, community-driven evolution is going to begin and it's gonna be a wild ride."