In brief
Oleksandra Oliynykova is offering the highest bidder lifetime ownership of a section of her arm in the form of an NFT.
The tennis pro has an ITF World Tour Ranking of 30 and a WTA ranking of 649.
Non-fungible tokens, or NFTs, have taken the world by storm in recent weeks, giving artists, musicians, and other creatives the opportunity to tokenize their work and amass millions—in some cases—by making it cryptographically unique on blockchain.
Oleksandra Oliynykova, 20, is not a digital artist, or a musician, or in any way known in the crypto space. She is a professional tennis player who minted her first NFT on Wednesday—her first and last, she says.
The tennis professional, who has an International Tennis Federation (ITF) World Tour Ranking of 30 and Women's Tennis Association (WTA) ranking of 649, is offering one prospective buyer the lifetime rights to part of her right arm. To be more specific, it's the section on the inside of her upper arm just above the elbow; a total area of 15cm x 8cm (approximately 6 inches x 3 inches.)
That may sound like a small patch of real estate to anyone unfamiliar with the world of sports merchandising. But in the tennis world, that part of the body amounts to a billboard in Times Square; the winning bidder could re-sell it, leave it blank, or commission a tattoo or a piece of body art on that area. 
It would be visible every time she raises her right arm to take a shot at Wimbledon, or the French Open; it would be on prime display at all of the 20 or so tournaments she takes part in every year, and it could well be the start of a global trend in individual-player sports.  
NFTs: storming into sports
NFTs are not new in the sports arena. Some of the most successful have been launched by the National Basketball League via a collectors' site called NBA Top Shot. 
To date, collectors have spent $330 million on 10-15 second clips from games on Top Shot; an official game highlight from a star player can go for up to $200,000. And last week, National Football League star Rob Gronkowski minted a collection of Super Bowl NFTs.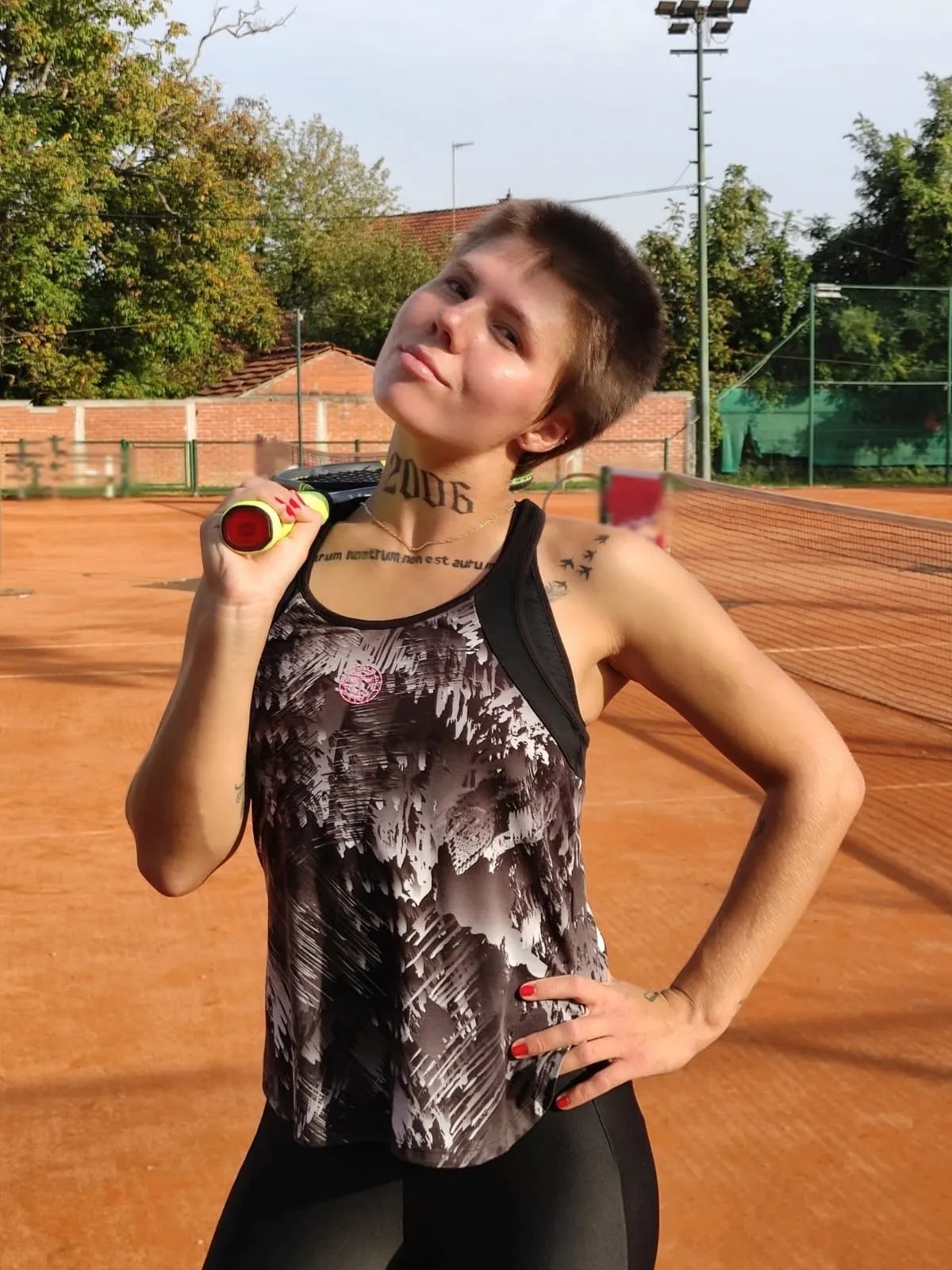 "My dream is [that] this process is led by athletes, not sports corporations," Oliynykova told Decrypt on Friday on a call from her home in Zagreb, Croatia. "I believe my NFT is the first of its kind made by an athlete in [an] individual sport, directly—without club, league, or sports agency mediation." 
She and her father Denis Oliynyk, who is also her manager, hope that collectors, investors, and brands will see the opportunity to make sports history—and that other athletes will follow in Oliynykova's wake. The technology could make waves in the sports industry, just as it already disrupting arts, gaming collectibles, and more.
A refugee tennis pro
The world of individual-player sports is a tough one. Without support, young players can struggle to find the funds to travel to major tournaments, said Oliynyk. 
His daughter is unsponsored. Funding is not distributed by merit, he said. "There is a pool of talented individual athletes who have never had a chance to shine."
The Oliynyks are originally from Ukraine. They fled to Croatia from Odessa in 2011, claiming political asylum. Coached by her father (who has never played tennis), Oliynykova became an all-court player—the top Croatian female under 18 listed by the WTA. But with success came misfortune. 
When Oliynykova was granted a Croatian passport, she was no longer entitled to the funds of $1,500 a month she had been receiving under an Olympic scholarship program for refugees—despite the fact that she has no other source of funding, apart from her delivery-driver father, who is still technically a refugee himself. 
As a consequence, she could no longer afford to play at a junior level, and has been at senior level since 2017—meaning that it's a much slower process for her to rise in the federation ranks than for a player who was able to benefit by playing against other juniors for longer. 
Oliynykova expects her new tattoo, or body art (or blank space) to be in place by the time she plays at the ITF tournament in Portugal in April (Covid permitting). She already has nine tattoos, most notably the "2006" on the front of her neck, which is the year when she began to play tennis.
She's given her consent for any image which the NFT buyer wants to place on her arm, as long as it's not racist or extreme. The only other stipulation is that it can't contain anything related to gambling or betting in order to fulfill regulations imposed by the tennis authorities. 
NFTs most often use the Ethereum blockchain, and bidding for Oliynykova's scrap of skin starts at 3 WETH, the tradable version of Ethereum's cryptocurrency, which is used on the OpenSea digital marketplace. The fiat value is $5,212. 
If the owner opts to place a temporary tattoo or body art in the spot, the Oliynyks have stipulated a fee of 1 ETH ($1,777) for every "clean-and-paint" cycle.
Tennis and tokenization
While her arm is the only place on her body where Oliynykova is offering an NFT, the duos' plans to integrate cryptocurrency in the tennis pro's career doesn't stop there. 
One alternative they are considering—as an NFT—is a season of athlete management privileges, "like in fantasy sports, but in the real-life!" said Oliynykova. "So you can define a player's schedule and dress code, sit in her player's box, represent her in the media, etc."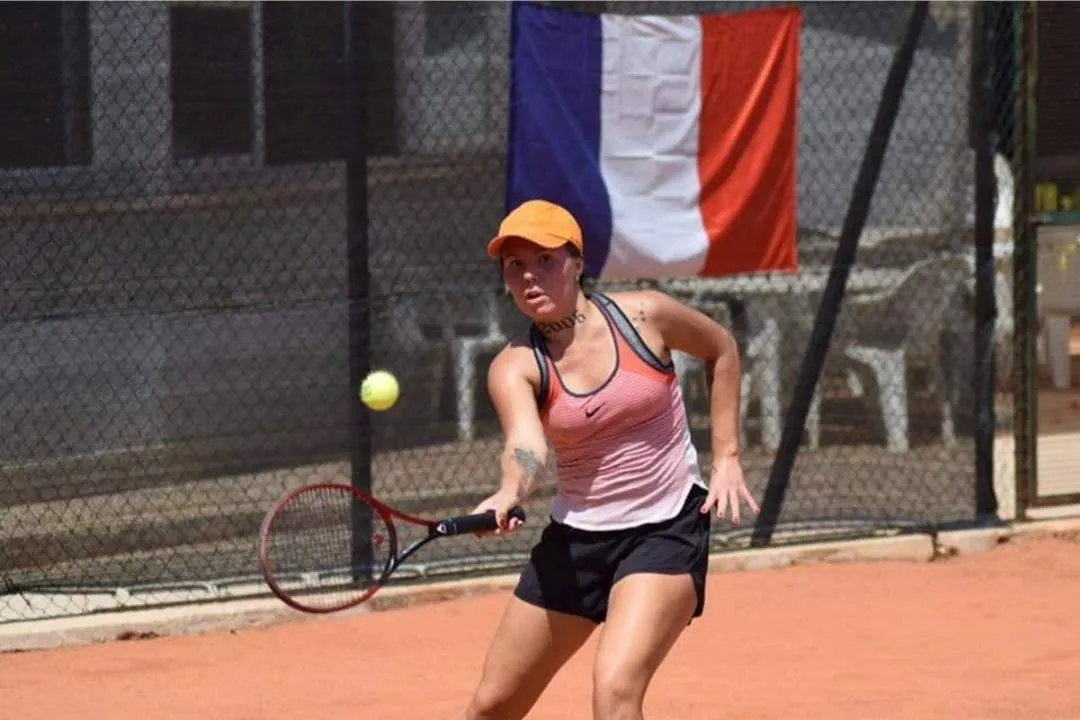 Oliynykova has already waded into the larger crypto community by becoming a player ambassador for Bitcoin Cash (BCH), which she claims is useful when athletes need to convert funds while traveling in other countries.
Rather than one-shot NFTs, the father-daughter duo is most keenly interested in the longer-term benefits of tokenization, where an athlete offers his fanbase an opportunity to participate in his career, through issuing tokens. "The individual player is actually the ideal token because his career is transparent," said Oliynyk. This makes it easy to judge whether he/she is doing well, he explained. And stakeholders can share in the dividends from this success. 
All eyes are on the NFT space right now. While some experts question the huge sums raised, one artist made $69 million for an NFT this week, and others have made millions by copying or burning original art and transforming it into NFTs. 
Meanwhile, Malta-based sports tokenization platform Chiliz has been notching up partnerships with major European soccer teams—including AC Milan and FC Barcelona since the beginning of 2020 and recently invested $50 million in its US expansion. 
In this light, Oliynykova's plans for her right arm don't seem as outlandish as they may have a few weeks ago. She may even give new meaning to the term "tennis elbow."