Central, Northern, and Western Europe (CNWE) has cemented its status as a global powerhouse in the cryptocurrency space, with the United Kingdom emerging as a leading force in the region.
According to a new report by Chainalysis, the UK leads the region in activity, boasting $252.1 billion in raw transaction volume over the past year. This figure also puts it third in the world in this category, behind the United States and India only.
A closer look at the data reveals the pivotal role of decentralized finance (DeFi) in the remarkable growth of crypto adoption in CNWE in general and in the UK in particular.
Per the report, DeFi services were responsible for the lion's share of cryptocurrency value received in the region, constituting 54.8% of the total.
The report includes non-fungible token (NFT) trading in its definition of DeFi, with activity on NFT platforms and decentralized exchanges (DEXes) both playing a key role in driving the UK's activity.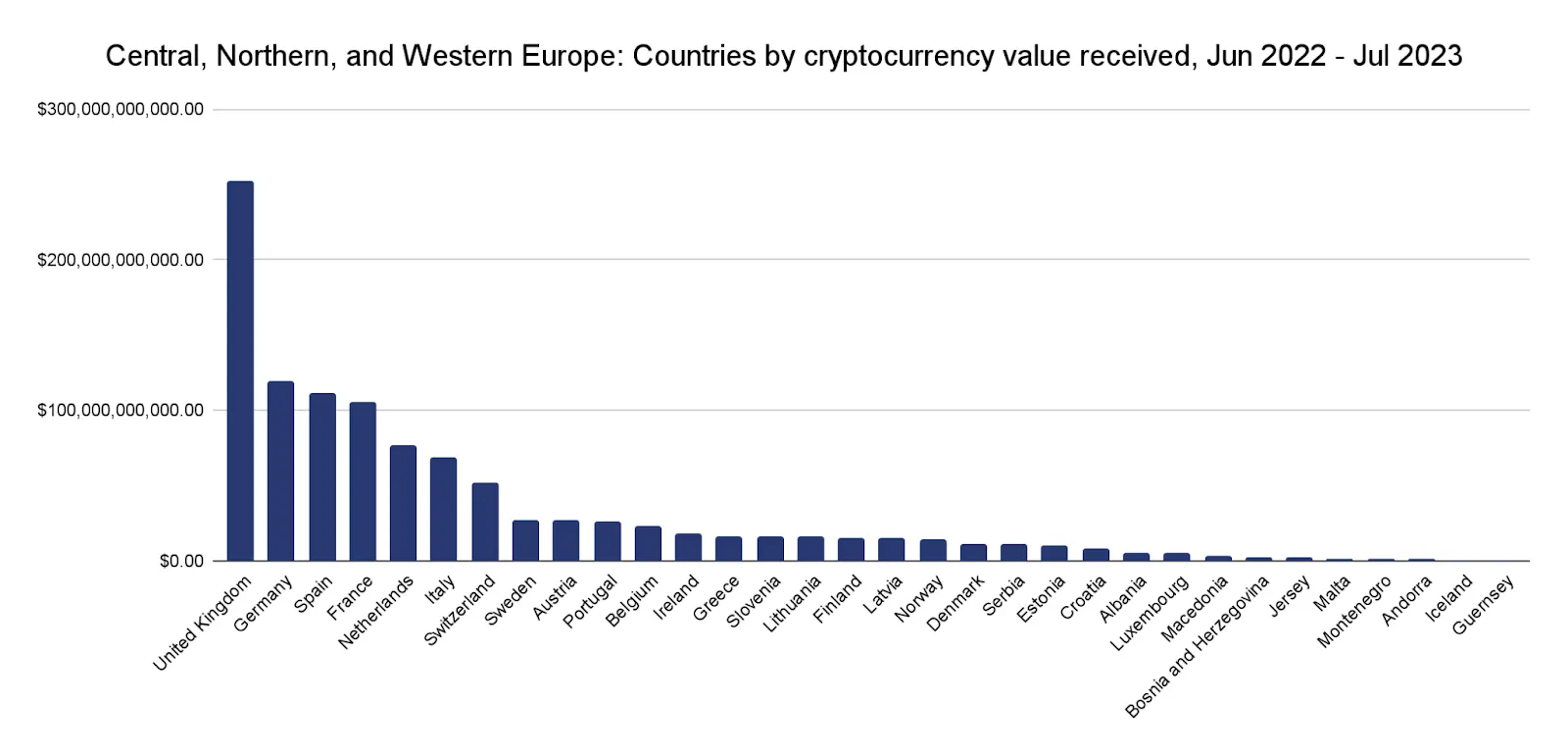 "In the UK, the two most utilized DeFi service types were the NFT platforms Opensea and Sorare," Kim Grauer, Director of Research at Chainalysis, told Decrypt. "Together, these two platforms received nearly 20 million visits between July 2022 to June 2023."
The third most visited service, according to Grauer, was Uniswap with nearly 3 million web traffic visits.
"This indicates that DEX trading and NFT swapping is driving a significant amount of the UK DeFi activity over the past year," she added.
Europe sees $1 trillion in on-chain value
Per the report, CNWE ranks as the second-largest crypto economy in the world behind North America. Between July 2022 and June 2023, the region accounted for 17.6% of global transaction volume, receiving an estimated $1 trillion in on-chain value over the span.
CNWE is also home to six of the world's top 50 biggest crypto adopters, with the UK taking 14th place in Chainalysis' 2023 Global Crypto Adoption Index. The index is the firm's annual report highlighting the countries where average, everyday people are embracing crypto the most, rather than measuring the highest raw transaction volumes.
"Customers in the UK typically seek alternatives to poor savings and investment returns—varying from propping up underperforming investment portfolios to customers going all in, looking for high returns on tokens or NFTs," said Jamie McNaught, founder and CEO of UK-based crypto exchange Solidi.
At the same time, noted McNaught, customers are still seeking "overperforming, long-term returns" in Bitcoin, especially in light of the upcoming 2024 halving, and Ethereum, while also making "sizable bets" on such assets as XRP, Cardano, and Solana.
Edited by Liam Kelly.