The amount of Ethereum on centralized exchanges has nearly hit a five-year low, per data from Glassnode.
With 17.8 million ETH on exchanges, the sum represents 14.85% of the network's total token supply.
Though large, it's significantly less than the peak value of 30% reached in the summer of 2020.
Volatile cryptocurrencies, like Bitcoin and Ethereum, leaving centralized exchanges are sometimes seen as a bullish sentiment among investors. Conversely, an influx of cryptocurrencies to exchange is viewed as bearish, as it suggests that investors are moving to these platforms to sell off some of their holdings.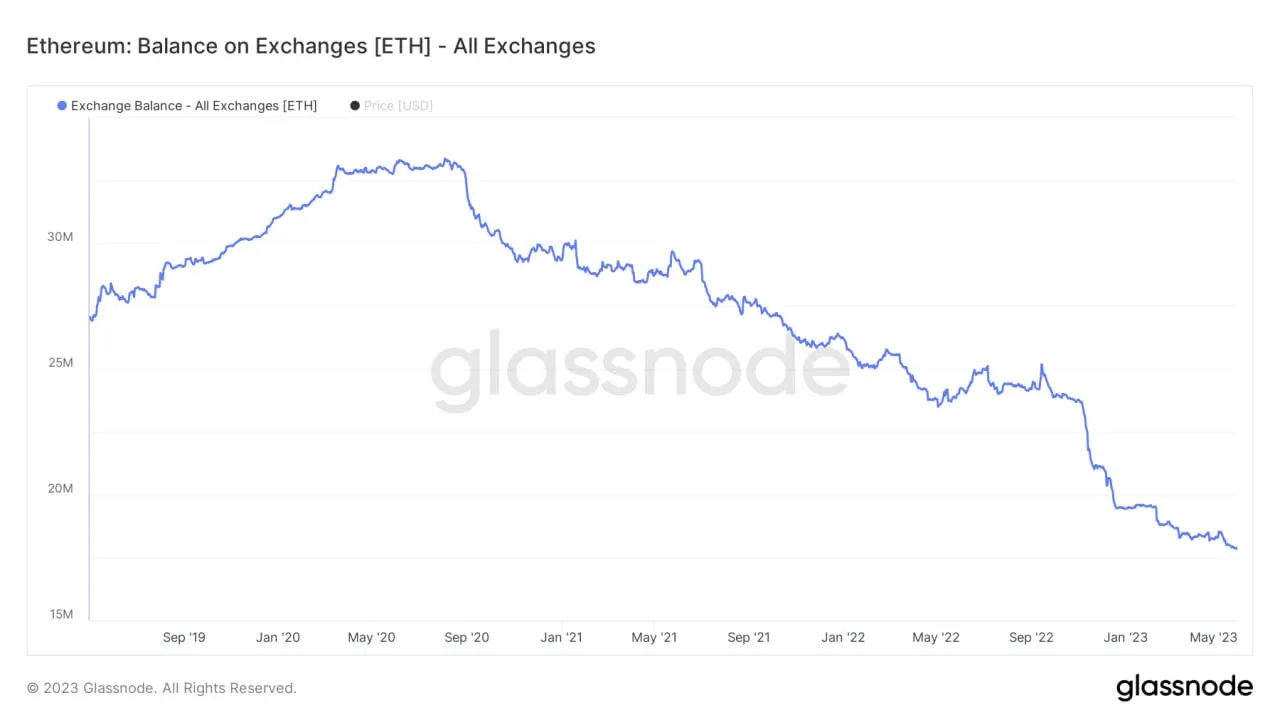 Bitcoin's stats show much of the same, with the cryptocurrency's exchange balance dropping to levels not seen since March 2018 at just above 2.23 million BTC.
Why are investors leaving exchanges?
A closer look at the data reveals that the majority of the decline came in November and December 2022 following the FTX collapse. The stacked balance metric from Glassnode, which shows the individual balance on each exchange, confirms that a significant portion of the decline came from FTX.
An exodus followed shortly across other major exchanges such as Binance, Kraken, and Coinbase likely due to the contagion fears that spread across the market. This was also seen in the steep spike in sales for hardware wallet providers such as Ledger and Trezor.
The latest decline in Ethereum balances on exchanges in May also coincides with a rise in staking. The amount of staked ETH surged from 19.3 million before the Shapella upgrade to 21.2 million, rising vertically since the start of May, per Nansen data.
Bitcoin's exchange balance did not decline alongside ETH during the same period, further suggesting that staking played a role in exchange withdrawals.