Thousands of Web3 aficionados converged upon NFT Paris last weekend, and attendees at the Grand Palais Éphémère got an NFT-based fashion show in addition to the panels and exhibits.
Danit Peleg, a fashion designer who taps into new technologies, used the event to showcase her first collection of 3D-printed apparel inspired by Nouns. The notable Ethereum project, which launched in 2021, auctions one new NFT per day and uses the funds to fuel a community-driven and open-source intellectual property.
Peleg brought five outfits to the conference, each inspired by specific NFTs in the valuable profile picture (PFP) collection as well as the overall Nouns brand. Many of the pieces feature the familiar, boxy Nouns glasses (or "Noggles"), as well as detailed recreations of some of the avatars that have been minted to date.
"I found inspiration in everything about Nouns, from the community to the NFT structure and the amazing things Nouns could do with their treasury," Peleg told Decrypt this week. "I realized that the best way I can contribute to Nouns is by using my specific domain expertise in 3D printing and fashion."
Each piece was designed and then brought to life using varying 3D printing technologies, including Polyjet (which enables multiple colors and textures) and the velvety-textured Multi Jet Fusion. Some of the clothing was printed in a way to feature hinges between the little Nouns characters, while others were glued together using the printed pieces.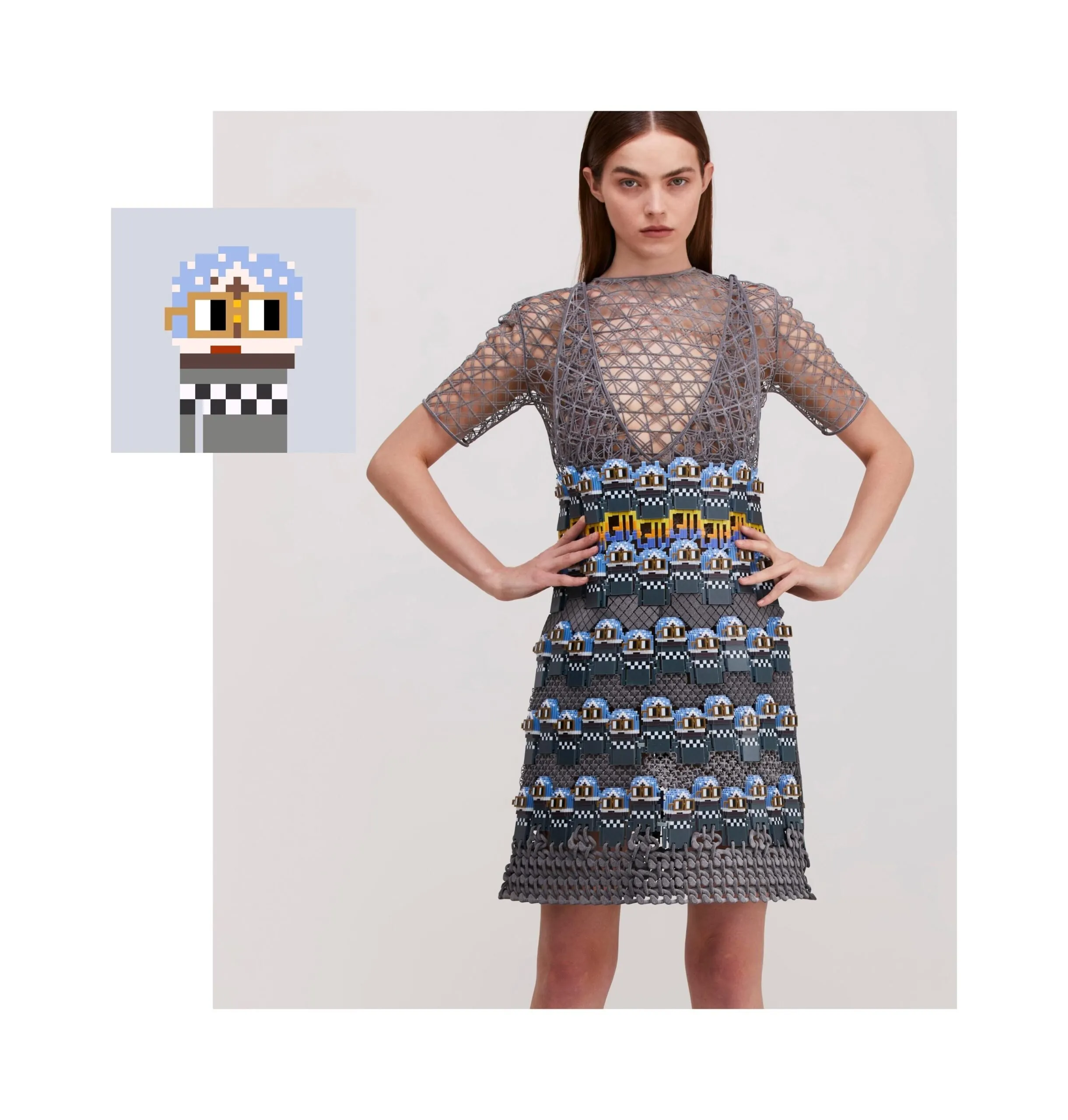 Peleg said that the project's open-source, Creative Commons 0 (CC0) model drew her in. That approach means that anyone—even those who don't own a Nouns NFT—can create and sell their own projects and products based on the brand. In fact, it's encouraged: the NFT holders routinely fund projects using the treasury of funds from the daily auctions.
With nearly $45 million worth of ETH currently sitting in the Nouns treasury, the project has funded a wide array of projects—from comic books to TV pilots, a float in this year's Rose Parade, other fashion endeavors, and even an appearance of Noggles in a Bud Light Super Bowl commercial.
In this case, Peleg was provided a total of $140,000 in funding to develop, construct, and showcase the 3D-printed apparel, which was granted across three milestones. She said that developing trust with the community was key: "I started small, delivered value, and grew the support from the community—and then I got higher funding as trust was established."
Peleg is known as a 3D-printed fashion pioneer. Her initial collection, made as a student in 2015, went viral online, and she followed that up with a TED Talk that has racked up nearly 2 million views. Her work was also featured in the opening ceremony of the 2016 Rio Paralympics.
When Decrypt spoke with pseudonymous Nouns co-founder 4156 in early February about the comics project, he said that Nouns was focused on "creating opportunities for people with very deep expertise within their own fields, to have a facility to collaborate with an open-source brand." Peleg's collection is another example of that approach in action.
Will we eventually see 3D-printed Nouns apparel out in the everyday world? Possibly—Peleg said she'd "love to take the collection around the world to showcase it," and she's considering an open edition NFT drop for the digital assets, as she's already done with past 3D-printed fashion designs.