Madonna is upset about a certain rainbow-toothed Ape.
Bored Ape #3756 is currently listed on OpenSea for an eye-watering 800.69 ETH, roughly $1.27 million. The superstar told Variety she's been pining over that Bored Ape Yacht Club NFT, which has "trippy" fur, an "S&M" hat, a motorcycle jacket, and rainbow teeth.
"I was hellbent on getting an Ape and really specific about what I wanted: the Ape with a leather motorcycle cap on and multicolored teeth," Madonna said. "I was told that it was inspired by me, and modeled after me, and it was bought by a woman who's a fan of mine. She was gonna sell it to me, but it was way too expensive."
NFTs are unique blockchain tokens that signify ownership over an asset—in this case, over a 2D image of an Ape, which comes with other membership benefits like merch, special Discord access, and event access.
When asked if Ape #3756 or its traits were inspired by the singer, BAYC creators Yuga Labs told Decrypt via email that Apes "aren't necessarily designed or modeled after anyone specifically."
"The Yuga Labs team loves it when people see themselves in certain apes. The S&M hat is one of the founders' favorite characteristics in the collection, they love anything punk rock. Madonna helped popularize that style, which the founders are a fan of," a Yuga Labs rep told Decrypt.
Madonna—whose net worth is $575 million and has raked in $1.2 billion over her prolific career, per Forbes estimates—ended up acquiring Bored Ape #4988 instead through MoonPay. The crypto payments company handed over 180 ETH ($466,000) for the NFT back in March and transferred it to Madonna's wallet. 
But #4988 isn't a bad consolation prize. Like Ape #3756, the Ape Madonna owns also sports the black S&M hat and psychedelic fur. But according to Rarity Sniper data, it's significantly less rare—the NFT she desires is ranked 123rd, while the one she owns is ranked 3,754 out of the 10,000 NFTs in the collection.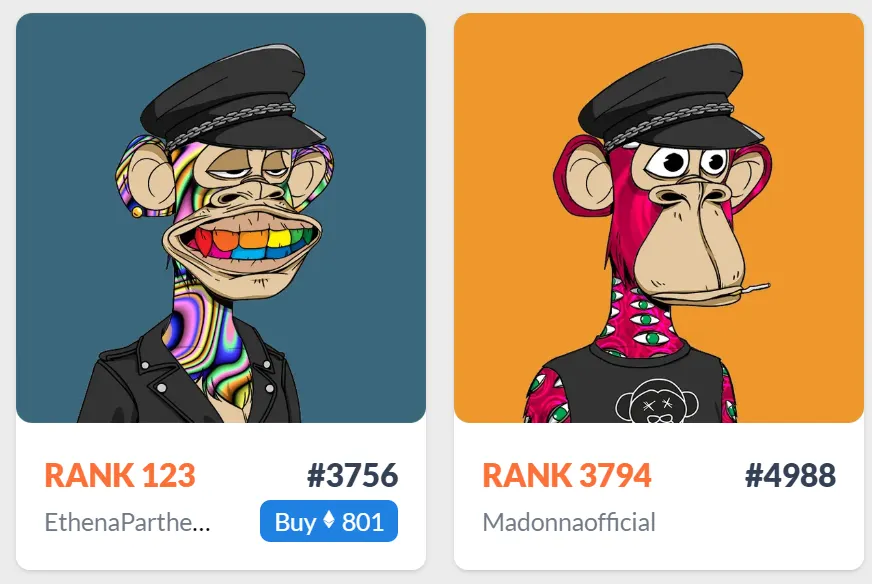 In NFT collections, rarity is determined by the number of times a certain trait appears on an asset. The less times a trait appears in the whole collection, the rarer the NFT. So a rarity score is a cumulative rating based on the respective rarity of each of the traits on a single asset when compared to the rest of the collection.
And Madonna has set her sights on more than just Bored Apes. The singer holds two World of Women NFTs, acquired for about $13,000 each. She also minted one Otherdeed (Yuga Labs' NFTs that grant holders land in the upcoming Otherside metaverse game).
Madonna also became an NFT creator herself, working with Beeple for a year to develop a series of very NSFW, philosophical Ethereum NFTs called "Mother of Creation," video renderings of a very naked Madonna in various sci-fi environments. 
The three NFTs sold for 170.5 ETH, 66.55 ETH, and 72.05 ETH each back in May, with proceeds going to charity.