In brief
Entrepreneur and investor Gary Vaynerchuk founded Web3 consultancy VaynerNFT to help companies navigate the industry.
VaynerNFT President Avery Akkineni said that brands shouldn't let the crypto market downturn scare them away from NFTs and Web3.
It's been a whirlwind year for the NFT space, and that's especially true when it comes to brands trying to wrap their arms around the tech. About a year ago, according to entrepreneur and investor Gary Vaynerchuk, many companies barely understood the use case or opportunity.
"Early on, they were like, 'What is this?'" he told Decrypt at May's VeeCon conference.
Vaynerchuk—a serial entrepreneur and creator of the VeeFriends Ethereum NFT collection—launched the VaynerNFT Web3 consultancy last July, spun out of his VaynerX creative and media agency. The firm has since launched various initiatives with brands like Budweiser, Ford, Pepsi, Behr, L'Oreal, and crypto exchange Coinbase.
Avery Akkineni, VaynerNFT president and former managing director and head of VaynerMedia APAC, told Decrypt that the consultancy firm was "so far ahead" of the NFT brand boom last summer that companies "had no idea what we were talking about."
Since then, however, mainstream acceptance of NFTs has rapidly accelerated. It's not just storied consumer brands, but also a growing pool of professional athletes and sports leagues, record labels, movie studios, and more. Tokenized digital collectibles have become an alluring prospect for companies across many industries.
"Everyone wants to launch an NFT yesterday," said Akkineni. "But what is important to doing so successfully is actually having a long-term strategy."
An NFT is a blockchain token that works like a deed of ownership, and they can be used for things like artwork, event tickets, collectibles, and interactive video game items. The market swelled to $25 billion in trading volume in 2021 alone.
While a brand NFT drop or collaboration can be fun and potentially alluring for customers, Akkineni said that VaynerNFT seeks to help partners figure out how that can lead to ongoing or long-tail engagement. Many successful NFT projects grow or maintain value through expanding utility or perks for holders, and brands should consider that approach.
"That should be the first entry point for a longer-term Web3 strategy," she said of an NFT drop, "versus thinking about NFTs as some type of marketing campaign or gimmick."
Brand strategy in Web3
Recent Web3 brand activations that VaynerNFT has advised on include a giveaway of a Johnnie Walker Blue whiskey gift set to specific VeeFriends NFT holders, free POAP digital badges for singer Mary J. Blige's Pepsi-sponsored "Strength of a Woman" festival, and a SXSW promotion with paint brand Behr and the Doodles NFT project.
Many of the firm's clients were integrated into VeeCon, as well, with a Pepsi selfie station near booths of NFT projects like World of Women and Deadfellaz, while Johnnie Walker hosted a cocktail lounge. The firm also advises cryptocurrency exchange Coinbase, and helped prepare the Coinbase Creators Lounge backstage for artists and panelists.
Akkineni said that free NFT giveaways are an ideal entry point for brands that want to target newcomers to the space—and may not want to get into the intricacies and challenges of handling crypto funds.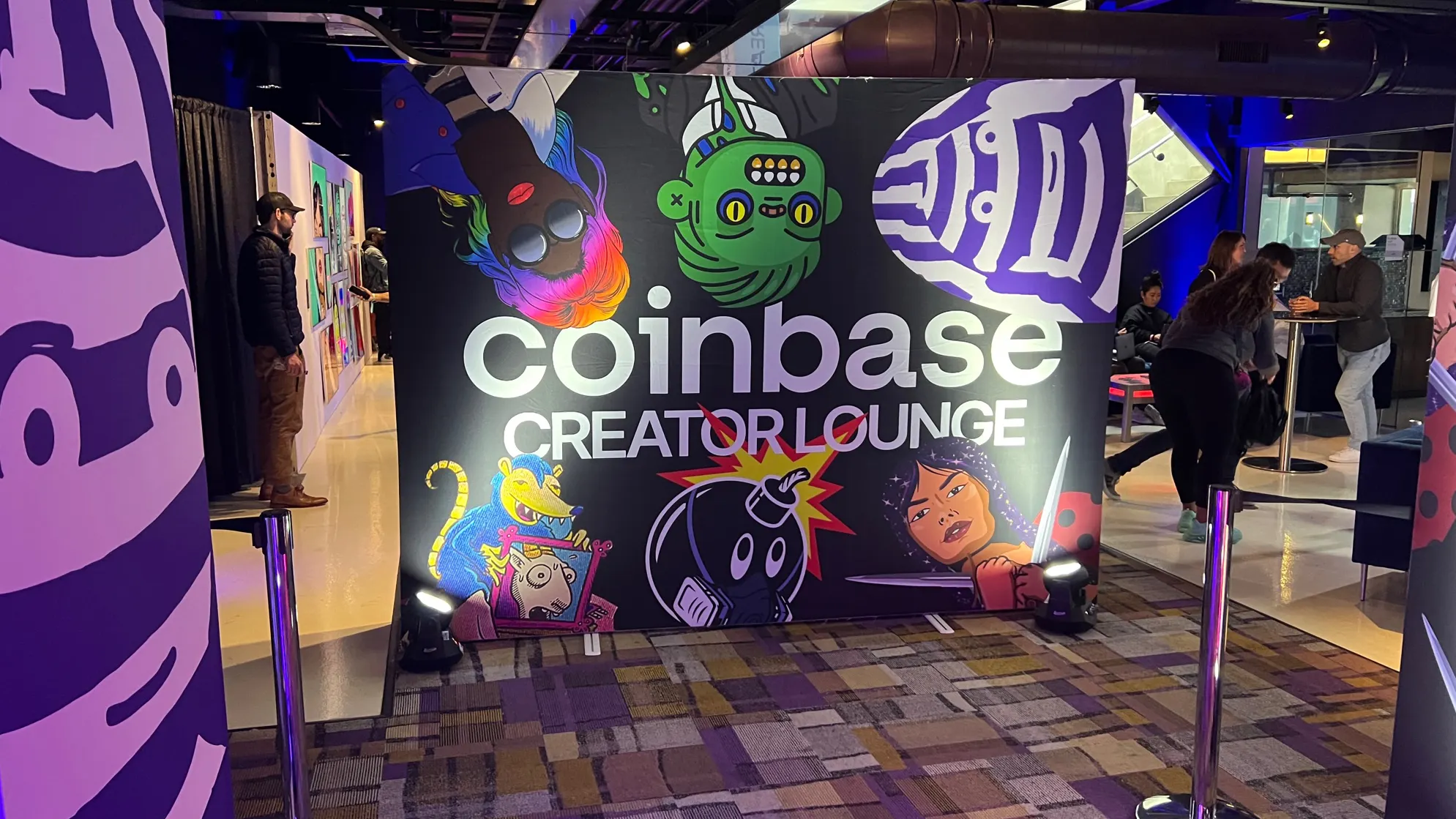 "Many brands don't want to be in a position to be advising their consumers on getting cryptocurrency for the first time," she affirmed.
She pointed to last December's Pepsi Mic Drop project as a collection that was free to mint, and has since gone on to generate $10 million in secondary trading volume, per CryptoSlam. On the other hand, Pepsi took flak from NFT enthusiasts for the way it marketed the project, with some alleging that the brand was co-opting its culture.
On the other hand, a VaynerNFT-led project between Bud Light and Ethereum NFT project Nouns was hailed as a clever, crypto-native collaboration. Nouns gifted Bud Light a valuable NFT (bought for $394,000 at the time), and Bud Light in return put the familiar "Noun glasses" into its Super Bowl commercial and created Nouns-inspired physical glasses. It also launched limited edition cans.
Now, Bud Light remains a part of the Nouns community and votes on project decisions—on behalf of people who own Bud Light's own digital can NFTs. In other words, a major beer brand is part of a DAO, or decentralized autonomous organization, for an NFT project.
Targeting NFT early adopters—including the kind of people who attend VeeCon—is a way for brands to grab significant mindshare of the next wave of adopters, Akkineni suggested.
"That was a good example of something fun and strategic," she said of the Nouns initiative. "That was probably the first DAO exploration by brands, but it certainly will not be the last."
A shifting role
Vaynerchuk told Decrypt that he views VaynerNFT now as less of a mass media marketing firm, and more a strategic consultant like Bain & Company or McKinsey & Company—albeit one specifically focused on Web3 and NFTs. The goal is to ensure that brands don't appear "vulnerable," or that they're "lacking authenticity," he said.
He said that Pepsi has different teams for its various beverage brands, and each brand may have its own agency that's pitching potential NFT projects. "It's very easy to get carried away and overpay for things that are not consumer-centric," he said of such initiatives.
Increasingly, VaynerNFT is getting "a bigger seat at the table" with C-suite executives, said Vaynerchuk, where it can convince companies to make it the agency of record (AOR) with regard to Web3 initiatives.
"We really, really actually know the hell we're doing here," said Vaynerchuk, explaining his pitch to brands. "Remember when you didn't believe that 10 years ago with social [media], and now you do? Why don't you [avoid] that same mistake? Why don't we be a meaningful partner? Why don't we help you think about different things that will actually work?"
When Decrypt spoke with Akkineni at VeeCon in May, the NFT and crypto markets were already suffering. Now they're much, much worse.
"Now is not a time to go in with an expensive mint," she said at the time.
But when speaking with brands who are nervous about entering the Web3 space while the market is cool, Akkineni said that she nudges them to go ahead and start taking steps ahead of the next potential upswing.
"This is the time to do something, because you can show that you're building during the bear market," she said. "If you do something that's free that allows your consumers to connect with you in a new way—even better if it has some type of specific utility—then this is going to let you be two laps ahead of the competition when the next bull market cycle happens."
"Don't be scared" of the bear market, Akkineni affirmed.