In brief
Beer brand Bud Light is now using a Nouns NFT image as its Twitter profile picture.
The Nouns Foundation gave the NFT to Bud Light as part of a proposed agreement that includes Nouns imagery being used in a Super Bowl commercial.
The "Budverse" is expanding. Budweiser was one of the first brands to engage with NFT culture by embracing an existing collection, and now its Bud Light brand is doing the same with an inventive Ethereum project. And we could see it in a Bud Light Super Bowl ad next month.
Yesterday, Bud Light changed the avatar of its Twitter account to that of an avatar from Nouns, an Ethereum project that mints just one new NFT avatar per day. Uniquely, all of the ETH spent to purchase Nouns goes into a community treasury that owners use to fund projects and initiatives as they collectively build an open-source intellectual property (IP).
It's an interesting twist for the beer brand, but there's more to it than just the NFT avatar. The Nouns Foundation purchased the beer-themed NFT (Noun 179) for 127 ETH (about $394,000) to give to Bud Light following a proposal that passed on January 16—to "feature Noun glasses in a Super Bowl commercial and on real beverage cans."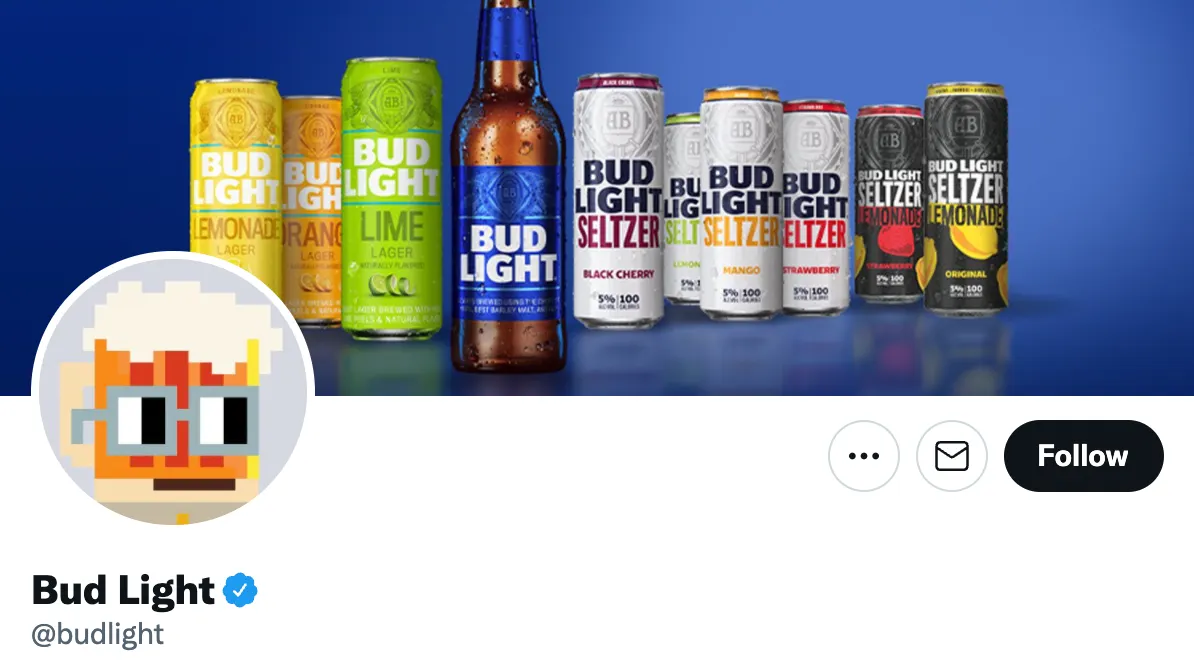 "In exchange for one Noun from Nouns DAO, a prominent beverage company will include Noun glasses in a 2022 Super Bowl commercial," the proposal reads. "Once the Noun is received, this brand will also change their Twitter avatar to feature Noun glasses and intends to allow holders of the brand's own NFT to collectively vote with their Noun on future governance proposals."
"Additionally, this brand may produce a limited run of real beverage cans featuring custom Noun packaging for distribution to Noun holders (of legal drinking age) at key events in some markets," it continues. "Noun holders will be eligible to attend these events."
Bud Light has yet to confirm plans to use the boxy "Noun glasses"—which appear on every Nouns NFT—in a Super Bowl commercial. Gary Vaynerchuk's VaynerNFT consultancy, which has worked with Budweiser parent company Anheuser-Busch InBev on its NFT strategy since last July, did not specifically comment on Super Bowl plans when asked by Decrypt.
"Anything's possible," replied VaynerNFT President, Avery Akkineni. She added that Bud Light's Twitter and Discord server will have further announcements "coming soon."
How it happened
Budweiser entered the NFT space last August with the purchase of an unofficial Bud-themed rocket image from the Tom Sachs Rocket Factory collection, as well as the beer.eth Ethereum Name Service name—effectively a domain-like name that points to an Ethereum wallet.
In November, Budweiser revealed plans to launch its own NFT collectibles on Ethereum, with a series of beer can-themed collectibles that the company claimed would provide future perks and incentives. Budweiser said that the NFTs would act like the "key to the Budverse" and tie into future initiatives, as well.
Akkineni said that Bud Light has been watching the NFT space for months, and that a piece of animated Nouns-themed Budweiser artwork by Gremplin—creator of the popular CrypToadz Ethereum NFT project—prompted the brand to start making moves.
"Bud Light was impressed and inspired," she said about the Gremplin art. "From there, Nouns and Bud Light kicked off conversations to explore a partnership. True to the world of Web3, the Nouns team put our proposal up for a vote, to ensure Nouns holders were aligned to the brand partnership prior to confirmation."
Pseudonymous Nouns co-creator 4156 (formerly Punk4156) told Decrypt that Budweiser's decision to enter the existing Nouns community and become a member of the DAO (or decentralized autonomous organization)—which oversees the treasury and votes on proposals—makes it more meaningful than a simple marketing alliance.
"They're becoming genuine participants within a very crypto-native and very novel community," said 4156, who had tweeted at Budweiser about a collaboration in November. "Ultimately, it feels more significant than a marketing stunt or a promotional partnership."
Both Akkineni and 4156 confirmed to Decrypt that no contract was signed between the brand and the Nouns Foundation. In 4156's view, the arrangement reflects the level of trust that already exists within the decentralized Nouns DAO community, which includes largely pseudonymous creators with shared aims and investments.
​​"These two organizations were able to get together based on a kind of trust that's inherent in being early adopters in these communities," said 4156 of the Bud Light agreement. "There was a remarkable absence of red tape. We were able to get it done, and to be very bold in what we're attempting to execute together."
Open-source Nouns
It's worth noting that Budweiser doesn't need to own a Nouns NFT to use the avatar image or the Noun glasses in its campaign. Nouns is governed by a Creative Commons 0 (CC0) license, which effectively means "no rights reserved"—it's a fully open-source project, much like CrypToadz and an array of derivative projects inspired by the look of Nouns.
As 4156 shared with Decrypt in November, the project is built on the thesis that the widespread use of Nouns imagery in culture and products will only accrue value back to the NFTs themselves, which the Ethereum blockchain shows are the originals.
With that approach in mind, Nouns owners approved the creation of Nouns Studio1, an effort to create products and potential entertainment projects in collaboration with David Horvath, co-creator of the Uglydoll media and toy brand. Horvath told Decrypt in November that he believes the Noun glasses could someday be as iconic as the Nike swoosh.
And Bud Light could help. Whether we see Noun glasses at Super Bowl LVI on February 13 is still unconfirmed. However, given that it's the first Super Bowl to follow last year's NFT market explosion—which propelled the Bored Ape Yacht Club and other projects to stardom—Bud Light might not be the only brand aiming to tap into NFT hype for the big game.