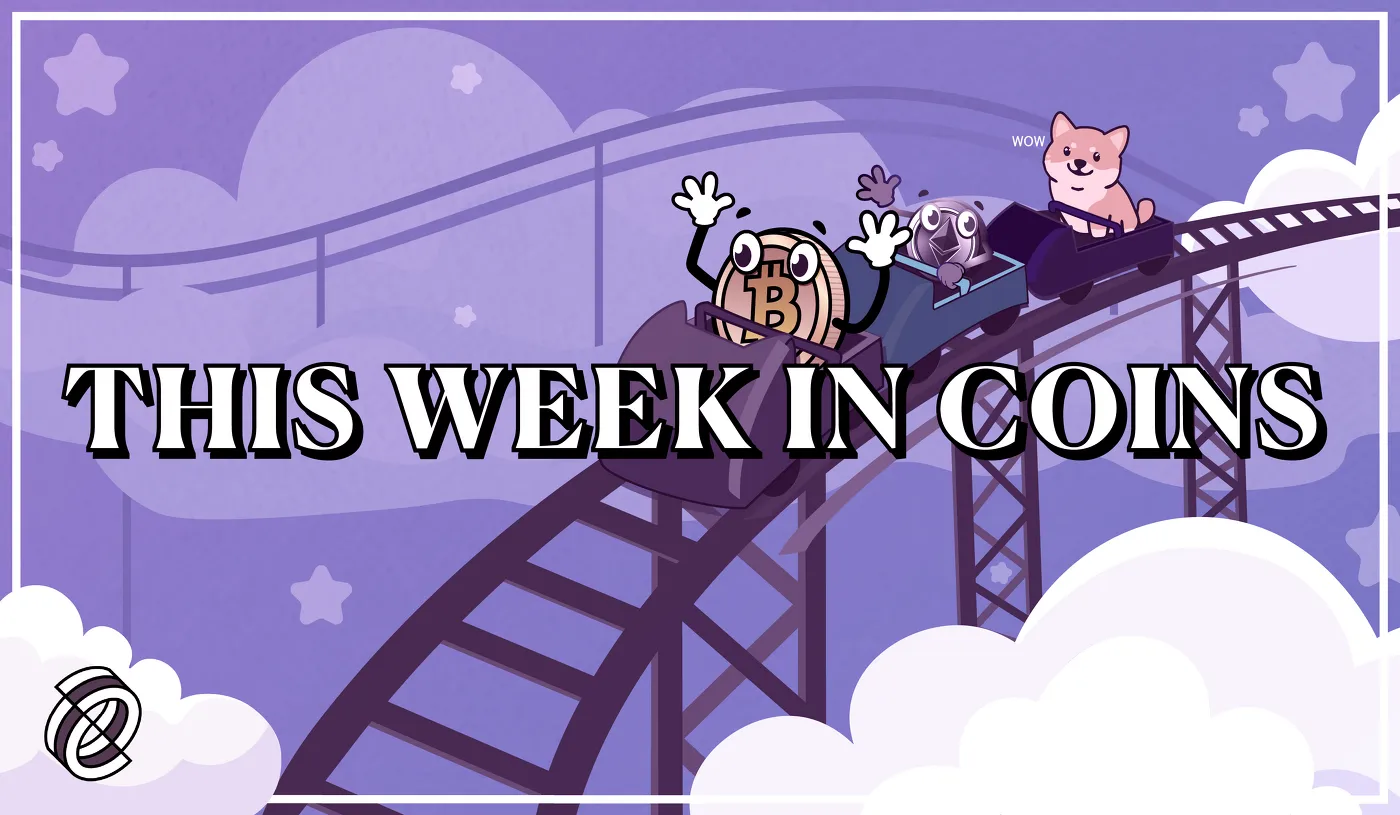 After eight straight downward weeks, cryptocurrency markets began to level off.
Market leader Bitcoin grew almost 2% over the last seven days to trade at $29,599 as of this writing, while Ethereum remained practically unchanged at $1,778.
Most of the biggest cryptocurrencies were little changed from a week ago, but a handful of projects, as of this writing, had made significant gains:  The privacy coin Monero blew up more than 8% to $192, Stellar rallied more than 16% to $0.14, NEAR rose almost 9% to $5.26, and Cardano jumped almost 22% to $0.56.
There were no major losses among the top 30 cryptocurrencies by market capitalization, except for Solana, which crashed more than 10% to $37.57 in large part because on Wednesday the blockchain went down for more than four hours.
The week's news
The week began with news that this year's Eurovision winners, Kalush Orchestra, raised 500 ETH—nearly a million dollars—for their beleaguered homeland, Ukraine. The group raised the money by auctioning their Eurovision trophy together with an NFT of it.
Kalush Orchestra wrote on Facebook: "You guys are amazing. We appreciate each and every one of you who donated to this auction and a special thanks to the team WhiteBit who purchased the trophy for $900,000 and are now the rightful owners of our trophy."
The Bank of England on Tuesday announced it soon will have the power to intervene over collapsing stablecoins if it decides a stablecoin issuer "has reached systemic scale fail."
The British government wants to amend the UK's Financial Market Infrastructure Special Administration Regime to bring crypto within the jurisdiction of the central bank by broadening the legal definition of a "payment system" to include it. This would provide the British central bank with sweeping powers of "direction" and "oversight" over failing stablecoin issuers.
That same day, local press reported that the South Korean government is launching a Digital Assets Committee to oversee crypto exchanges as early as next month.
"The launch of the Digital Assets Committee will be immediately after the inauguration of the new Financial Services Commission (FSC) Chairman," a government official told NewsPim. The FSC is the country's top financial regulator, and newly elected President Yoon Suk-yeol is expected to appoint a new chair in the coming weeks.
The Digital Assets Committee will make policy recommendations, including the criteria for cryptocurrencies to be listed on exchanges, schedule ICOs (initial coin offerings), and enforce investor protections ahead of the Digital Asset Basic Act (DABA)—a major crypto policy package to be enacted next year.
On Wednesday, the Financial Times reported that an anti-crypto letter signed by 26 computer scientists, tech bloggers, and academics had been presented to U.S. lawmakers in Washington. The letter quickly drew a response from the crypto community, which took umbrage with the fact that so few of the letter's signatories had blockchain industry credentials. Several were extremely unhappy about the letter's misleading claim that blockchain transactions are irreversible.
It came to light on Wednesday that rap star Kanye West has filed 17 trademark applications with the U.S. Patent and Trademark Office. Some of the filings mention potential "non-fungible assets," "metaverse experiences," and "providing an online marketplace for buyers of crypto and/digital collectibles, currencies, tokens, and assets." 
West's applications focus on his brand YEEZUS, also the name of his 2013 album and promotional tour. Earlier this year, West wrote on Instagram: "STOP ASKING ME TO DO NFT's ... FOR NOW I'M NOT ON THAT WAVE I MAKE MUSIC AND PRODUCTS IN THE REAL WORLD."
On Thursday, leading small business retirement planners ForUsAll announced that it's suing the U.S. Department of Labor for planning to restrict companies from offering crypto investment options to 401(k) retirement plan holders.
"The DOL plays several important roles that serve American workers—but 'armchair financial adviser' shouldn't be one of them," ForUsAll CEO Jeff Schulte said.
That same day, pop star The Weeknd announced a Binance-sponsored "crypto-powered world tour" in support of his fourth album, "After Hours." The crypto exchange will work with Toronto's HXOUSE incubator to develop an NFT collection for the tour. Concertgoers will receive virtual ticket stubs redeemable for commemorative NFTs.
Binance is also donating $2 million to The Weeknd's XO Humanitarian Fund, which was formed early this year. The Weeknd and Binance will collaborate on additional NFTs and donate 5% of all sales to the fund.
Finally, the New York State Senate on Friday passed a bill to impose a two-year moratorium on all fossil fuel-powered proof-of-work crypto mining operations. Senate Bill S6486D passed 36-27 during a morning vote, and now it's headed to the desk of Gov. Kathy Hochul, who has a 10-day window to sign it into law or veto it.