An NFT collection featuring artwork by Johnny Depp has seen its price jump after the actor won a defamation suit against ex-wife Amber Heard yesterday.
The 3,850 "Never Fear Truth" NFTs have a floor price of 0.52 ETH (around $944) as of this writing. Before the televised defamation trial, the collection had not seen much traction since March 11, when its floor price peaked at 1.64 ETH. At that time, Ethereum was trading at $2,664, per CoinMarketCap. The collection first launched in January with a starting price of 0.70 ETH.
The "Never Fear Truth" collection of generative art on OpenSea is minted on Ethereum, featuring artwork by Depp. The project was verified as authentic by MakersPlace last month. Among the collection are images of "Friends and Heroes" from Depp's past, including Heath Ledger, Tim Burton, River Phoenix, Elizabeth Taylor, Al Pacino, and Hunter S. Thompson.
607 of the pieces feature Depp himself.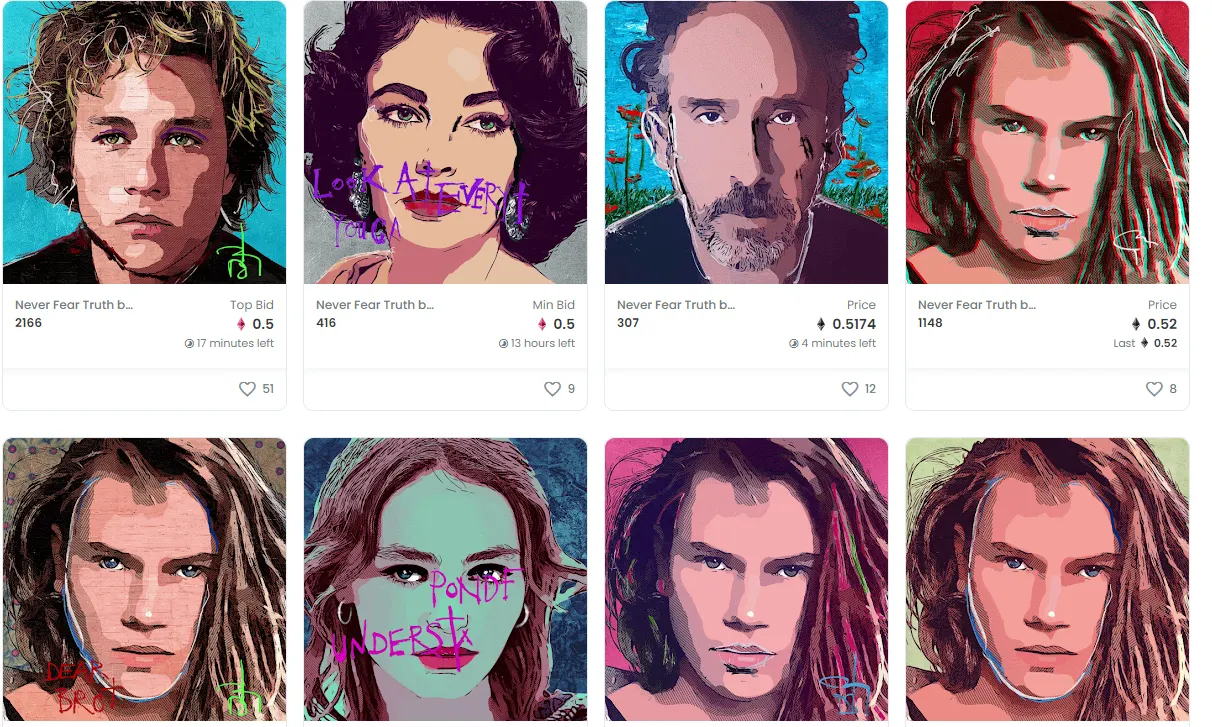 "In this first public exposure of Johnny's art, he has focussed on people he has known well, and who have inspired him as a person," the description reads. "Each image is an intimate reflection of their character in Johnny's eyes; a portrayal of how they have revealed themselves to him."
Non-fungible tokens (NFTs) are cryptographically unique tokens linked to digital (and sometimes physical) content, providing proof of ownership. According to the OpenSea listing, each "Never Fear Truth" NFT will act as a membership to a creative community and future releases by Depp.
Depp is not the first controversial celebrity to enter the NFT marketplace. In December, the rapper turned actor Ice-T launched an NFT collection with Niftify. Ice-T's 1992 album "Body Count" was nationally controversial for the protest song "Cop Killer," written from the perspective of a character fed up with police brutality.
Of course, NFTs have become controversial, with gamers and artists pushing back against what they see as a cash grab or, worse, a scam, not to mention the environmental impact of NFTs minted on proof of work blockchains like Ethereum that is in the process of shifting to a proof of stake algorithm.