The price of Bitcoin and Ethereum spiked on Sunday and pushed through recent price resistance as the entire crypto market pumped higher. Bitcoin is up more than 5% in 24 hours to $47,020 at the time of writing, and Ethereum is up 5% to $3,292, according to CoinMarketCap.
Bitcoin is now up 14% in the past week, Ethereum up 15%.
Other top coins rose as well: Polkadot (DOT) is up 7% in 24 hours, Dogecoin (DOGE) is up 6%, Solana (SOL) is up 5%, Avalanche (AVAX) is up 4%, XRP is up 3%, and Cardano (ADA) is up 3%.
It was not immediately clear what caused the rebound, but it's likely a combination of many factors that have been gestating over the short and long term, including crypto news and broader market trends.
For example, the S&P 500 has risen for a week straight, and Bitcoin's correlation with stocks is at a 17-month high. In addition, Do Kwon, creator of protocol Terra (LUNA), said in a Twitter Spaces that he plans to buy billions of dollars in Bitcoin and keep it in a reserve to back the stablecoin TerraUSD (UST). Luna Foundation's official Bitcoin wallet address currently holds over $1.1 billion, and Kwon plans to accumulate up to $10 billion worth of BTC.
Bitcoin balances on exchanges are also at their lowest in more than three years according to Glassnode, signaling increased demand and an interest in moving Bitcoin off exchanges via cold storage methods like hardware wallets.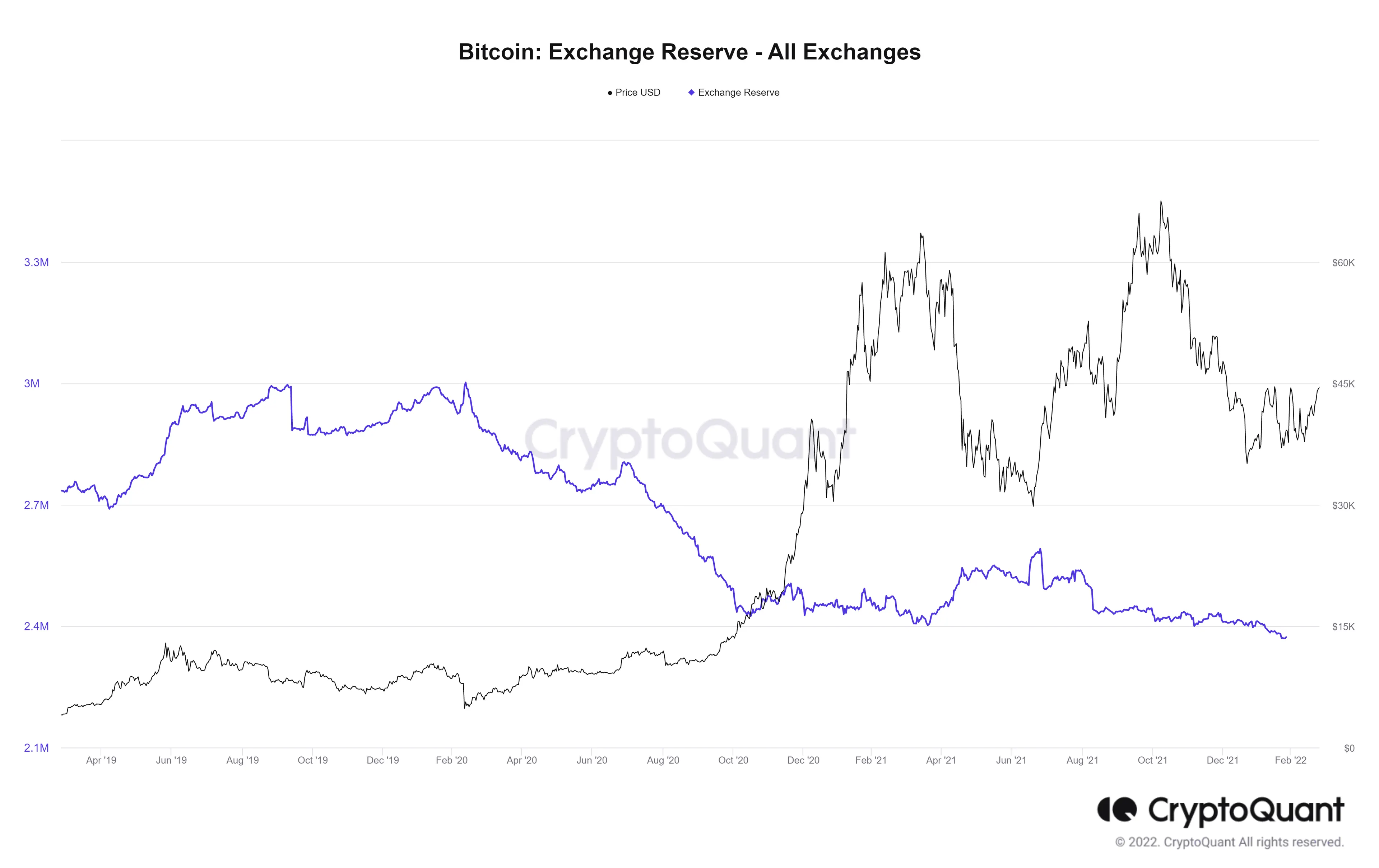 In other news, El Salvador has continued its push toward Bitcoin mass adoption with its "volcano bonds" which, while delayed, are still being planned for the country. El Salvador's President Nayib Bukele told his 3.6 million Twitter followers last week to invest in the volcano bonds to "make the world that bit harder to police."
And let's not forget Ukraine's official legalization of cryptocurrency and continued acceptance of donations (more than $100 million to date) in the form of Bitcoin, Ethereum, Polkadot, and Dogecoin.
Or if you ask Dogecoin co-founder Billy Markus, "The answer is always manipulation."