In brief
Startups and tech giants alike are making displays designed for NFT artwork.
The NFT market hit $25 billion in trading volume in 2021, per DappRadar.
Whether it's a Bored Ape or a Beeple, many NFT owners are proud of their digital collections and want to show them off to the world. The beauty of digital artwork is that it can be brought anywhere and showcased on just about any type of screen, whether it's your smartphone, laptop, tablet, or TV.
But as the industry expands, there's a growing appetite for bespoke displays that are custom-built for the look, dimensions, and sometimes even interactivity of NFT artwork. There's also the matter of authenticating ownership from a connected crypto wallet, thus proving that the pricey digital piece on your wall is, in fact, yours to claim.
Many startups—including Lago, Danvas, and Infinite Objects—have emerged to meet that demand. They're creating unique devices that serve as the missing link to bring digital artwork into the physical world, whether that's in your home, at an art gallery, or another public space.
Lago is one of those startups building displays designed especially for NFTs. The Lago Frame has a square aspect ratio, along with sensors for gesture controls and voice commands, as well as an optional attached soundbar from Master & Dynamic. Lago is currently taking pre-orders for the Frame, but it has not revealed pricing or availability details.
"Lago was born out of listening to the pain points of the community," co-founder Scott Gralnick told Decrypt. "We wanted to create a frame that was built exclusively for minted art, and offer an elevated display that would do these digital works justice."
Owners can further interact with the Lago frame via a smartphone app, which lets them connect a crypto wallet to access their NFTs, manage collections to showcase on the screen, and interact with a community of fellow collectors. It can also show statistics on how many people viewed and interacted with an NFT on the Frame, which could be handy for gallery owners.
Lago will also offer an optional subscription service that unlocks exclusive content from artists. The firm has some notable proponents, too: OpenSea co-founder and CEO Devin Finzer is quoted as calling the Frame a potential "game changer" on the Lago website, and the firm recently partnered with NFT artwork platform SuperRare.
"Minted art is very much in its infancy," said Gralnick. "We're helping shape a future where the metaverse can be enjoyed with ease in any physical space."
"After being locked in for the past two years due to the pandemic, we believe demand for real-life experiences where minted work can be enjoyed together will become standard," he continued. "Minted art will sit seamlessly with traditional art in every space."
Danvas is another such startup. Founded last year, Danvas raised $7 million from investors like Gary Vaynerchuk's VaynerFund, as well as UTA Ventures and Greycroft. CEO and co-founder Jeanne Anderson told Decrypt that she sees an enormous opportunity as the NFT industry—which hit $25 billion in trading volume in 2021—expands even further.
The Danvas frame has yet to be revealed to the public, although it will have a square aspect ratio and allow some level of interactivity for NFT assets that allow it. The company suggests that it won't simply look like a square-shaped TV repurposed for NFTs, however, with a representative citing "museum-quality designs and feel" for the as-yet-unseen device.
Anderson paints Danvas as a high-end, luxury product for serious collectors. She believes that enthusiasts will want a premium display designed just for their pricey digital artwork—and that artists will think it best represents their creative intentions.
"[It's] really an extension of the artist's palette," she said, "that enables an artist to really show off their artwork fully, dimensionally in all the ways that they originally designed."
Varying approaches
Other startups have already released NFT-centric devices into the market. Canvia launched its display (which starts at $493) in December, billing it the first such device to connect directly to crypto wallets to display owned NFT artwork. It also comes with a streaming feed of more than 10,000 pieces of artwork from classic and contemporary artists.
Blockframe's display ($599) works with both Ethereum and Tezos wallets, meanwhile, expanding beyond the dominant Ethereum NFT ecosystem. Tokenframe is another startup that has just started shipping its wallet-connected displays, and varies from the rest by offering a wider range of sizes and styles—from a 10" frame ($333) to an enormous 55" display ($2,777).
Infinite Objects isn't quite like its contemporaries, however. Unlike the above startups that let owners plug in a wallet and display as many NFTs as they'd like, Infinite Objects sells what it calls "video prints" based on a single NFT, with no buttons or interactivity onboard.
In other words, the device will only ever show the one NFT it designed for, in partnership with the original artist or IP holder. Infinite Objects will eventually also let collectors turn their owned NFTs into single-edition physical twins, but only with the artist's blessing.
"We are very unique in that our display is immutable. Just like the blockchain, you can never change what is on it," explained Infinite Objects founder and CEO, Joseph Saavedra. "That's a non-traditional approach to display technology, but one that really aligns with what NFTs mean."
Infinite Objects launched in 2019 well before last year's NFT market boom and was initially targeted to digital artists as a way to monetize their artwork via physical representations. It can also be used for personal videos as a physical keepsake, for example. But when the NFT market started to take off, Infinite Objects was already primed to ride that wave.
Beeple (aka Mike Winkelmann), who sold a single NFT for a record $69.3 million in March 2021, had connected with Infinite Objects before he ever minted his first NFT in late 2020. He then worked with the firm to create video prints for buyers of his increasingly in-demand NFTs, and recently gifted podcast host Joe Rogan with one as well.
"We loved seeing how Mike just got it," said Roxy Fata, Infinite Objects' chief operating officer. "The floodgates just opened after that, because sometimes it takes that early adopter. He was very much an amazing use case that people understood right away."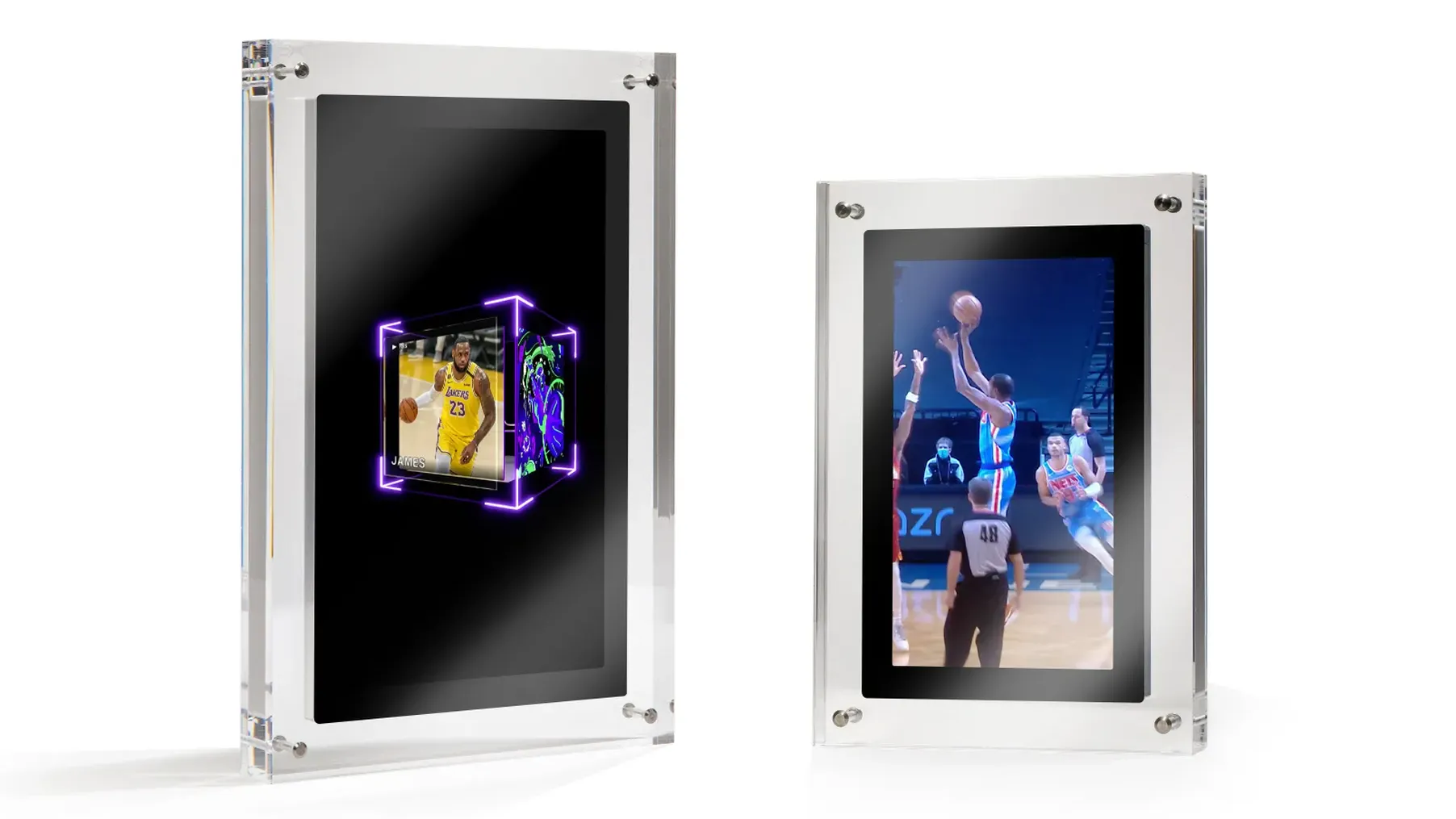 Since then, Infinite Objects has launched a partnership with Dapper Labs—an investor in the display startup—to release official NBA Top Shot video prints. The Top Shot displays start at $129 and let owners showcase their favorite league highlight in an immutable frame.
Mik Naayem, co-founder and chief business officer at Dapper Labs, told Decrypt during a recent interview that he sees "massive" potential for physical displays made for NFT collectibles.
"We gifted all of our partners Infinite Objects for Christmas, and the reaction was incredibly positive," he said. "I think they're very, very important to have that continued growth in our community. For a certain subset of people, it's going to make NFTs feel much more real."
Sizable rivals
While display startups are angling to meet demand from NFT enthusiasts, major tech firms are muscling into the space as well. Samsung announced last month that it will include NFT support on an array of 2022 TVs, including viewer and marketplace explorer functionality, while Netgear is adding MetaMask wallet support to its Meural video frame.
Will the scale and reach of tech giants propel them to the front of the pack? The startups that Decrypt spoke with didn't seem too concerned. They see enough opportunity in the space for specialized options to stand out from an app on a TV, for example, in the case of Samsung.
Lago's Gralnick said that Samsung's NFT support "helps educate everyone and increase mainstream awareness," but he believes that generally, "most TVs won't do fine minted pieces justice." 
And for a casual collector, an NFT viewer app on a TV or set-top box might do the trick. Meanwhile, serious NFT aficionados may be willing to invest in something bespoke that is dedicated to tokenized digital artwork and designed for its dimensions or features.
"There's no reason not to install an Apple TV app that lets you authenticate with MetaMask and start to scroll through a gallery slideshow of your collection. That has a place, absolutely," said Infinite Objects' Saavedra. "But then you're gonna put 'Grey's Anatomy' or 'Real Housewives' on that same display."
He added that dedicated NFT displays can not only bridge the gap between digital collectibles and physical environments, but also potentially help explain and validate NFT artwork to some people by giving it real-world context and place.
All of these firms are betting on the future of the NFT artwork and collectibles market, so it's no surprise that they're all bullish on what they see ahead. For Saavedra, increasing mainstream presence of NFTs via celebrity purchases and brand partnerships is a sign that the frenzy will only grow—and physical displays will be a part of that coming expansion.
"I think it's inevitable. I mean, you're seeing freakin' Paris Hilton on 'The Tonight Show' holding up a Bored Ape," he said. "I think that there's no question that everyone will be jumping in, and we're very excited to help tell the story."