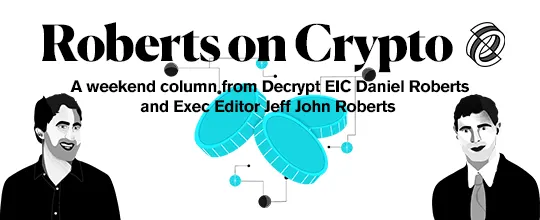 It's the oldest cliché in crypto: that blockchain still has no "killer app," still awaits its "Netscape moment." The term refers to the 1994 launch of the web browser that made it easy for ordinary people to surf the Internet. The web had been around for years, but Netscape's arrival ignited a turning point that brought the "information superhighway" mainstream.
The crypto community has been waiting for its own version of this moment for years. And it may have just arrived. This past week saw the first U.S. Bitcoin ETF begin trading, more are on the way, and Bitcoin and Ethereum both hit new all-time highs.
"The browser moment has happened in the last year," says Jesse Walden, an Andreessen Horowitz vet who just raised $120 million to start a second venture fund dedicated to early stage crypto. (Marc Andreessen co-founded Netscape, by the way.)
In a recent interview, Walden made the case that a series of developments—from the NFT explosion to the millions of people playing the metaverse game Axie—means crypto has gone beyond early adopters to the first stage of mainstream use. And while no crypto product has replicated the radical simplicity that Netscape introduced, Walden says the clunky user experience has evolved to the point where people can figure it out.
"Your thumbs will learn," he says, quoting Apple founder Steve Jobs response to critics who said people wouldn't embrace the iPhone because it had no keyboard.
I think Walden is right. I can't point to the specific day or month when it happened, but at some point in the last year crypto exploded in the same way that the web did in 1994.
You see it everywhere—from crypto marketing invading pro sports to wall-to-wall media coverage to Mark Zuckerberg's bet on "the metaverse." And this is just the beginning. The last week alone brought news of not just Walden's new fund, but another $250 million fund from MultiCoin Capital that will be dedicated to crypto startups. They are just the latest example of firms that are together investing billions into a blockchain-based future.
So what does crypto's long-awaited Netscape moment mean? For investors, it means enormous opportunity—and risk. In the go-go days of the early dot-com boom, three stocks—Amazon, eBay and Yahoo—came to define the era, and those who bought them got very rich. But for every Amazon, there were a hundred Pets.coms that promised fat returns from the newfangled internet but left investors rekt. So be careful out there.
The warning is the same for legacy companies. Those that can figure out how to plug the best elements of blockchain and Web 3 into their core business, like auction house Sotheby's or Visa, will flourish in the future. Meanwhile, those that ignore blockchain or deploy it badly will end up like many of those in my own industry—the media business—that responded to the rise of the internet by using it to publish PDFs.
Finally, what does crypto's Netscape moment means for consumers? Most likely, it will change everything just like the web browser did 25 years ago, though we don't quite know how. For now, the emerging crypto era is a lot like the parable of blind scientists trying to identify an elephant by touching it—we might know what parts of Web 3 mean, but it's too early to understand how it all fits together. Whatever the answer, it's going to be fun to find out.
This is Roberts on Crypto, a weekend column from Decrypt Editor-in-Chief Daniel Roberts and Decrypt Executive Editor Jeff John Roberts. Sign up for the Decrypt email newsletter to receive it in your inbox. And read last weekend's column: Bitcoin's First ETF: Winners and Losers.