In brief
Ethereum still has the most developers contributing to its network.
Filecoin and Polkadot have both seen strong developer growth.
DeFi projects were also big winners in winning over developers.
According to cryptocurrency metrics tracker CoinMarketCap, there are more than 9,000 digital currencies currently traded and available on exchanges across the world. The relative merit of most of these projects is determined in part, by their market value. The higher the market capitalization, the more valuable the project is perceived to be. 
But relying on such a one-dimensional metric can overlook networks that have active and vibrant developer communities in favour of those with better marketing budgets. The story of OneCoin, the giant pyramid scheme that sucked in more than $6 billion worth of investment has become a cautionary tale of what happens when a project is built on hype alone. 
There are more than 8,000 monthly active developers working on various cryptocurrency projects, according to the Developer Report, produced by Electric Capital, a venture firm, with some 80% of those developers starting in the last two years. 
The current leader in terms of people actively contributing to the development of a network is Ethereum, with approximately 2,300 average monthly developers - those who were active on a monthly basis, according to the Developer Report. The number actively working on Ethereum has grown by 215% in 3 years. But there are a number of other communities also seeing strong growth.   
Polkadot
If there was ever a challenger to Ethereum's development growth in the last year, it'd probably be Polkadot. The network, created by Ethereum co-founder Gavin Wood, is designed to connect separate blockchains into one, interconnected network. 
According to the Developer Report, the project doubled its developer count in 2020, to nearly 400 active developers.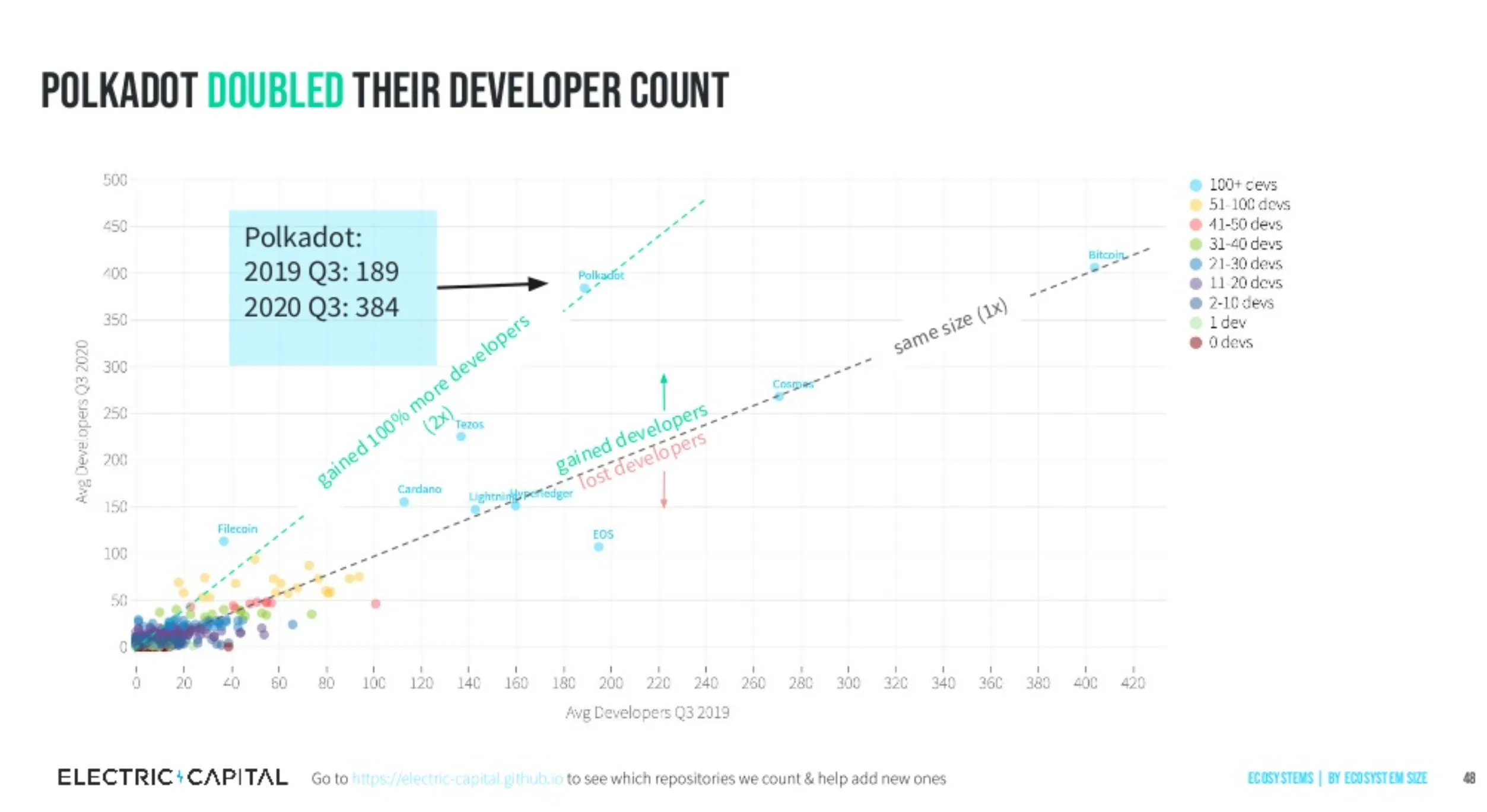 When comparing the number of commits - submissions of new or amended code - by developers within the first three years of the projects, Polkadot's community was more active than Ethereum's at the same point in time. 
Another project that has been gaining traction has been Filecoin. The decentralized storage network tripled its developer count between Q3 of 2019 and Q3 of 2020, driven in part by the project's mainnet launch in October last year.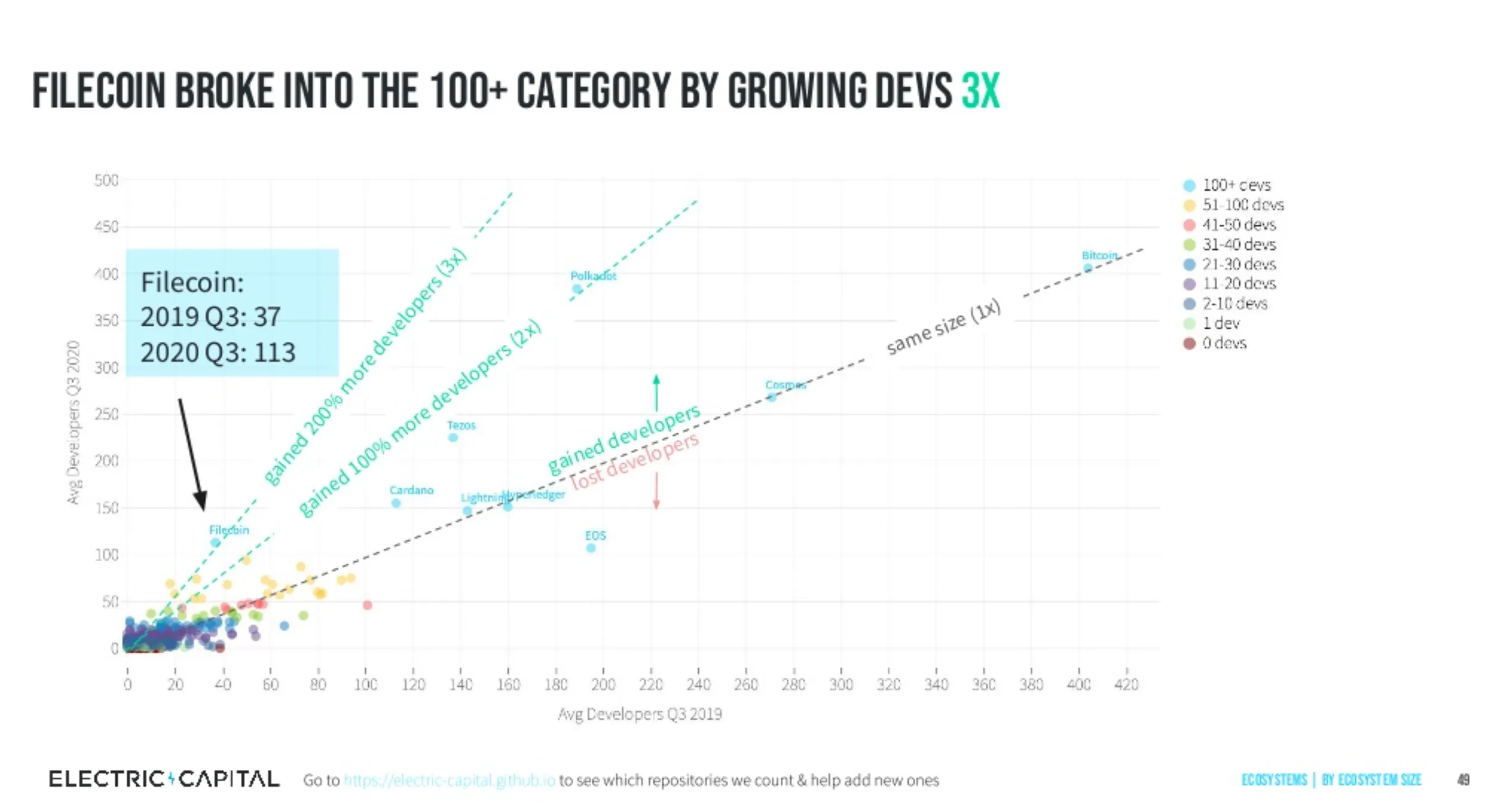 Near, Flow, Avalanche, Uniswap, Balancer, Arweave Have More Than Tripled Their Developers 
The fastest-growing projects last year were a mix of new protocols, DeFi networks, and decentralized storage projects, which have effectively tripled their developer numbers over the last 12 months.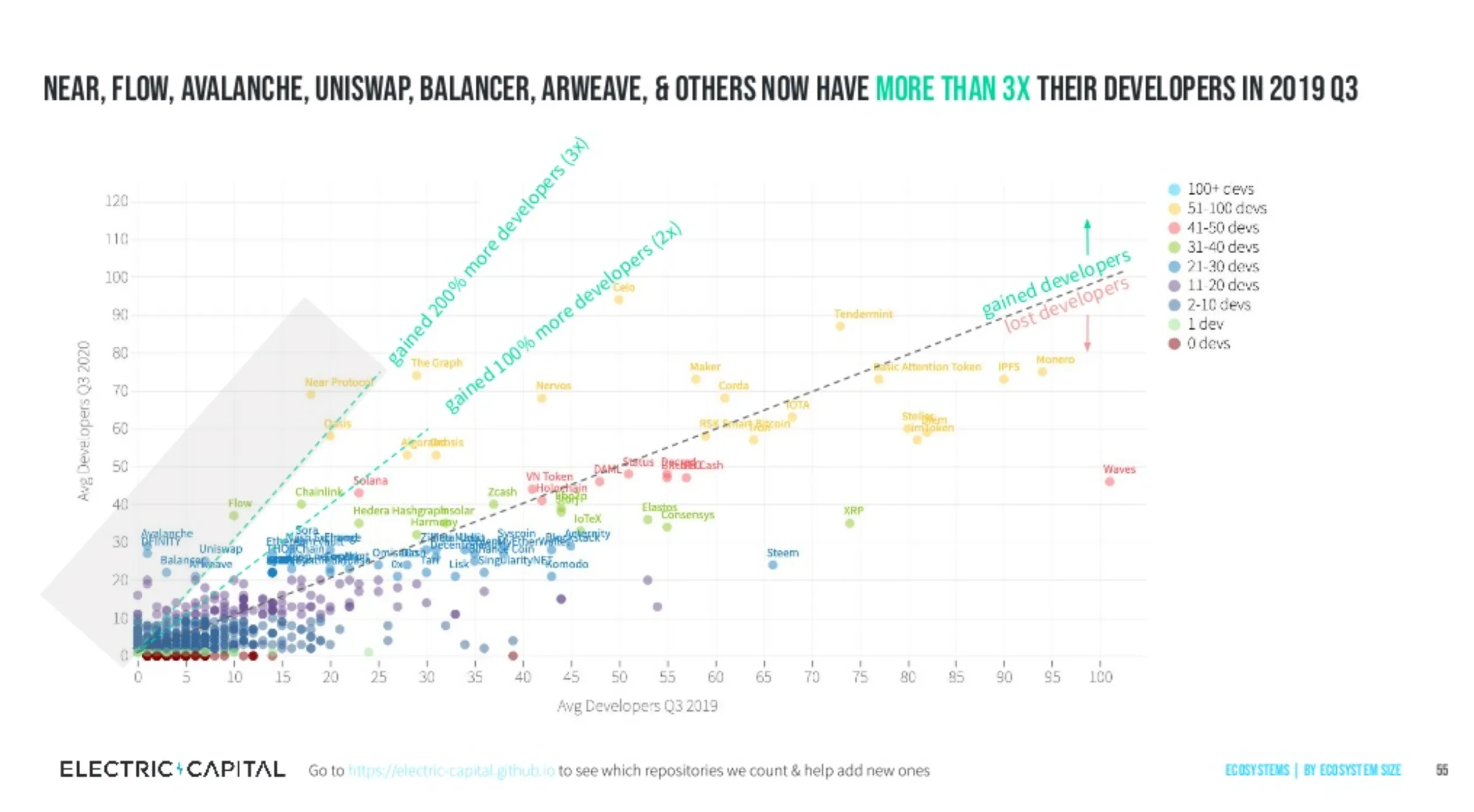 Near Protocol, which some have described as an "ethereum killer" is in reality, more akin to a sister network as its blockchain has a number of interoperability functions that allow it to work alongside Ethereum. 
In 2020, the project released its initial main net in April, with the final version of the main net released on October 13th. Near, which raised $33 million in its ICO, has continued to be an attractive proposition for developers into 2021, according to blockchain insights firm, Flipside Crypto. 

Avalanche is a new platform developed by Ava Labs that allows anybody to easily produce their own multi-functional blockchains and decentralized applications (dApps).
It is designed to address some of the limitations of older blockchain platforms, including slow transaction speeds, centralization, and scalability—and uses several innovations to do so. This includes its unique Avalanche consensus protocol, which promises low latency, high throughput capabilities, and resistance to 51% attacks.
Avalanche launched its mainnet in September 2020, just two months after raising $42 million in a token sale—which sold out in less than five hours.
Arweave, meanwhile, is a decentralized data storage protocol that permanently stores censorship-resistant data. Its native token AR allows users to pay an up-front fee; the interest they earn covers the cost of storage over time. This enables developers to build decentralized applications that are owned and controlled by no centralized figure. 
Over the last few months, the project has teamed up with other fast-growing projects like Solana to act as a backup for data-heavy networks. While Arweave and Avalanche's developer communities are small in comparison to others, their growth is still promising.
Celo, Nervos, Algorand, Gnosis, Solana Doubled Developers In 2020
Rounding out the fastest growing networks by developer count is Celo, Nervos, Algorand, Gnosis and Solana. 
Celo is a blockchain platform for creating mobile phone DeFi tools—the kind meant to facilitate global financial inclusion. Its light client can supposedly be used on any smartphone, even in areas with low internet connectivity.
Celo has gone so far as to form something of a competitor to Facebook's Diem project, called the Alliance for Prosperity. Its members are dedicated to using blockchain tech—and, crucially, Celo's stablecoin—to work toward a financially inclusive world where everyone has access to credit and capital. Its grants program for developers has incentivized developers to build on the project. 
Gnosis, meanwhile is a company that builds advanced Dapps on Ethereum, as well as its popular wallet, Gnosis Safe. 
Solana was created to more easily track historical events or transactions in a specific sequence. Algorand too has focused on building a highly scalable network targeted at event tracking for the financial services industry.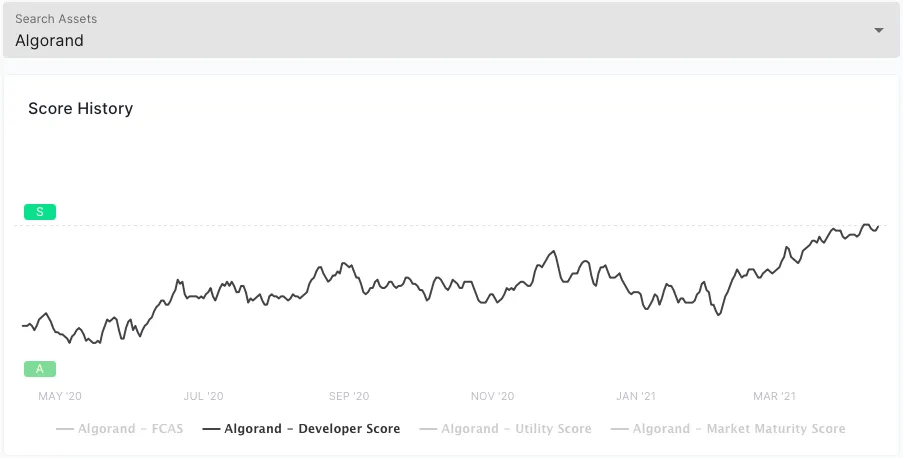 Defi Gains 
Unsurprisingly, projects working specifically in the decentralized finance space saw significant gains over the last 12 months.
According to Electric Capital, DeFi developers increased by 67% since January 2020. The biggest gainers were Uniswap, Balancer, Yearn, MCDex, and Acala, which all effectively doubled their developer numbers in 2020, when compared to 2019.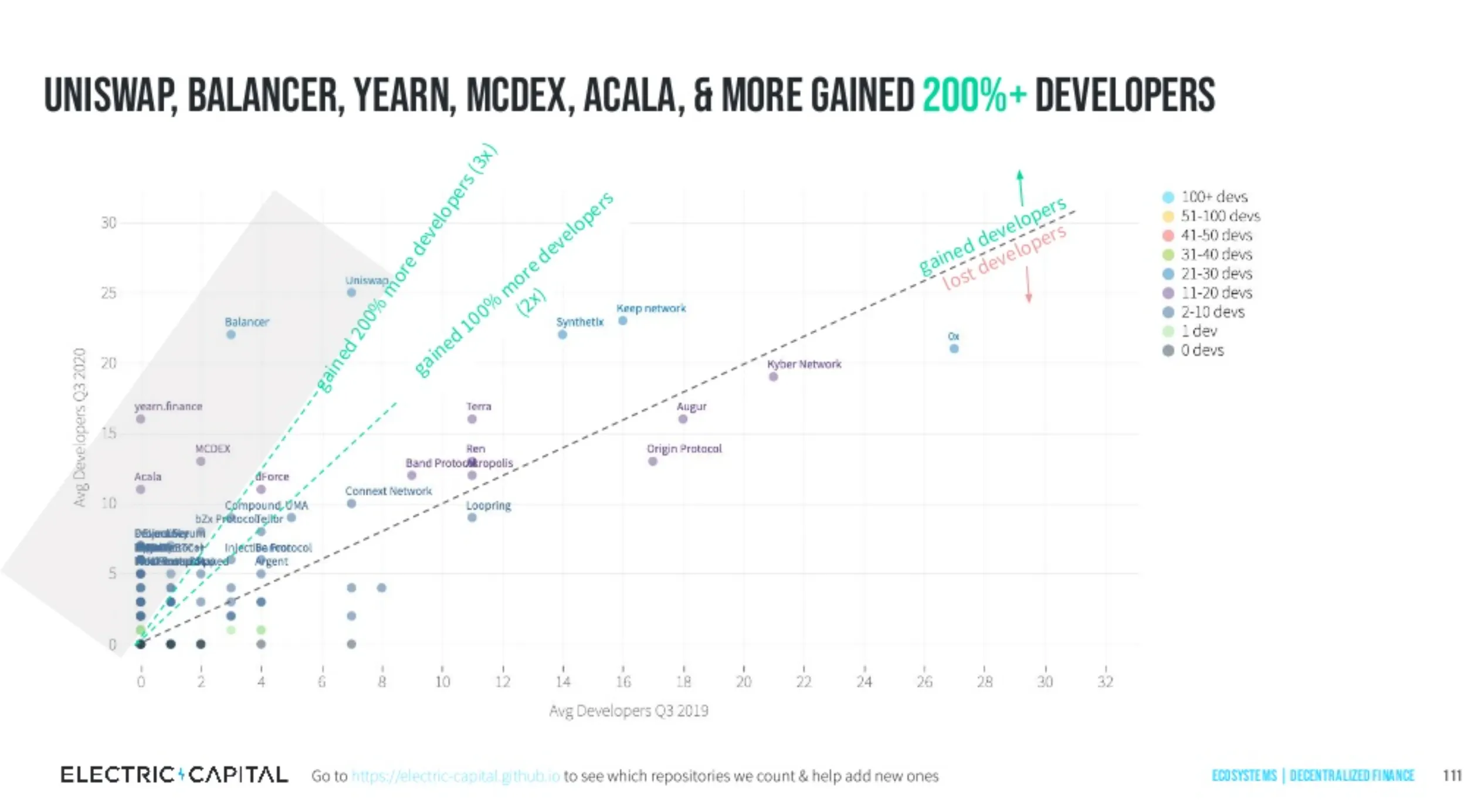 That trend appears to have continued in 2021. Uniswap saw a slight decline in developer activity at the end of 2020, but it appears to be picking up, according to flipsidecrypto's analysis. The drop was most likely the result of the surge in activity on the platform after Uniswap introduced its UNI token in September 2020.

Yearn.Finance has remained mostly flat in 2021, whereas Balancer has seen an uptick in developer activity.  
With the surge in the popularity of NFTs and the platforms that serve them, we expect 2021 to see the emergence of new, more use-case-specific platforms and the developers that will power them, like Flow and as yet released NFT platform, Palm.
This post was created in partnership with Saidler & Co.