In brief
Tether's market cap has hit $19 billion.
The stablecoin's market cap has been increasing for months in 2020.
Tether's continued growth ensures that it remains the leading stablecoin by market cap.
Tether, a US dollar-backed stablecoin, has reached a total of $19 billion in market cap. In other words, there are over $19 billion US dollars that have been exchanged for Tether thus far. 
It's been a tumultuous day for the crypto industry, with the community still reeling from a major Bitcoin price crash that occurred overnight, sinking Bitcoin by $3,000. But, as Bitcoin and other cryptocurrencies decline, Tether—the world's biggest stablecoin—is making gains. 
According to Tether's official website, there are currently $19.1 billion Tethers in circulation. Of course, each of these are tied to the dollar, and so each represents $1. 
Per CoinMarketCap, Tether's market cap has been booming in recent months, and despite negative market fluctuations elsewhere in the crypto industry, Tether's market cap has remained on course.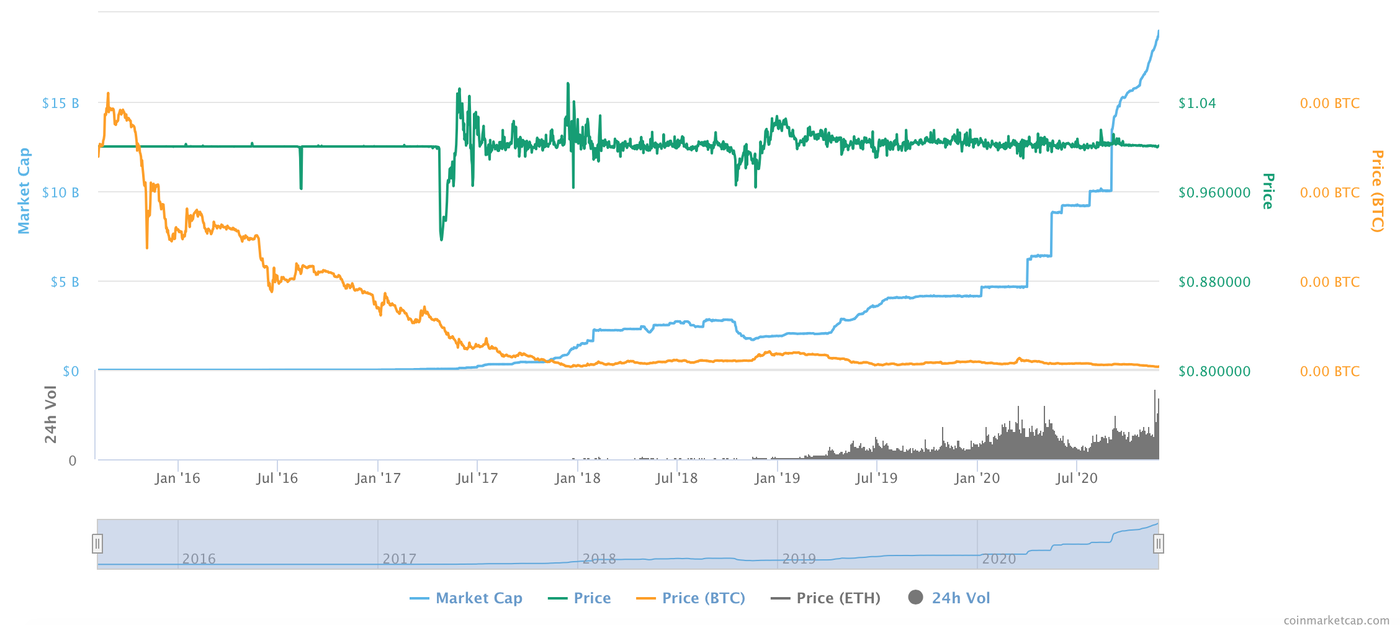 Since August 31, 2020, Tether's market cap has increased by about 90% from $10 billion to current all-time highs of approximately $19 billion. During this month, its market cap increased from approximately $16.5 billion, meaning it rose by 15% in November. 
What's more, Tether's increasing market cap ensures the dollar-pegged stablecoin continues to lead the stablecoin industry without a real rival. 
Per CoinGecko, Tether's market cap is almost $17 billion higher than runner up USD Coin, run by Centre and supported by Circle and Coinbase.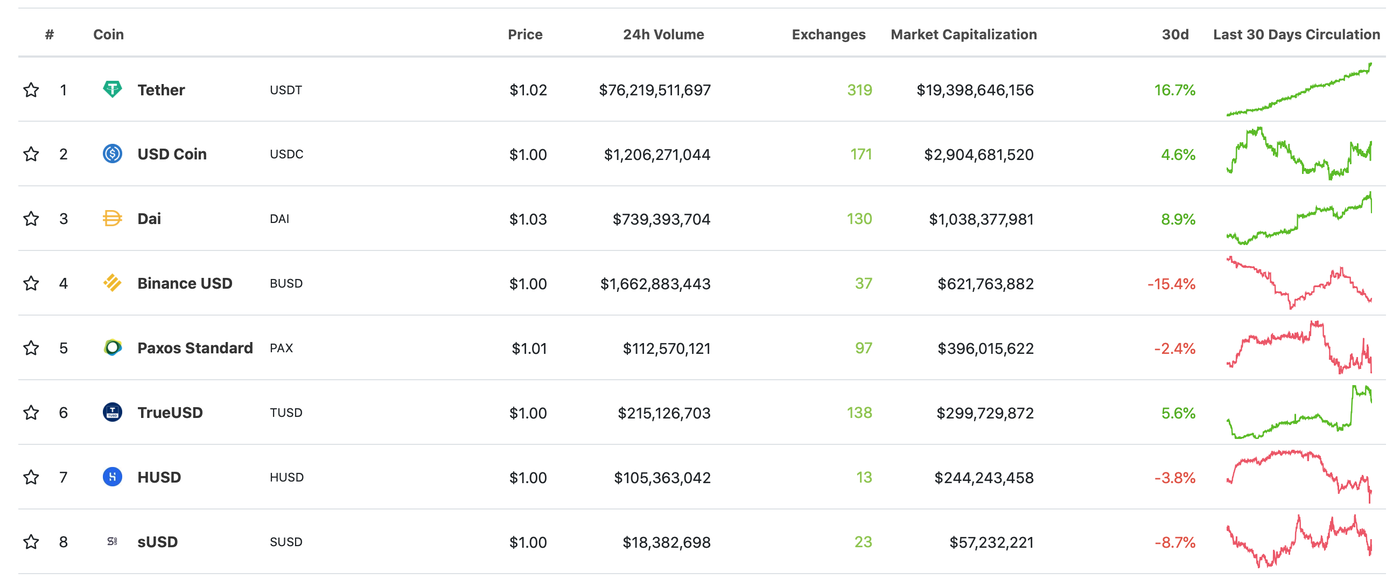 One theory about Tether's increasing market cap has been that the stablecoin benefits from Bitcoi's increasing price. 
Because Bitcoin's price has been increasing, more and more people are pulled into crypto, and with Tether acting as an on-ramp into the industry—particularly in China—the stablecoin has stood to benefit from Bitcoin's growth for months. 
Yet, Tether's recent market cap has not declined despite Bitcoin losing approximately $3,000 to its value overnight. 
Another rationale for Tether's growth—previously reported by Decrypt—is that Tether has benefitted from the decentralized finance (DeFi) boom that occurred this summer. 
Either way, Tether's market cap looks set to just keep on growing.