Throughout Sam Bankman-Fried's criminal trial, the FTX founder's lawyers have sought to preclude certain pieces of evidence. But U.S. District Judge Lewis Kaplan—who presides over Bankman-Fried's court case—has permitted the jury to see and hear almost everything.
The contested exhibits range from specific views of a marina in the Bahamas that Bankman-Fried's apartment once overlooked, to a memo he penned for those at his trading firm Alameda Research on maintaining good vibes—along with audio snippets from Alameda's last all-hands.
Together, the exhibits, which were eventually shown to the jury, offer insight as to what Bankman-Fried's lawyers appear sensitive toward in court. As the former crypto mogul's six-week trial enters week three, more evidence will likely come under the same scrutiny.
Bankman-Fried faces seven conspiracy and fraud charges that stem from his conduct at the helm of FTX. Among the accusations he faces, Bankman-Fried is charged with dipping into billions of dollars of customer funds at his exchange through Alameda to spend as he pleased.
Sam Bankman-Fried's Approximate List of What Matters
Bankman-Fried's lead lawyer, Mark Cohen of Cohen & Gresser, objected to a memo written by his client while former Alameda CEO Caroline Ellison was on the stand. According to Assistant U.S. Attorney Danielle Sassoon, the memo was "sent to both people at Alameda and people at Modulo about how the two companies should do a better job of working together."
Modulo Capital was backed by FTX and viewed as a competitor to Alameda, Ellison testified. Bankman-Fried's memo was meant to illustrate how he made decisions for Alameda despite Ellison's authority as CEO, prosecutors said, but Cohen objected to the document's relevancy.
"What conceivable relevance is it that he wrote these items, only to show that he's some sort of crazy person?" Cohen asked Judge Kaplan at sidebar, outside the jury's earshot.
It's unclear what Cohen could've been referring to specifically, but it might've been Bankman-Fried's musings about the uncanny valley or potentially repeating "being aligned and doing whatever you think is best for the company" ten times in a row.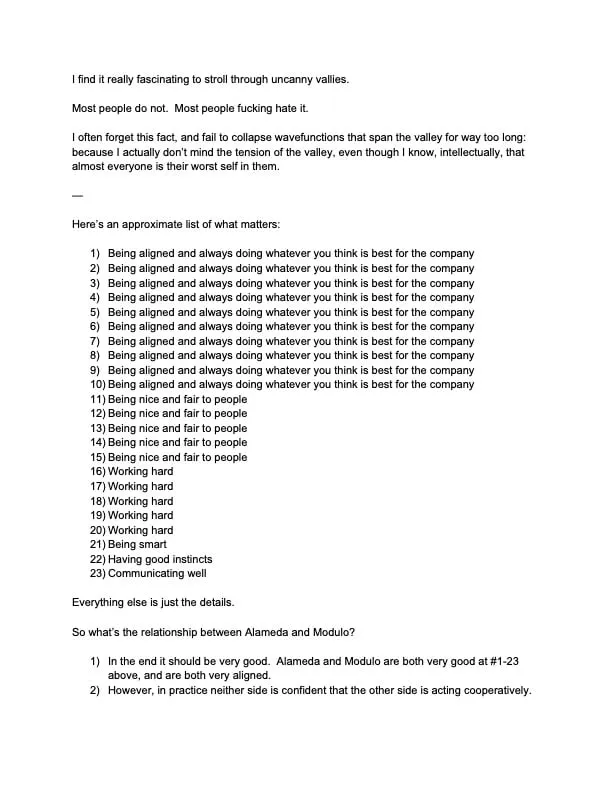 Alameda All-Hands Audio
When Alameda and FTX were careening toward bankruptcy last November, Ellison held an all-hands meeting in Hong Kong with members of the trading firm, where she divulged the apparent misuse of FTX customer funds to those who sat around her.
The conversation was recorded by Richard Best, a trader who had joined Alameda three days prior to the meeting, according to Christian Drappi, a software engineer from Alameda who was called to testify by the government after Ellison.
Chopped up into six separate clips, Bankman-Fried's lawyers sought to prevent the jury from hearing the audio. While the government argued it was important information, the defense objected to the clips after Ellison had already been dismissed as a witness.
A legal throwdown—that lasted several minutes—saw several arguments floated. Bankman-Fried's lawyers argued that her statements extended beyond the scope of her as an agent of Bankman-Fried's apparent scheme and weren't consistent with her prior testimony.
"This is not within the scope of the agency," Christian Everdell, one of Bankman-Fried's lawyers said. "To the extent an agency existed here, she went well beyond the scope of that agency in making comments."
The clips were eventually allowed. And over the courtroom's speakers, the jury heard Ellison tell Drappi, Best, and others present about alleged misuse of customer funds.
Views with a Yacht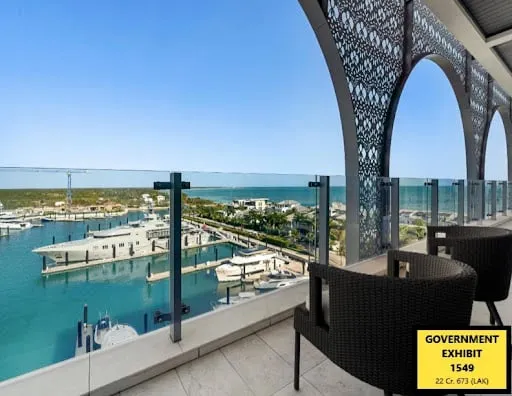 As prosecutors painted a picture of Alameda and FTX's luxury living quarters in the Bahamas on the trial's first day of testimony, the defense objected to certain pictures of the Orchid's interior. Located at The Albany resort, the penthouse was purchased by FTX for $35 million.
Out of dozens of photos of the Orchid's interior aesthetics, Everdell expressed trepidation over the jury seeing exactly three, which had photos of yachts visible from the penthouse's windows.
"There's no evidence in the record at all that he bought a yacht," Everdell said, referring to Sam Bankman-Fried. "The jury could assume everyone who had a house in this complex owns a yacht like that, and that's not what the evidence shows, and that's I think prejudicial."
Edited by Stacy Elliott.