CoinShares latest investment report revealed a surge of investment into the market, with a total of $78 million pouring into the sector.
This is the second consecutive week of positive inflows, with almost a four-fold increase from $21 million in the previous week, and also the largest week of inflows since July this year, as noted by the report's author James Butterfill.
"Bitcoin was the main beneficiary, seeing inflows totaling $43m last week, although some investors saw recent price strength as an opportunity to add to short-Bitcoin positions, which saw inflows of $1.2m over the same period," wrote the CoinShares analyst.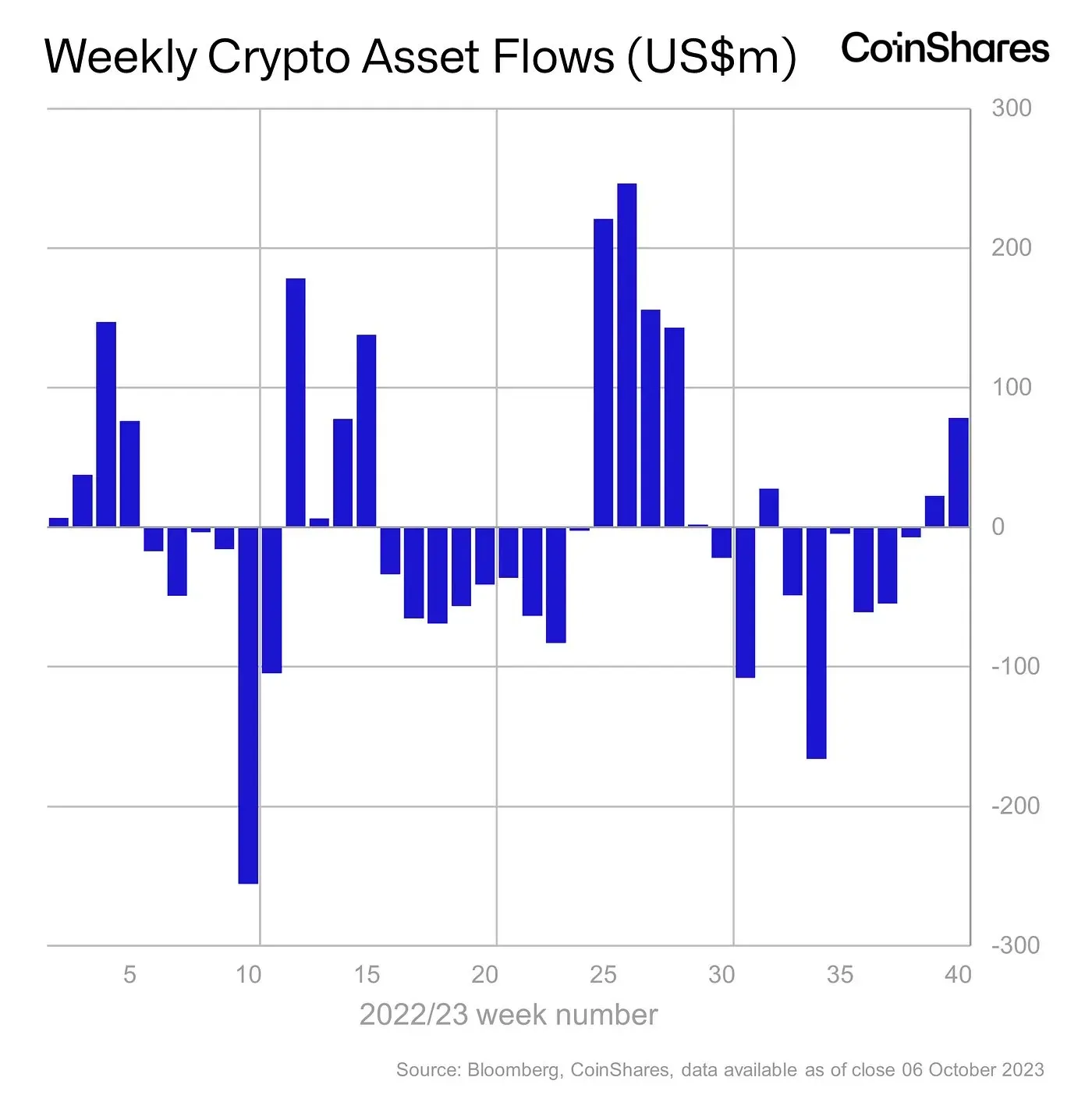 Trading volumes for crypto-related exchange-traded products (ETPs) saw a robust increase of 37%, reaching $1.13 billion over the span.
The report also highlights a notable uptick in Bitcoin (BTC) trading volumes, up by 16% on listed cryptocurrency exchanges.
Regionally, a stark divergence in sentiment is evident, as 90% of the total inflows originated from Europe, while the United States and Canada collectively received just $9 million in inflows, per the report. This same divergence was seen last month too, with CoinShares citing the adverse regulatory climate in the U.S.
Ethereum ETFs garner modest interest
Last week's debut of Ethereum futures-based exchange-traded funds (ETFs) in the U.S. marked a significant moment for Ethereum (ETH) investors.
However, investor response to these products was somewhat mute, with just under $10 million in inflows during the first week.
As the report noted, this "tepid appetite" is in sharp contrast with the launch of Bitcoin futures-based ETFs in October 2021, which attracted a whopping $1 billion in the same timeframe.
"It is likely due to poor investor appetite for digital assets at present, and unfair to compare to the Bitcoin futures ETF launches in October 2021, as appetite was much higher for the assets class overall," argues Butterfill.
In contrast to the modest start for Ethereum ETFs, Solana (SOL) experienced a substantial surge in inflows, recording its most significant weekly inflow of $23.9 million since March 2022.
The industry's eighth largest cryptocurrency continues to assert itself as the "preferred altcoin," per the report, a claim that was also supported last week when Solana's total value locked in DeFi space soared to the year's all-time high of over $338 million.