It's been three years since the release of the Xbox Series X and Xbox Series S, a pair of game consoles that offer different performance and price options for players. But Microsoft is already thinking about the next big thing in Xbox land.
Unsurprisingly, a next-generation Xbox is already in development, But what is surprising is that we've already heard official details on how Microsoft plans to position it, thanks to documents that were accidentally shared publicly in the FTC's case against Microsoft's planned acquisition of Activision. And there could be a crypto wallet in the mix.
Granted, things may change in the coming months and years, but if you're looking for the latest leaks and reports about the next Xbox console, it turns out Microsoft itself was the best possible source. Thanks to a failure to redact sensitive parts of its filings, here's what we know so far. Stay tuned for future updates.
What is the Next-Gen Xbox?
The next-gen Xbox will be the fifth generation of Microsoft's console, following the original Xbox (2001), the Xbox 360 (2006), the Xbox One (2013), and the aforementioned Xbox Series X and Series S (2020) hardware.
While it was reasonable to assume that Microsoft would continue making new hardware in the future, we got our first taste of the tech giant's plans in September 2023 when it uploaded unredacted documents to a public repository for the FTC case. Microsoft was apparently at fault for the issue, not the court, and Xbox head Phil Spencer tweeted about the fallout.
We've seen the conversation around old emails and documents. It is hard to see our team's work shared in this way because so much has changed and there's so much to be excited about right now, and in the future. We will share the real plans when we are ready.

— Phil Spencer (@XboxP3) September 19, 2023
"We've seen the conversation around old emails and documents," he wrote. "It is hard to see our team's work shared in this way because so much has changed and there's so much to be excited about right now, and in the future. We will share the real plans when we are ready."
When will the Next-Gen Xbox come out?
According to Microsoft's leaked documents, the next-generation Xbox is targeted to be released during the 2028 calendar year—eight years after the previous console. This marks a longer console cycle than we've seen from Microsoft in the past, which has seen seven years between major hardware launches in the last two cycles.
There is no pricing estimate yet at this point, potentially five years before the hardware is expected to release.
How powerful will the Next-Gen Xbox be?
It's too early to tell how significant of a power bump we'll see from the new Xbox compared to the Xbox Series X, but what is interesting is how Microsoft is approaching the device.
According to its leaked documents, Microsoft sees a model in which games run with both local and cloud computing power in a hybrid model. We've seen hints of this before, particularly with the latest Microsoft Flight Simulator game, which pumps in cloud-powered real-time weather while the game otherwise runs on your local PC or Xbox hardware.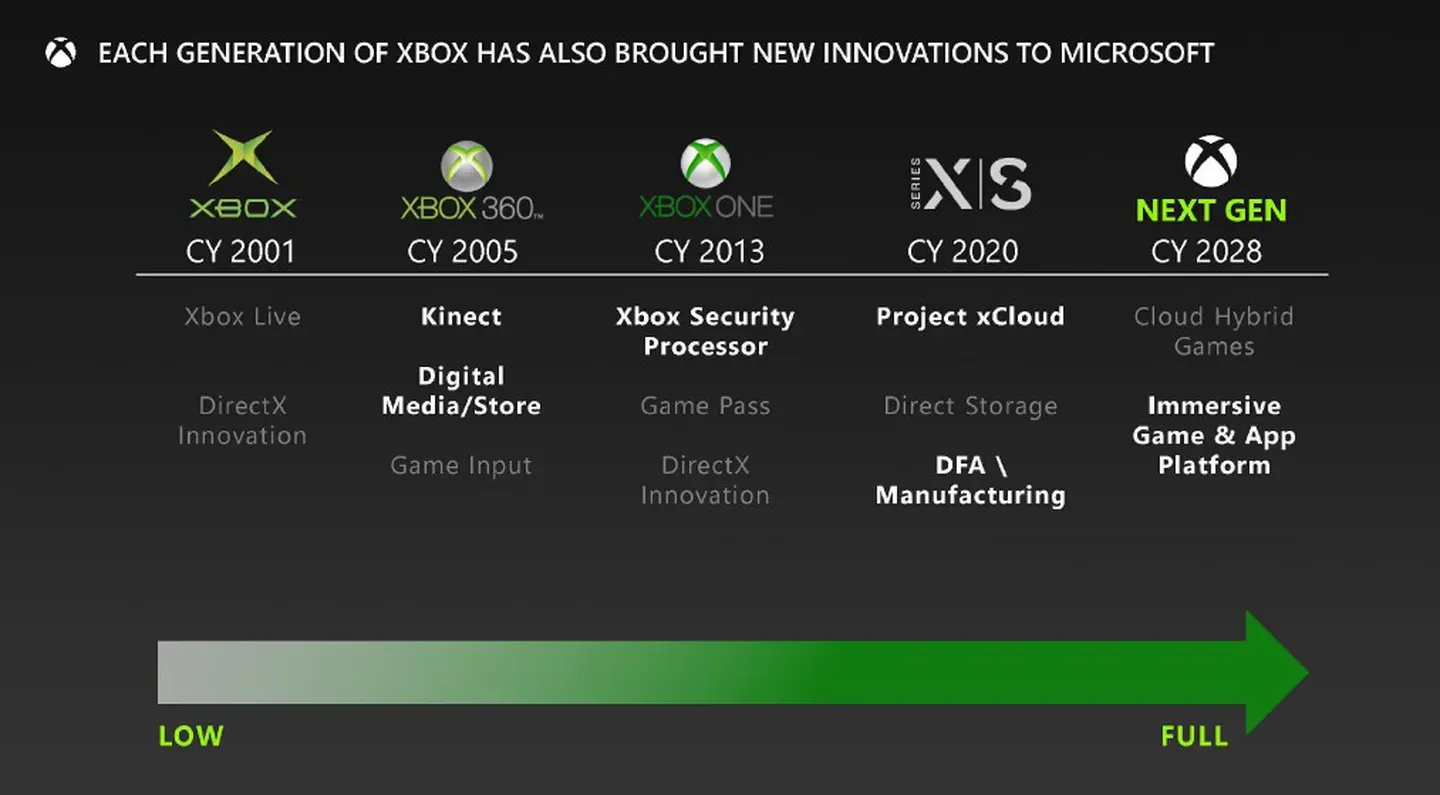 But five years from now, Microsoft appears to think that it can pull this off on a larger scale, pairing home hardware with a boost from remote servers as a more standardized hybrid model across Xbox games.
"Our vision: develop a next-generation hybrid game platform capable of leveraging the combined power of the client and cloud to deliver deeper immersion and entirely new classes of game experiences," the Microsoft documents read. "Optimized for real-time gameplay and creators, we will enable new levels of performance beyond the capabilities of the client hardware alone."
The documents suggest that Microsoft needed to make some key hardware decisions by the first quarter of this year, including the CPU makeup and how it will either co-design or license an AMD GPU. Where the company landed on those choices remains unclear.
Ultimately, Microsoft wants a device that can handle "next-gen DirectX ray tracing" for realistic lighting effects, plus "dynamic global illumination," "micropolygon rendering optimizations," and "machine learning-based super resolution."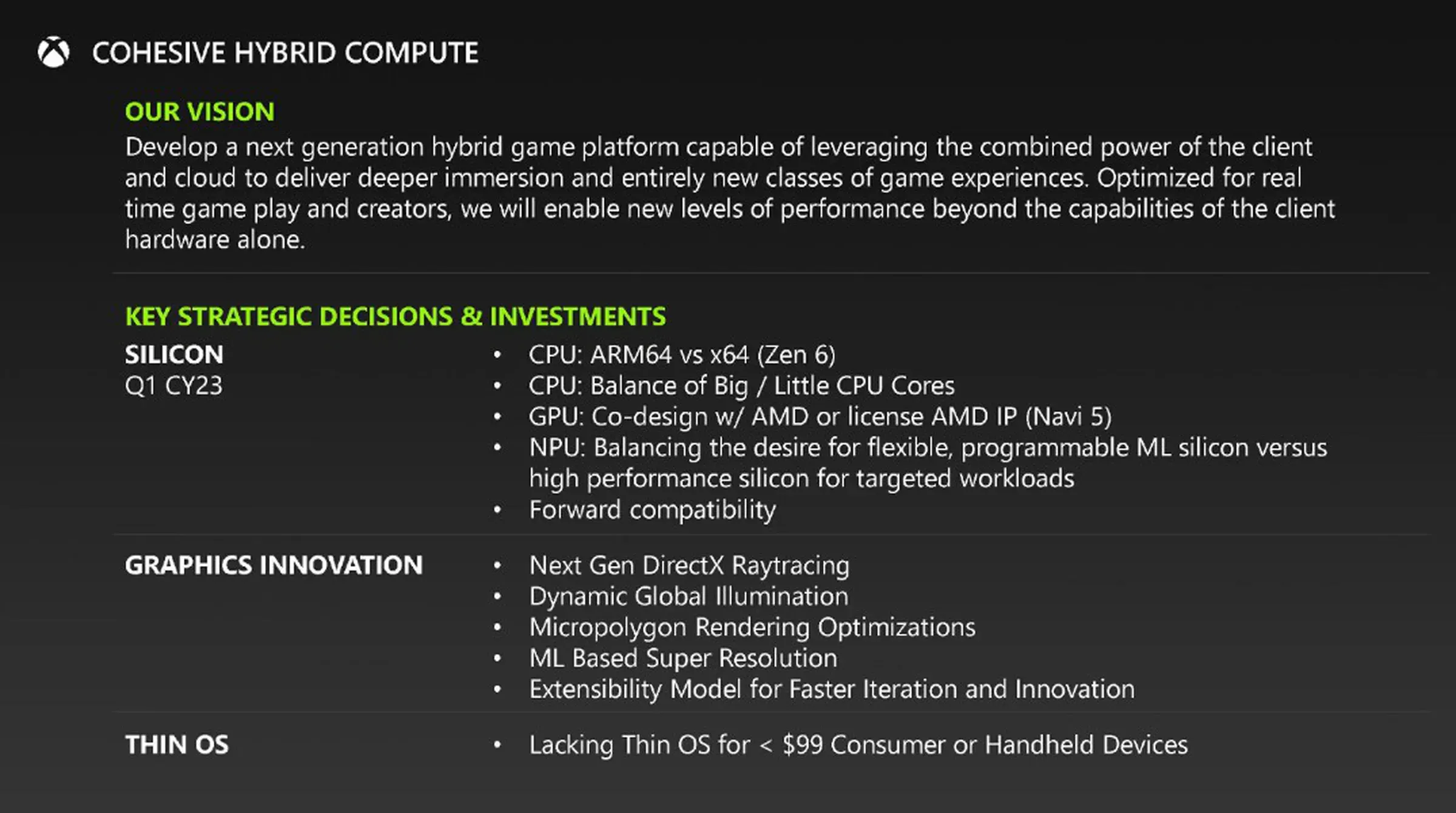 In other words, yes, the next-gen Xbox will surely be more powerful, although Microsoft may still be weighing the details. Or they haven't all leaked just yet.
Furthermore, the documents spell out a number of timelines for hardware, games, and software, suggesting a detailed roadmap for the various pieces that make up the Xbox experience.
Will crypto be involved?
Based on the leaked roadmap, which is dated May 2022—yes, there actually is a crypto wallet planned for Microsoft's next console ecosystem. A slide that was unintentionally published by Microsoft as part of the FTC case mentions "crypto wallet" as part of the commerce stack. Axios first reported the crypto wallet plans.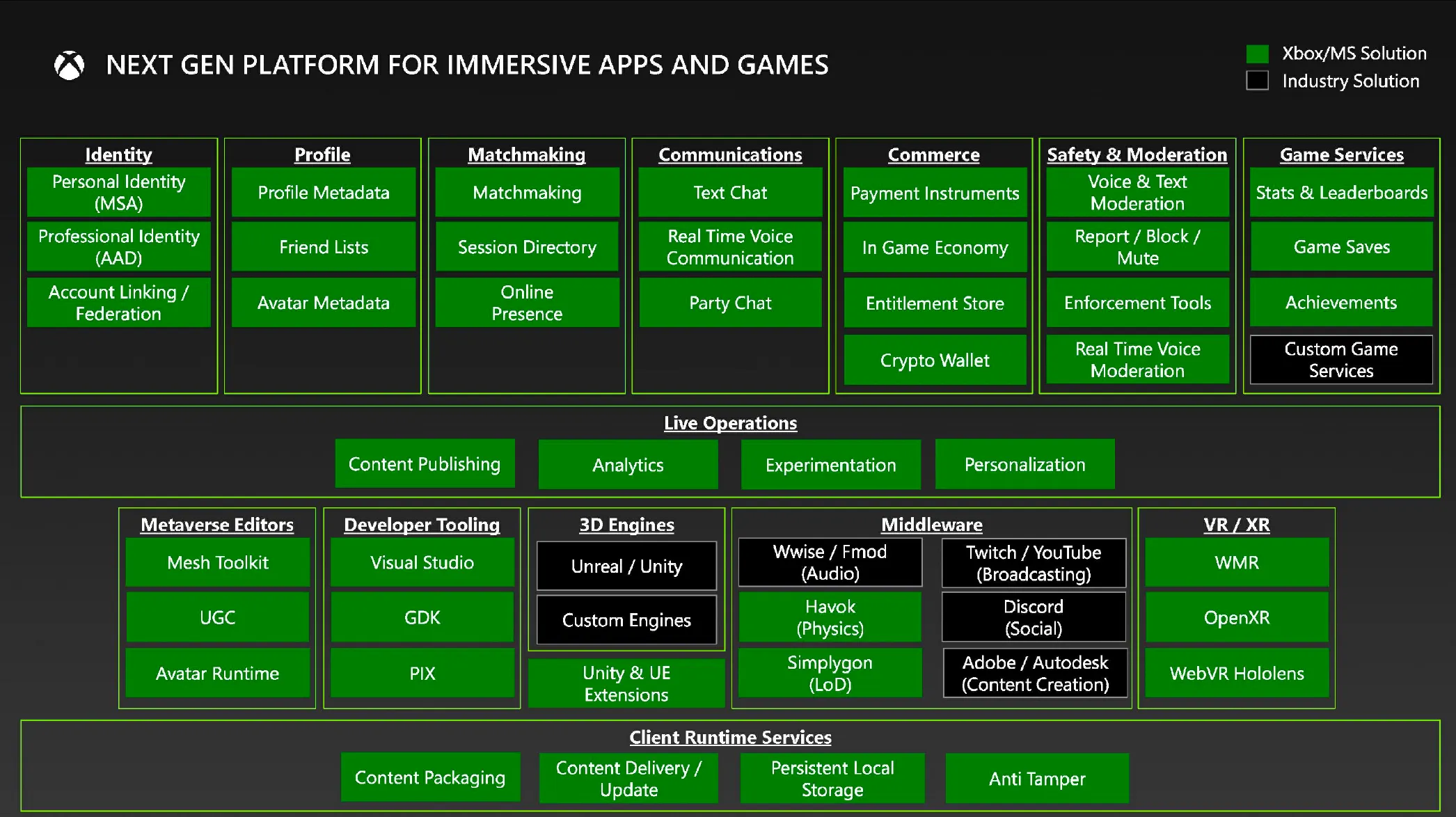 It's also labeled as something that Microsoft will create itself, rather than plug in a third-party or existing feature, although it's still unclear whether Microsoft will develop a full wallet itself or simply create an integration that lets users plug in existing wallets (like MetaMask).
That's all we know right now, and Microsoft declined to comment and simply pointed to Phil Spencer's aforementioned tweet. It's worth noting that the presentation was made about a week before the crypto market crashed in May 2022 due to the Terra collapse, so it's unclear whether Microsoft may have reevaluated its plans amid the ongoing bear market.
What games will the Next-Gen Xbox have?
It's too early to tell at this point. However, Microsoft has consistently put an emphasis on game compatibility across generations with recent console cycles, matching a PC-like philosophy of being able to play your existing games even after you buy new hardware.
Microsoft has also emphasized its Xbox Game Pass subscription service in recent years, and the leaked documents similarly point to expectations that Microsoft will be able to grow its subscription base in the years to come. Part of that will come via the launch of a cloud-driven app for smart TVs, broadening the player base even further.
In any case, it's quite likely that Microsoft's own core franchises like Halo and Forza Motorsport will continue to new hardware, along with IP owned by its studios like Bethesda (including The Elder Scrolls and Doom) and Activision (Call of Duty, Crash Bandicoot), the latter of which it's still trying to finish acquiring as of this writing.
Is there other Xbox hardware coming sooner?
Yes! In addition to the next-gen Xbox hardware, Microsoft's unredacted documents also point to revisions of its Xbox Series X and Series S consoles planned for release in 2024.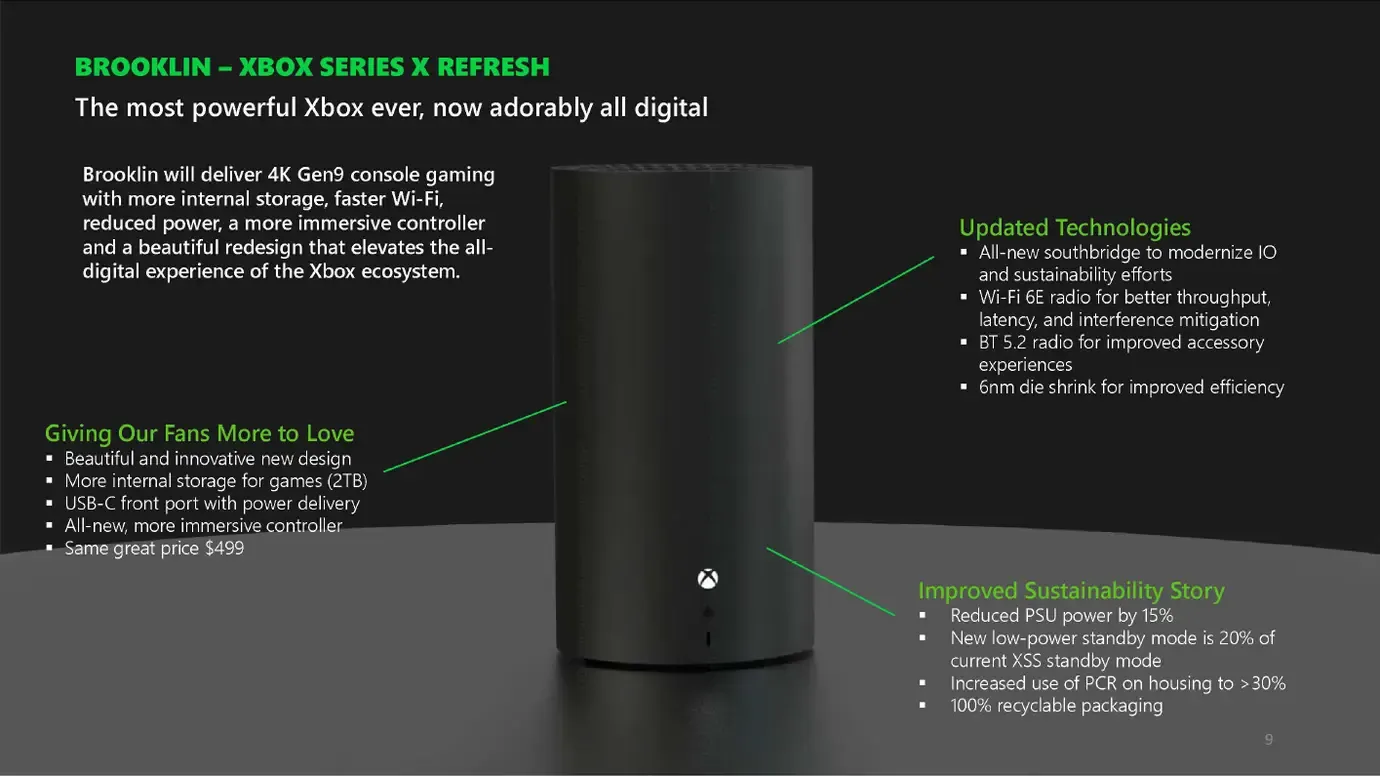 These "mid-gen" hardware revisions will apparently bring some modest enhancements to the hardware, along with a physical redesign for the Xbox Series X edition.
The refreshed Xbox Series X, codenamed "Brooklin," will be a fully digital revision that will most likely coexist alongside the current version that has a disc drive. Unlike the rectangular Series X model we have now, this version will take a cylindrical approach and ditch the optical disc drive.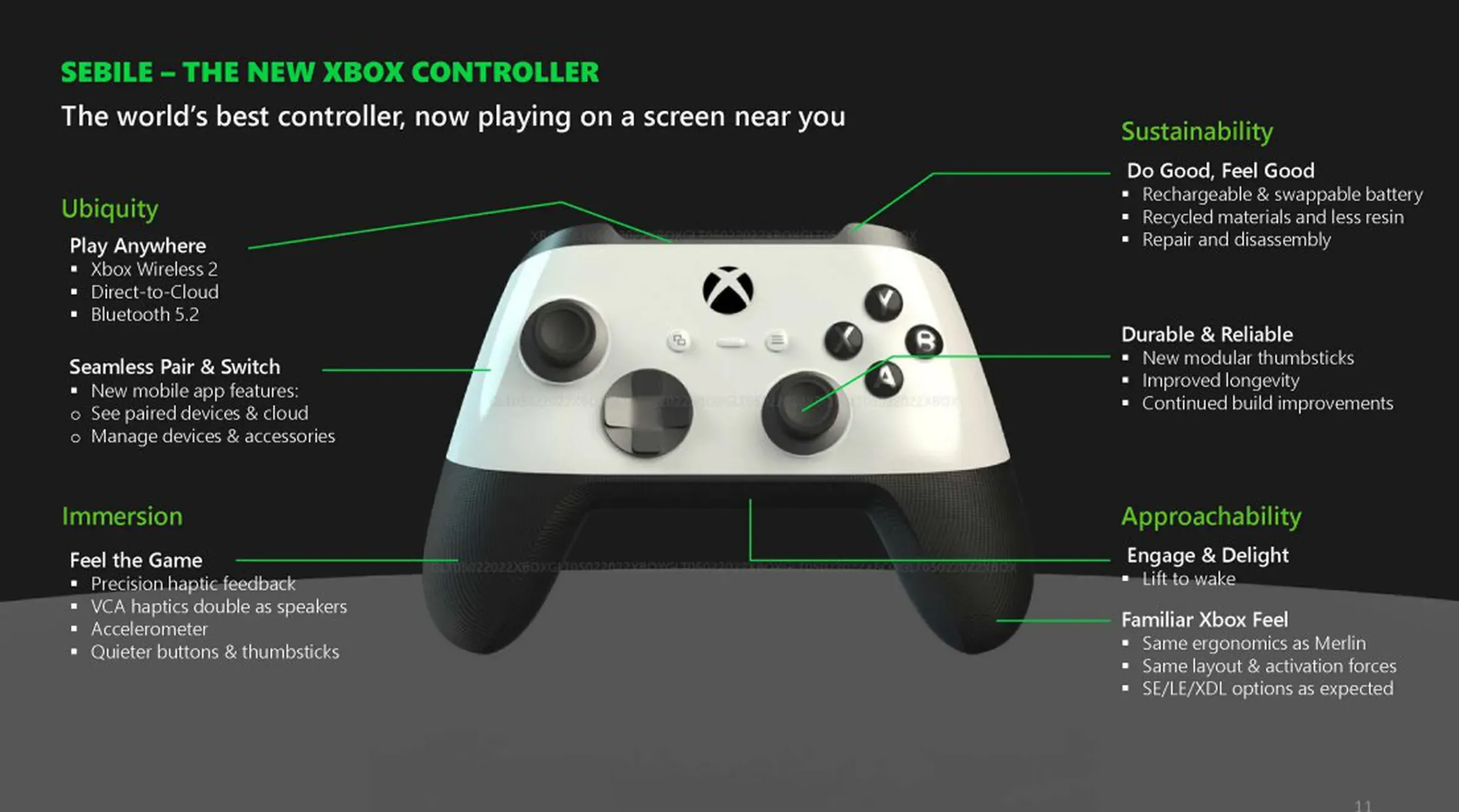 The "Brooklin" version of the Xbox Series X will have double the internal storage at 2TB to hold more games, have faster Wi-Fi support, use less power to operate, and will come with a new gamepad with improved haptic feedback, quieter buttons, and motion controls. The revised Xbox Series X is targeted for October 2024 at the same $499 price as the current model.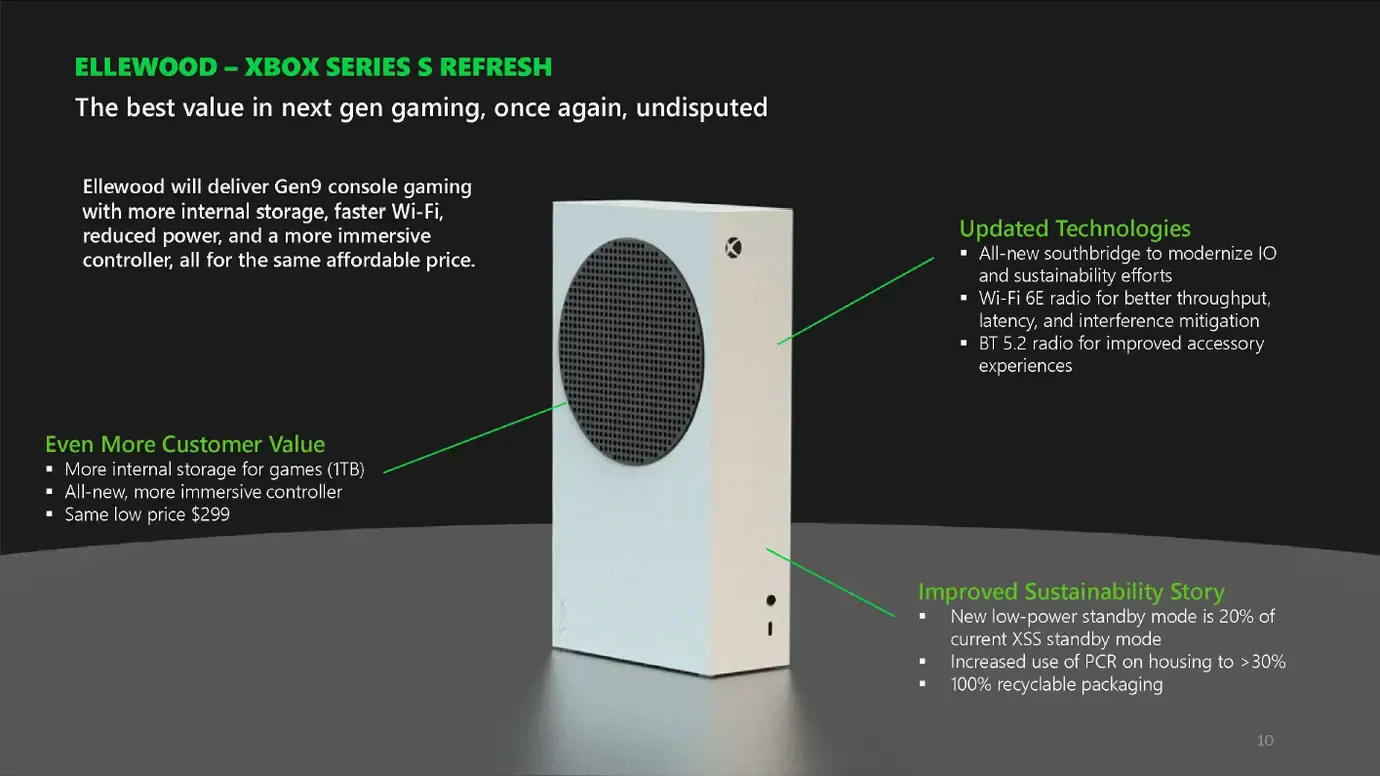 Meanwhile, the upgraded Xbox Series S, codenamed "Ellewood," will use the same design as the current model with the same kinds of upgrades—more storage (1TB), faster Wi-Fi, lower power demands, and an enhanced controller. Expect that one around August 2024, per the leaked documents, at the same $299 price point as the current edition.
Editor's note: This article was first published on September 26, 2023 and last updated with new information on September 27.