Bard is an AI-powered chatbot and Google's answer to ChatGPT. According to Google, it's still an "experiment," but like ChatGPT, we will be able to use it more and more in our everyday apps. Can Bard compete?
It's a cliche, but Open AI's ChatGPT did take the world by storm when it launched in 2022. The event catapulted AI and concerns about the technology into the spotlight. Sam Altman's OpenAI was well before its competitors, namely Microsoft and Google. 
Not to be defeated, search giant Google released its first iteration of Bard in February 2023. This version, trained on a large language model (LLM) called LaMDA, had flaws that wiped out $100 billion in market value for parent company Alphabet. In March 2023, CEO Pichai said he wanted to be careful and felt that Google "took a souped-up Civic and kind of put it in a race with more powerful cars," but he promised fast iteration. 
May 2023 saw a new version of Bard, this time running on PaLM2. In September 2023, Google is picking up the pace by announcing Bard Extensions to integrate AI with popular Google applications. Let's take a look at Google Bard and see if it has the potential to compete with ChatGPT.
What is Google Bard?
Google describes Bard as a "conversational AI tool" and says users can "brainstorm ideas, spark creativity, and accelerate productivity." This AI-powered chatbot, like ChatGPT, is a generative AI algorithm that can produce audio, code, images, and text content. 
Google Bard uses data from its machine-learning model and natural language processing (NLP) to simulate human conversation. Its next-generation language model PaLM2 (Pathways Language Model 2) has improved Bard's speed, reasoning, logic, and math.
Bard vs. ChatGPT
One difference between Bard and ChatGPT is that Bard's machine learning model uses data from across the web, whereas the data fed to ChatGPT's model was only up to date to 2021. Bard is free. In contrast, the free version of ChatGPT is GPT3.5. ChatGPT-4, which now includes web search data and other latest updates, is the subscription version at $20 per month.
In a simple interface, a question to Bard will retrieve and display blocks of information, ChatGPT does the same but in a single text prompt. Bard, but not ChatGPT, allows prompts via microphone. Both will function as personal assistants helping to perform tasks like booking flights, as well as generating the range of content and controversy we've seen to date.
Content and Output
It's with the content generated that Bard and ChatGPT's differences compound and where these chatbots may start to diversify in their potential. Bard can research current information, but sources aren't always reliable on the internet. ChatGPT, to date, is better for writing. Both chatbots can be prone to "hallucinations," but Bard, early on, saw intense criticism for these occurrences of presenting false information as fact. 
Regarding coding, Bard supports over 20 programming languages and can explain and debug. ChatGPT can also generate code, but a simple test conducted by Decrypt saw ChatGPT take 30 seconds in contrast to Bard's immediate response. This past review by Decrypt also highlighted ChatGPT-3.5's inability to compare GPT-4 to PaLM2 because PaLM2 was created after 2021, it had no data. 
Plug-ins and Integration
ChatGPT-4 is used by Microsoft Bing Chat, where it can accent search results or use sources and links to support its answers. This multimodal approach signifies the next iteration of generative AI. Microsoft is building ChatGPT into Teams, Edge, and Microsoft Office Applications. What's more, ChatGPT plug-ins already connect to Expedia, Instacart and OpenTable. 
Google Bard is not to be outdone. September 2023 sees Google publish plans to connect Bard to Gmail, Docs, and YouTube via "Bard Extensions" and incorporate Flights, Hotels, and Maps, perhaps cementing Google as an AI-powered personal assistant. Yury Pinsky, Bard's Director of Product Management, revealed the potential citing examples of Bard finding your resume from Drive and creating a new personal statement in one prompt, and:
"If you're planning a trip to the Grand Canyon (a project that takes up many tabs), you can now ask Bard to grab the dates that work for everyone from Gmail, look up real-time flight and hotel information, see Google Maps directions to the airport, and even watch YouTube videos of things to do there — all within one conversation."
Pinsky describes the new Bard as Google's "most capable model yet." Bard and ChatGPTs integrations into our daily applications mean there's little escape from these AI chatbot helpers. 
Verification and Sharing
Google says it has applied state-of-the-art reinforcement learning techniques to make Bard more intuitive and imaginative. It's also updated Bard's "Google It" button to double-check Bard's answers. When there is high confidence in a response, the text will be green and link to supporting articles on the Web. When supporting facts aren't available, the text will be highlighted in Orange.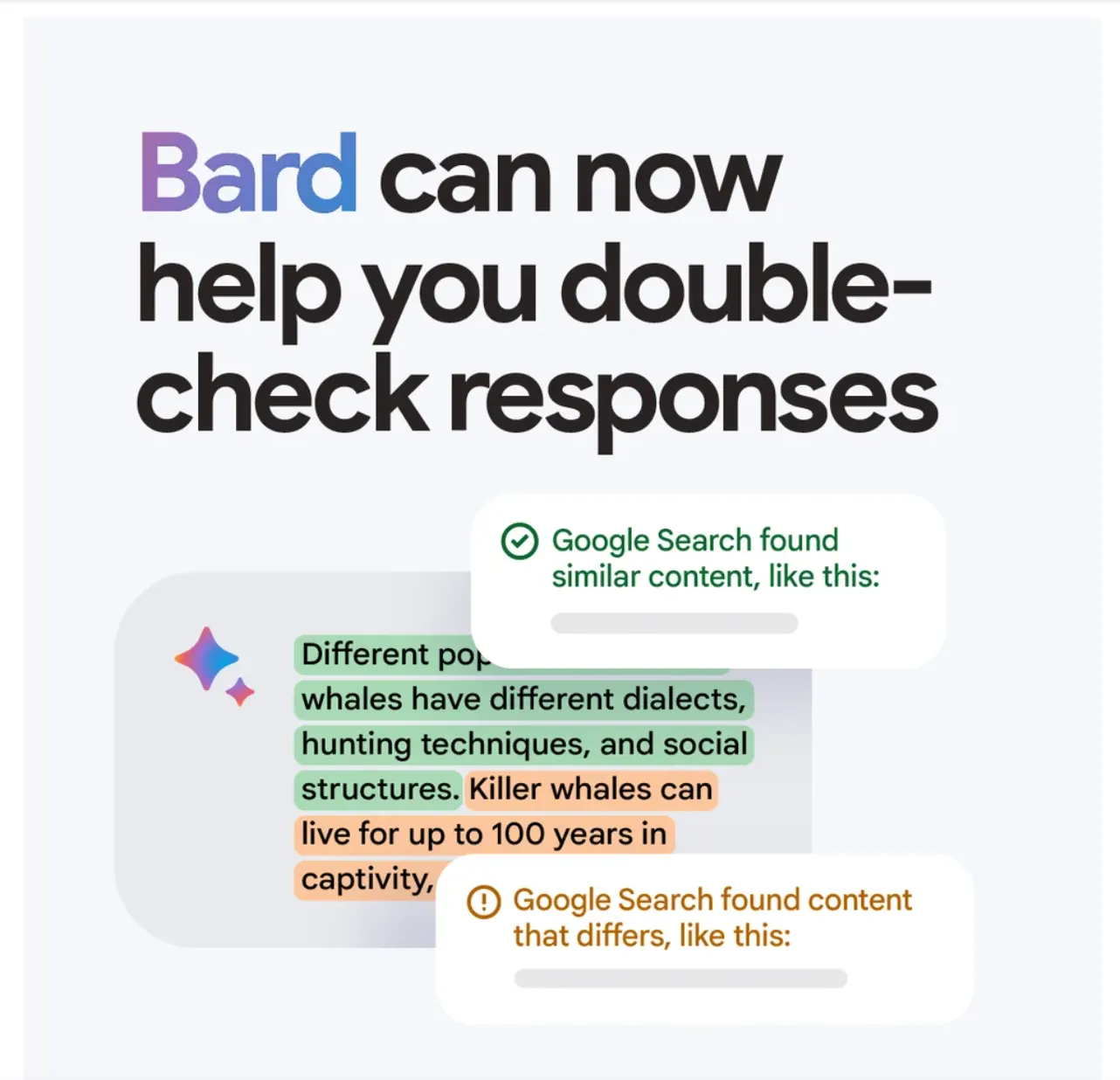 Lastly, Bard users can now share their chat via a public link, and the recipient can review and continue the ideation or conversation. It's a feature that's been available in ChatGPT since early summer. 
Can Google Bard Compete with ChatGPT?
OpenAI stole the march on the market, achieving 10 million queries per day during its launch week, and saw a whopping 1.5 billion visits in August 2023, which, incidentally, has caused wait times for some users. It's incredibly popular with writers, school kids, for SEO, and, to a degree, with programmers, and Microsoft is advancing use with its GPT-4 integrations. 
However, Google, albeit still describing Bard as "an experiment," has now thrown down its multimodal offering with Bard Extensions. A wider rollout that encompasses Gmail's 1.8 billion users or begins to leverage the 8.5 billion Google searches we perform daily may see Bard quickly catch up to ChatGPT.  This could be especially true if Google continues leveraging Bard's access to live web data, for free, in its responses and its new double-check responses feature.
Cheat Sheet
ChatGPT launched in November 2022, wreaking havoc across the web. Google Bard followed with a limited release in early 2023, which resulted in Google CEO Sundar Pichai describing Bard as a "souped-up Civic."

Google Bard uses up-to-date information from the web, and the free version of ChatGPT's data set only goes to 2021. However, Bard hasn't yet rolled out to everyone. 

New Bard Extensions will see Google's AI start to appear in Gmail, Docs, and YouTube, and Bard uses Flights, Maps, and Hotels, but Microsoft is building ChatGPT-4 into its product suite too.