The crypto and tech labor markets are in a strange place right now—but not in the same way.
If you listen to Federal Reserve Chair Jerome Powell, you'd think the labor market was thriving across the board. In an interview at the Economic Club of Washington, D.C. earlier this month, he said, "The labor market is extraordinarily strong."
At a glance, U.S. federal data appears to back that up. The Department of Labor said that total payroll employment, not including agricultural workers, is up by 517,000 in January. Overall, unemployment rates remained steady at 3.4%, continuing their slow decline since October of 2022. Hospitality, government employment, healthcare, and construction are among the industries seeing job growth.
But the numbers and headlines from the crypto and tech industries paint a very different picture. In January alone, crypto layoffs already affected 2,806 employees, according to CoinGecko data. That's a big number considering that 6,820 crypto workers lost their jobs in all of 2022. Put another way, in just one month, crypto layoffs in 2023 reached 41% of the total layoffs in 2022. 
Huobi, Crypto.com, Coinbase, Gemini, Genesis, and Wyre are among the crypto companies that made big cuts last month, with Magic Eden, Polygon, Chainalysis, and Bittrex laying off staff in February. 
"Quiet" Layoffs Trending
But Denise Carlin, Head of People at Web3 startup MPCH Labs, told Decrypt in an interview that there are also some "quiet layoffs" happening right now. 
"People are trying to quietly lay off," Carlin said of crypto firms, explaining that she has knowledge of two firms that laid off substantial percentages of staff—one saying goodbye to over 20% of its employees—without much press.
Dan Eskow, Founder and Talent Partner at Web3 recruiting firm Up Top Talent, said he's also seen incidents of crypto firms making "quiet" layoffs. 
"Yes—GSR immediately comes to mind," Eskow told Decrypt, referring to the DeFi firm GSR Markets.
Layoff Trigger Events
Many crypto layoffs over the past year have occurred directly following unique, industry-shaking events, such as the Terra LUNA crash of May 2022 and the FTX bankruptcy filing of November 2022.
But January's layoffs don't exactly have a clear, singular causal event. So what gives?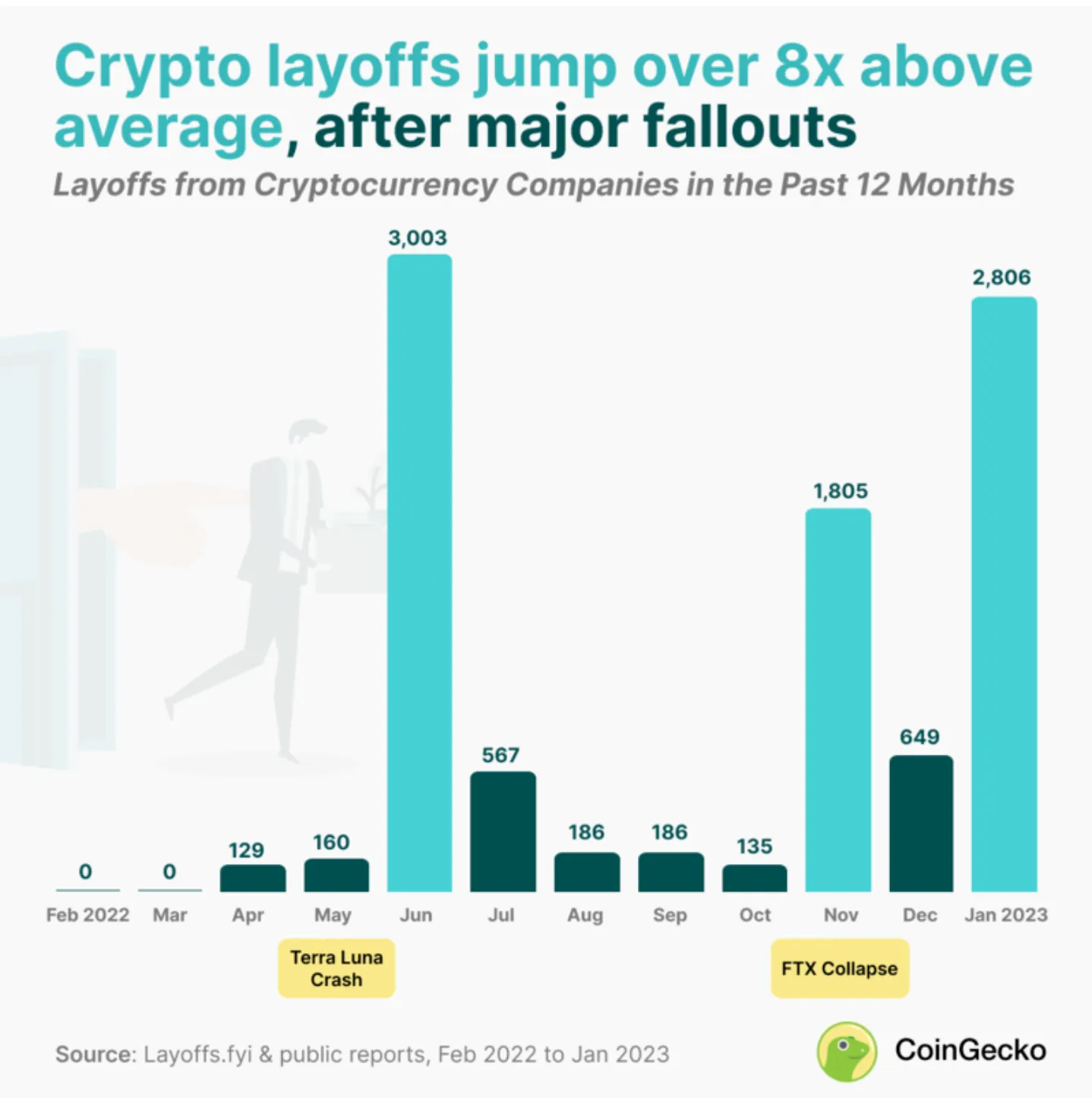 The continued labor market tightening in the crypto space is the result of unrelenting industry concerns, including Genesis's bankruptcy, Gemini shuttering its Earn program amid its battle with DCG, Kraken ending its staking offering, and increased regulatory pressure in the U.S. Crypto is also affected by the same macroeconomic conditions threatening big tech companies.
While Google's Web3 team was notably not impacted by CEO Sundar Pichai's January decision to lay off 12,000 workers, entire software engineering teams and Google's startup incubator team at Area 120 were among those laid off by the tech giant. 
According to a layoff tracker compiled by Airtable Software Engineer Steven Zhang and ex-Airtable engineer Chris Talley, much of Google's layoffs of software engineers affected mid-level staff. Interestingly, that's the experience level crypto often hires for.
"In crypto, we definitely tend to skew toward mid level," Carlin said, explaining that this is often because junior talent takes too long to train, and senior talent are rarely on the market.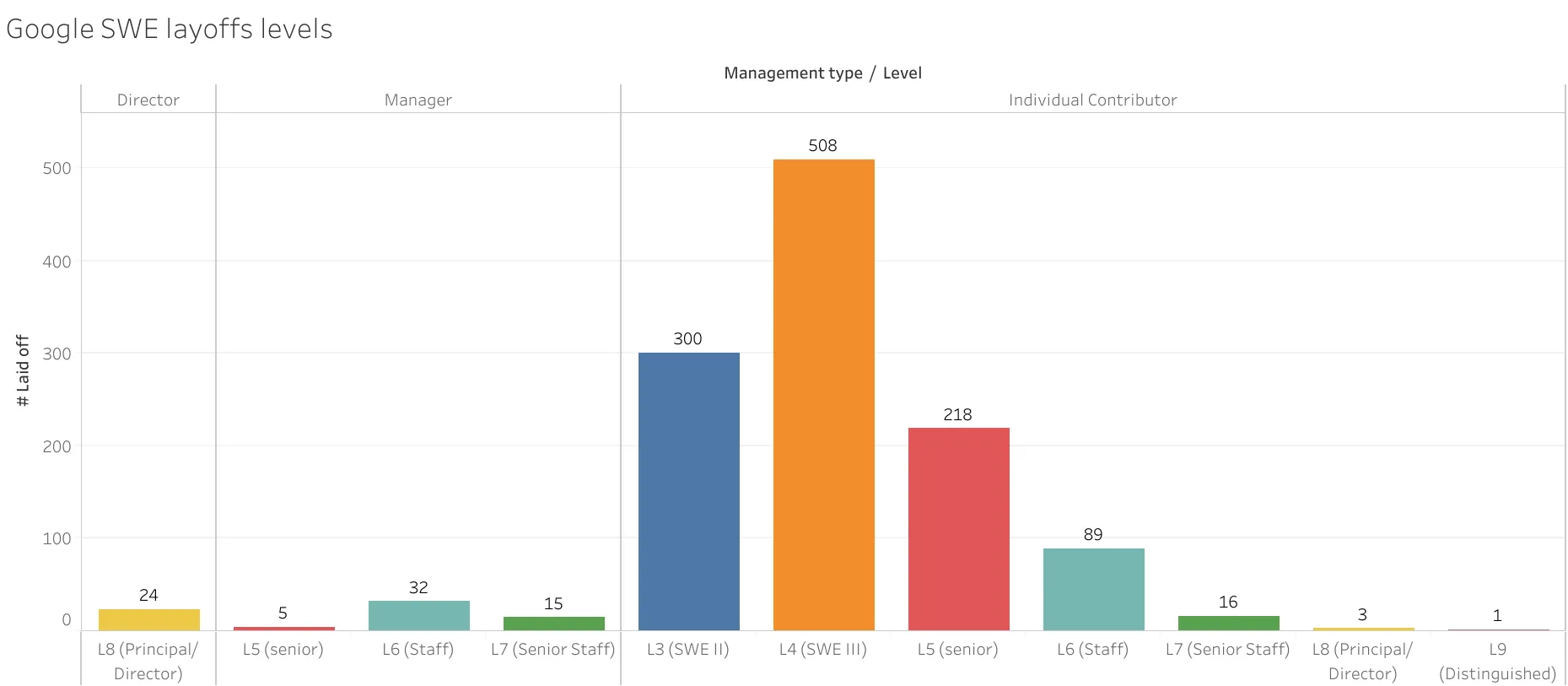 Crypto vs. Big Tech
As the crypto and traditional tech industries cope with ongoing waves of layoffs, is Web2 talent trying to make the jump to Web3?
"We see plenty of engineers coming from the FAANG layoffs that are definitely interested in these roles," Eskow said, referring to laid-off Meta, Amazon, and Google staff applying for crypto jobs. "But the reality is, it's not a good time to make a pivot from web2 to web3. The crypto-native devs are going to take priority."
Because crypto requires specialized skills and coding languages not practiced in trad tech roles, Eskow believes that developers who already have crypto industry experience will take precedence—especially if they also have connections in Web3. 
"Comparing hiring in crypto to hiring in trad tech is not apples to apples," Eskow said, adding that the crypto labor market is a very small community where one's network carries immense weight. 
Eskow speculated that the reason some laid-off trad tech workers are looking to explore crypto is in part because many crypto firms are smaller.
"I think after experiencing layoffs at big tech companies, they are apprehensive about joining another large corporation, so [they] look to the crypto startups for a change of environment," Eskow told Decrypt, who confirmed that he has received referrals and outreach from recent ex-Google veterans eager to get into crypto.
But Carlin believes it's a great time to move from Web2 to Web3. She argues that talent has a chance to get hired despite the competition because the Web3 talent pool is comparatively "very junior."
"The Web3 labor market differs from the larger tech space in the fact that the talent pool is very junior. More people are moving into the Web3 space every year," Carlin said, adding that it's difficult to poach the most experienced talent. 
That's where headhunters come in. Web3 recruiting has relied on the practice of "headhunting" during boom times. 
"There's a much larger dependency on headhunting in Web3 versus traditional big tech that would just be flooded with experienced applicants as with all these layoffs," Carlin said.
Impacts of Artificial Intelligence
But now that the crypto market has cooled off, hungry venture capitalists in search of the next big thing in tech may be looking elsewhere—toward artificial intelligence (AI).
Clarence Thomas, founder of crypto recruiting firm FinBlock Staffing, told Decrypt that he's seen candidates lose out on job offers because venture capital that was initially pledged to a crypto firm went to an AI firm instead.
"We very recently had a client we were working with—they were actually pledged about 5 million in funding for a crypto wallet. They needed a product manager. And we actually found them a unicorn for what they needed," Thomas explained. "In the end, they did not get the funding that they were pledged. That funding actually went to the AI space."
"We've been seeing a lot of artificial intelligence has been taking the investment capital from crypto and blockchain, and that's very much driving the hiring right now," Thomas said.
Who is Hiring
Eskow has seen ongoing demand for Web3 talent in the DeFi space. Other recruitment specialists like Thomas have had to partly pivot away from crypto hiring as he's seen demand lessen in the bear market. In an effort to diversify, FinBlock has branched out into recruitment for the 5G communications industry.
But Thomas said crypto-curious hedge funds are still hiring throughout the downturn. 
"We've seen a tremendous uptick recently for them hiring particularly sales roles," Thomas said. "Since the new year in particular, in January and now February, that's where we've seen the highest demand."
The Future of Crypto Labor
The crypto labor market remains uncertain for 2023.
"It's still being viewed as very volatile and high risk for new talent," Carlin told Decrypt. She believes crypto company headcounts have returned to what they were two to three years ago—but now the industry also has to grapple with massive public trust issues.
"The boom is over," Georgetown Associate Professor Jim Angel, who teaches undergrad and MBA courses on market structure, global financial regulation, and fintech, told Decrypt via email. "Firms that overexpanded will continue to shed workers." 
Professor Angel sees a tale of two crypto labor markets. One consists of traditional tech and financial firms—like a Google or a Mastercard—which seek to always remain in compliance with regulators while dipping their toes in crypto waters. The others are what Angel calls "wildcat firms," which are less concerned with regulation and are instead pushing forward with crypto tech and innovation no matter the cost.
"There are lots of similarities to tradfi and tech firms, but [crypto companies] tend to be looser and more fluid given the dynamic state of the industry," Angel said. "In this way they are similar to startups where you have people willing to work for low wages in the hopes of hitting it big as the firm prospers. If the firm runs into difficulties, they jump to the next promising venture."
Jeffrey Pfeffer is a professor of organizational behavior at Stanford's Graduate School of Business (GSB), the university where two of the school's most prominent law professors have stopped teaching and are now supporting and housing their son, former FTX CEO Sam Bankman-Fried, who remains under house arrest until his trial in October.
Pfeffer believes that some of the tech industry's layoffs may be due to "copycat behavior."
"The tech industry layoffs are basically an instance of social contagion, in which companies imitate what others are doing. If you look for reasons for why companies do layoffs, the reason is that everybody else is doing it," Pfeffer said in a GSB news post in December. The professor acknowledged that some companies may have overhired, but argues that isn't the real reason layoffs are happening because big companies like Meta are still generating revenue.
But Pfeffer has a different view when it comes to crypto.
"Crypto has a different problem—it is an industry based on vapor, hope, and B.S. for the most part," Pfeffer told Decrypt via email. "Therefore, it is hard to know if it will actually survive."
In contrast, Angel has a more optimistic outlook.
"The crypto labor market will follow cryptos in general," Angel told Decrypt. "The flaky stuff that adds no value will fade away along with those jobs. The productive sides will grow and mature with a steady need for crypto-savvy employees with skills in tech, HR, accounting, marketing, customer service, and compliance just like other financial firms."