Cool Cats was one of the hottest profile picture projects to come out of the late 2021 NFT market boom, but prices declined sharply last year as collectors' gripes piled up. Today the founders behind the project unveiled a new path forward with refreshed branding—and future expansion beyond Ethereum with customizable, full-body avatars.
"With our new strategic direction and rebrand, we want to convey to the community and the broader Web3 space that Cool Cats is here to stay," Cool Cats Group CEO Stephen Teglas told Decrypt. "We're not just building for the next year, or the next five years—we're planning for the long term."
Cool Cats and Cool Pets NFT holders will soon be airdropped a free Fracture NFT, which co-founder and Head of Content Robert Mehew described as "dynamic NFTs that enable a new storytelling experience via digital collectibles." The Fracture NFTs will evolve as holders complete missions (or "Journeys") within the project's "World of Cooltopia" narrative, and eventually unveil potential rewards.
But the upcoming Explorers NFTs will represent a larger expansion of the Cool Cats project later this year, including customizable full-body avatars that can be used across multiple blockchain networks and brought into various supported apps and platforms.
Details are still scarce on the full extent of the Explorers functionality, but it sounds similar to what fellow Ethereum NFT project Doodles just did with Doodles 2. That project not only bridges over to a different blockchain, Flow, but turns the familiar profile pictures into fully featured avatars that can be tweaked and outfitted with virtual apparel.
A Cool Cats representative told Decrypt that the Explorers NFTs will work across multiple layer-1 blockchains and layer-2 scaling networks, including some that are not Ethereum Virtual Machine (EVM) compatible. Those platforms will be revealed in the coming months. Cool Cats has previously used Ethereum sidechain network Polygon for special edition NFT drops and a mobile game.
"Our goal is to remove as much friction as possible," a rep said regarding the movement of Cool Cats avatars across blockchains. The team also plans to work with community members to develop assets to be used with the Explorers.
Today's announcements were paired with a rebranding of the Cool Cats project across social media and marketing materials, which will correspond with new narrative content centered on Blue Cat, the project's main character.
"Our new logo features a forward-facing cat, a nod to our focus on building for the future," Cool Cats co-founder and Creative Director Colin "Clon" Egan told Decrypt.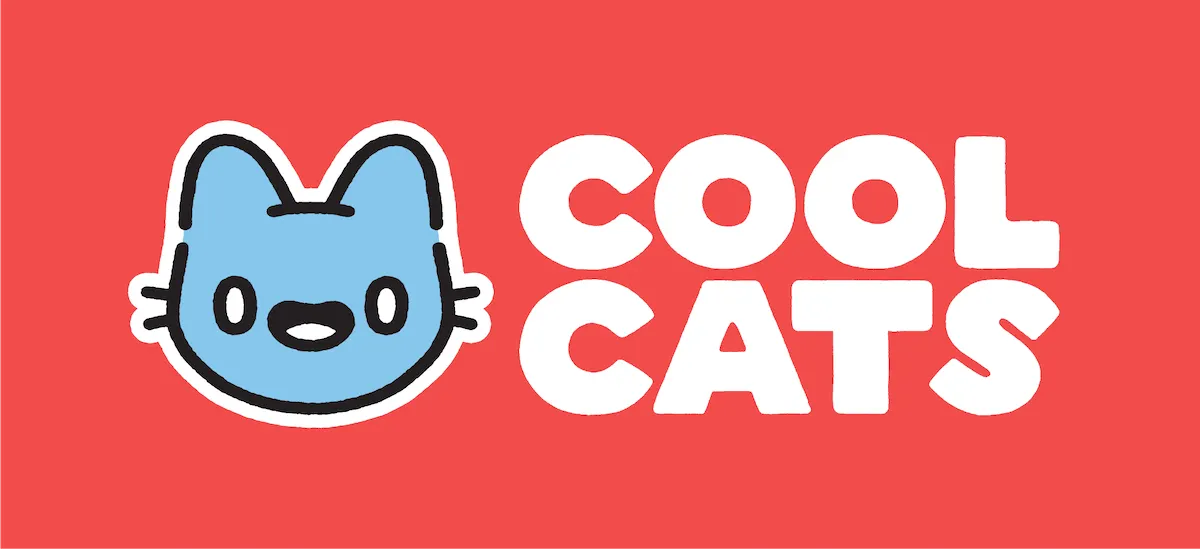 Cool Cats prices surged in late 2021 as the wider NFT market surged, pushing the floor price—or the price of the cheapest-listed NFT on a secondary marketplace—jumping to nearly 14 ETH (over $48,000) that October. The project signed with major Hollywood agency Creative Artists Agency (CAA) in March 2022 to explore media and licensing deals.
But Cool Cats prices crashed last year amid leadership departures, mixed reactions to Cooltopia, and gripes that the founders weren't doing enough to support the project. As of this morning, ahead of the announcements, the floor price sat at just 2 ETH according to data from NFT Price Floor. That's less than $3,200 worth, given the depressed price of Ethereum.
To date, Cool Cats has generated about $377 million worth of secondary market trading volume, per data from CryptoSlam, while the Cool Pets spinoff collection has added over $105 million to that tally. Cool Cats collaborated with Time magazine in 2021 for limited-edition NFTs, as well, and today announced a marketing deal with hardware wallet maker Ledger.
Will a refreshed look, gamified reward NFTs for current owners, and a larger-scale avatar push across multiple chains help Cool Cats reaffirm its "blue chip" status after an up-and-down year? Teglas believes that going bigger and broader is key to growing Cool Cats into an entertainment brand that can reach beyond the Web3 faithful.
"We ultimately believe that scaling Cool Cats' brand awareness and onboarding more members into the brand is one of the most effective ways for us to deliver on the expectations of our community," he told Decrypt.
Editor's note: This article was updated after publication to correct timing of the NFT airdrop and its functionality.