Amid economic chaos, Bitcoin is holding relatively stable. For now, at least.
Bitcoin's 20-day realized volatility, a metric that measures the daily changes in the price of Bitcoin, has fallen below both Nasdaq and the S&P 500's level for the first time in two years, according to findings published this week by crypto data provider Kaiko. 
In layman's terms, Bitcoin's price has been a lot less volatile over the last three weeks. Just before the 20-day period in question, volatility in both crypto markets and equities had hit a 40-year high.
Hot inflation readings from the U.S. economy have driven many to expect the Federal Reserve's terminal rate (the peak of their interest rate hikes) may still be far off—the Fed already hiked rates by 0.75% three times this year, the first of which was the steepest single hike since 1994. 
Kaiko also says the gap between 30-day and 90-day volatility readings for both Bitcoin and equities has been shrinking since the second half of September.
Both the Nasdaq 100 and the S&P 500 are down around 10% since the start of that month.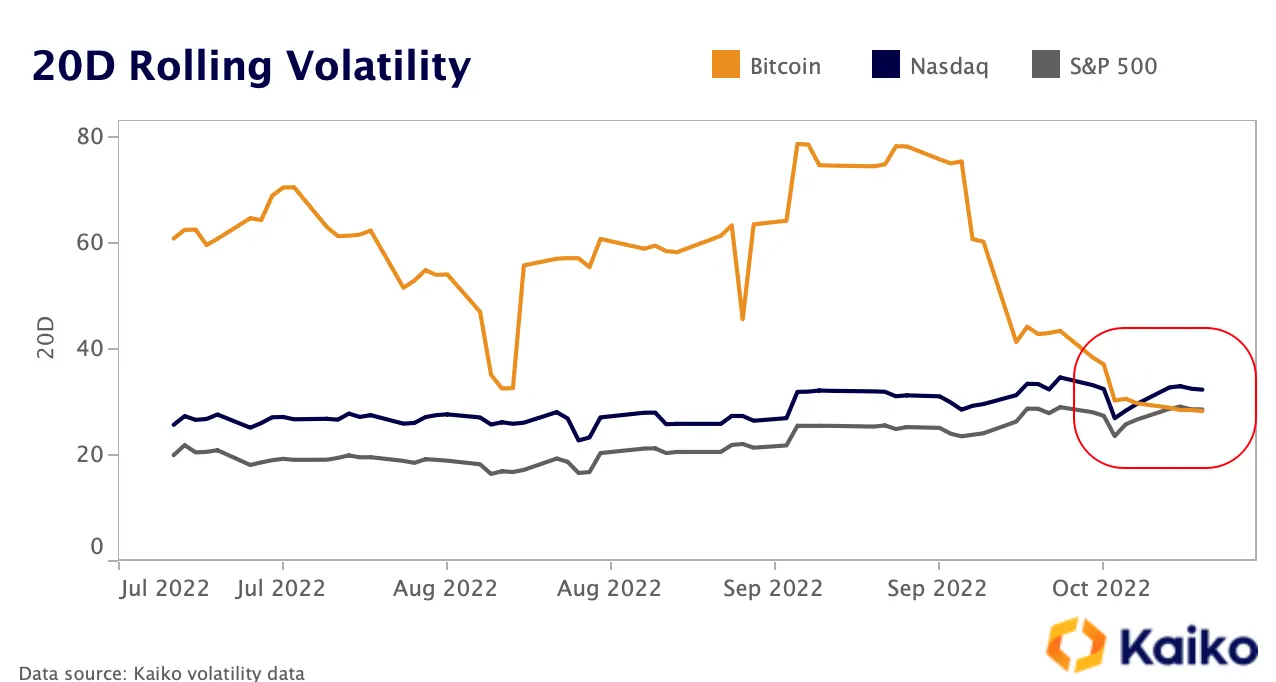 This is the first time since October 2020 that Bitcoin has been less volatile than the Nasdaq.
It's also the first time since August 2020 that the world's largest cryptocurrency has been more stable than the S&P 500.
Kaiko unpacks the numbers
Kaiko's director of research Clara Medalie told Decrypt via email that "BTC volatility has been falling since early July," which is around the time when the industry began to take stock of the liquidity crisis that emerged in the wake of Terra's collapse. 
Crypto trade volumes have held flat despite low volatility, which suggests trading activity has remained consistent.
On the other hand, stocks have seen volatility increases "due to a range of factors including high-interest rates, an appreciating dollar, persistent inflation, the energy crisis, and war," she added. 
Medalie also said that despite its current $19,000—a far cry from its November 2021 all-time high of roughly $69,000—Bitcoin now appears to be acting as a sort of buffer against macroeconomic uncertainties: "The divergence in market activity for the two asset classes suggest cryptocurrencies are more resistant to the recent volatility-inducing macro events."
Bitcoin has at times been closely correlated with stocks, although crypto advocates would rather it wasn't, because it was designed to be an alternative to traditional financial investments. 
However, data from IntoTheBlock's correlation matrix records Bitcoin's current correlation coefficient to both Nasdaq and the S&P 500 as around 0.3. The closer this figure is to zero, the less correlation there is. The closer to 1, the more the markets are correlated.
In short: Bitcoin is really starting to decouple from stocks this Autumn. The question is, will it stay this way?