In brief
Gala Games' GRIT, a Wild West-themed battle royale game, will be the first Web3 game on the Epic Games Store.
GRIT will feature user-owned NFT items. Rival marketplace Steam has banned NFT games.
When leading PC gaming marketplace Steam decided to ban Web3 games with NFT or crypto hooks last October, rising rival Epic Games Store claimed that it would remain open to such games.
And now we know which game will be the first Web3 title to appear on Epic's platform.
Today, Gala Games announced that its Wild West-themed battle royale shooter GRIT would be the first NFT-powered game to launch via the Epic Games Store. GRIT will be a free-to-play online multiplayer game for Windows PC players, and it will feature user-owned NFT assets that can be purchased, resold, and utilized within the game.
An NFT is a blockchain token that proves ownership of various items and is often used for digital goods such as artwork, collectibles, and in-game assets for video games. Gaming examples include avatars, vehicles, weapons, apparel, and virtual land plots.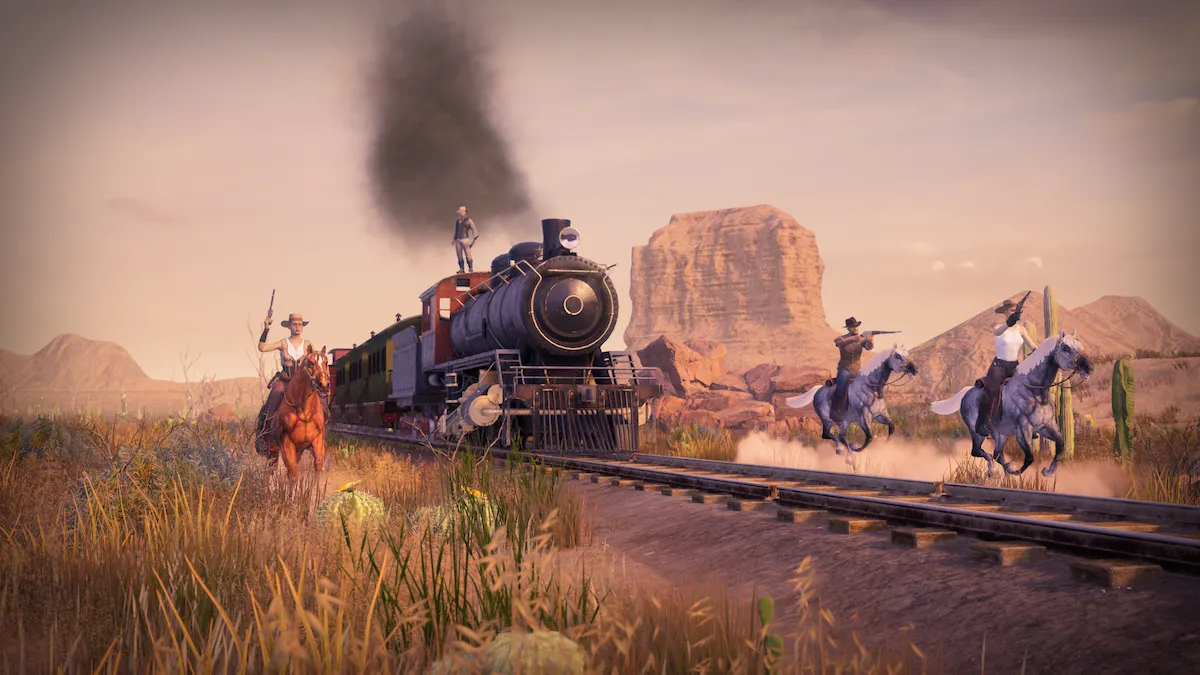 Gala will release 10,000 player avatars for GRIT, offering a unique look and customization elements to owners. The firm will offer the avatars via a "Gunslinger's Box" sale, which begins this week at the publisher's Galaverse event in Malta.
GRIT looks to be a Fortnite-like experience with a large number of players dropped into a free-for-all battle to the death, albeit with a distinctive Western aesthetic. It's due out later in 2022 and runs on Epic Games' own Unreal Engine.
Gala Games' press release suggests that GRIT won't be the company's only game to launch on the Epic Games Store.
"Epic is a pioneer and visionary in the video game industry. Gala Games' titles being available on the Epic Game Store brings legitimacy to this new genre of gaming," said John Osvald, Gala's president of games, in a release. "Easy access to Web3 games is a turning point for those players who have not yet seen how digital ownership can enrich the gaming experience."
Gala Games has quickly become a prominent player in the blockchain gaming space, enlisting veteran game developers like Will Wright (The Sims) and Peter Molyneux (Fable) to create NFT-enhanced games while also signing NFT-savvy celebs like Snoop Dogg and Steve Aoki.
The GALA token, currently priced below $0.08, has a total market cap of $555 million, according to CoinMarketCap.
Crypto finds home with Epic Games
Epic Games is not only the company behind the Epic Games Store and Unreal Engine but is also the developer of the leading battle royale shooter, Fortnite. The Epic Games Store had 194 million total users as of the end of 2021, making it a sizable launchpad for Gala and GRIT.
Valve's Steam marketplace is currently the leading PC gaming platform, and it took a hard stance against games with NFTs or crypto tokens last October when it barred such games from launching on the platform.
In response, Epic Games co-founder and CEO Tim Sweeney tweeted a welcome message to creators of such games.
"Epic Games Store will welcome games that make use of blockchain tech provided they follow the relevant laws, disclose their terms, and are age-rated by an appropriate group," he wrote. "Though Epic's not using crypto in our games, we welcome innovation in the areas of technology and finance."