In brief
DappRadar reports a 45% rise in organic NFT trading volume in April compared to the previous month.
Solana NFT trading rose in April, while Moonbirds drove increased Ethereum trading, as well.
The NFT market appeared to be on the way back up in early April after a nearly two-month decline across February and March, and now data from the full month has proven that out: organic NFT trading volume grew 45% in April compared to March.
Data analytics provider DappRadar issued its April Dapp Industry Report today, and it shows about $3.8 billion worth of organic NFT trading volume across blockchain networks and marketplaces. That's a 45% climb from the $2.63 billion that DappRadar reported for March, and it's pretty close to the $3.87 billion recorded in February.
Ethereum NFTs continue to dominate the market, and top overall marketplace OpenSea still controls the vast majority of trading volume with more than $3.4 billion worth in April. As Decrypt reported earlier this week, OpenSea itself saw a 40% month-over-month increase in Ethereum NFT trading volume in April, per on-chain data compiled by Dune.
Moonbirds, a profile picture project by tech entrepreneur Kevin Rose and his PROOF startup, was the biggest Ethereum NFT project in April. Launched last month, the project has already topped $500 million in secondary trading volume to date, according to CryptoSlam.
But while Ethereum still dominates the market, it's not the only blockchain network that gained in April. The Solana NFT market jumped 91% month-over-month, according to DappRadar, landing at $295 million worth of volume for the month.
Solana projects DeGods and Okay Bears led the charge, and the average sale price for a Solana NFT grew to about $350 last month as well. Magic Eden remains the dominant NFT marketplace on Solana, although multi-chain marketplaces OpenSea and Rarible also added support for Solana NFTs in April, potentially raising that growing market's overall profile.
An NFT is a blockchain-based token that represents ownership for a digital item, and can include things like artwork, profile pictures, collectibles, and video game items. DappRadar previously reported $25 billion in trading volume for all of 2021, with over $12 billion more in organic NFT trading in the first quarter of 2022.
DappRadar's organic trading volume figures completely exclude data from LooksRare, a marketplace that launched in January and appears to be rife with "wash trading," or NFTs sold between wallets controlled by the same entity at vastly inflated prices.
That's because LooksRare provides token rewards for traders, thus incentivizing market manipulation at dramatically exaggerated prices. Bloomberg reported in March that about 95% of trading volume on LooksRare appears to be wash trading, per analysis from CryptoSlam.
LooksRare generated about $2.5 billion worth of NFT trading in April. Folded in with organic trading on other platforms, that brings DappRadar's market-wide total to $6.3 billion for April. That's a 23% increase from March's overall figure, which likewise includes LooksRare trading.
Rising demand
May is already off to a hot start thanks to the launch of Otherdeed virtual land NFTs for the Bored Ape Yacht Club's upcoming Otherside metaverse game on Ethereum. The NFTs were launched on Saturday night (U.S. time), generating a surge of secondary market trading throughout the day on Sunday, May 1.
OpenSea registered a record single day of Ethereum trading volume on Sunday with more than $476 million worth, per data from Dune, and the marketplace's Ethereum volume for May has already surpassed the $1.2 billion mark in less than five days. CryptoSlam shows nearly $769 million worth of secondary trades for Otherdeed NFTs to date.
Other recent data suggests that the NFT market is growing significantly thus far in 2022 compared to last year, when demand for tokenized digital collectibles exploded and brought NFTs into the mainstream. According to a report from Chainalysis, the number of active NFT traders is also climbing.
Per the Chainalysis report, Q4 2021 saw 627,000 unique addresses buy or sell NFTs. That figure jumped to 950,000 in Q1 2022, and, as of May 1, is at 491,000 for Q2 2022. With two months left to go, it looks to be yet another record quarter for NFT trading.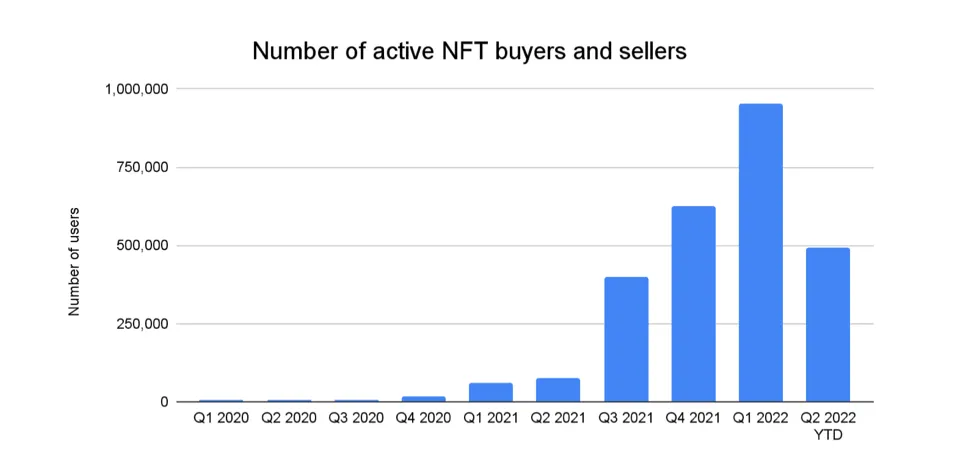 Chainalysis' findings are corroborated by other sources. Per public blockchain data collected by Dune, the number of unique NFT buyers and sellers has only increased since late last year.

The Chainalysis report does note that this steady growth has seen sizable fluctuations in volume week-to-week, and that these fluctuations have primarily correlated with the activity of blue chip, headline-grabbing NFT collections, such as the Bored Ape Yacht Club.
The sale of costly, blue chip NFTs such as Bored Apes accounts for the vast majority of NFT trading volume. Per Chainalysis, over 90% of the total money spent on NFTs last month was spent buying items that cost at least $10,000 in crypto.
On the other hand, the overwhelming majority of individual NFT transactions have not been for ultra-expensive assets, but rather, small-scale purchases. Over 90% of NFT transactions last month were for items that cost $10,000 or less in crypto.
So, at least for now, the data indicates that the NFT market is alive and well so far in 2022, attracting fresh capital from new buyers and sellers like never before.