In brief
Freedom Squares is a new Ethereum NFT project that will donate all funds to non-profit organizations providing relief in Ukraine.
The initial NFT drop will benefit Sean Penn's CORE and Chef José Andrés' World Central Kitchen.
Cryptocurrency holders and firms responded strongly to Russia's invasion of Ukraine in February, with more than $100 million in crypto donations to Ukraine, plus funds from NFT drops from the Ukrainian government and other parties. However, the invasion is still ongoing—and relief is needed by people displaced by the conflict.
Freedom Squares is a new Ethereum NFT project focused on generating funds for a pair of notable relief organizations that are working on the ground in and around Ukraine: CORE from actor Sean Penn and co-founder/CEO Ann Lee, and Chef José Andrés' World Central Kitchen.
The project is inspired by Ukrainian President Volodymyr Zelensky's comments on March 1 after Kharkiv's Freedom Square was bombed by Russian forces. "Every square today, no matter what it's called, is going to be called Freedom Square, in every city of our country," he said.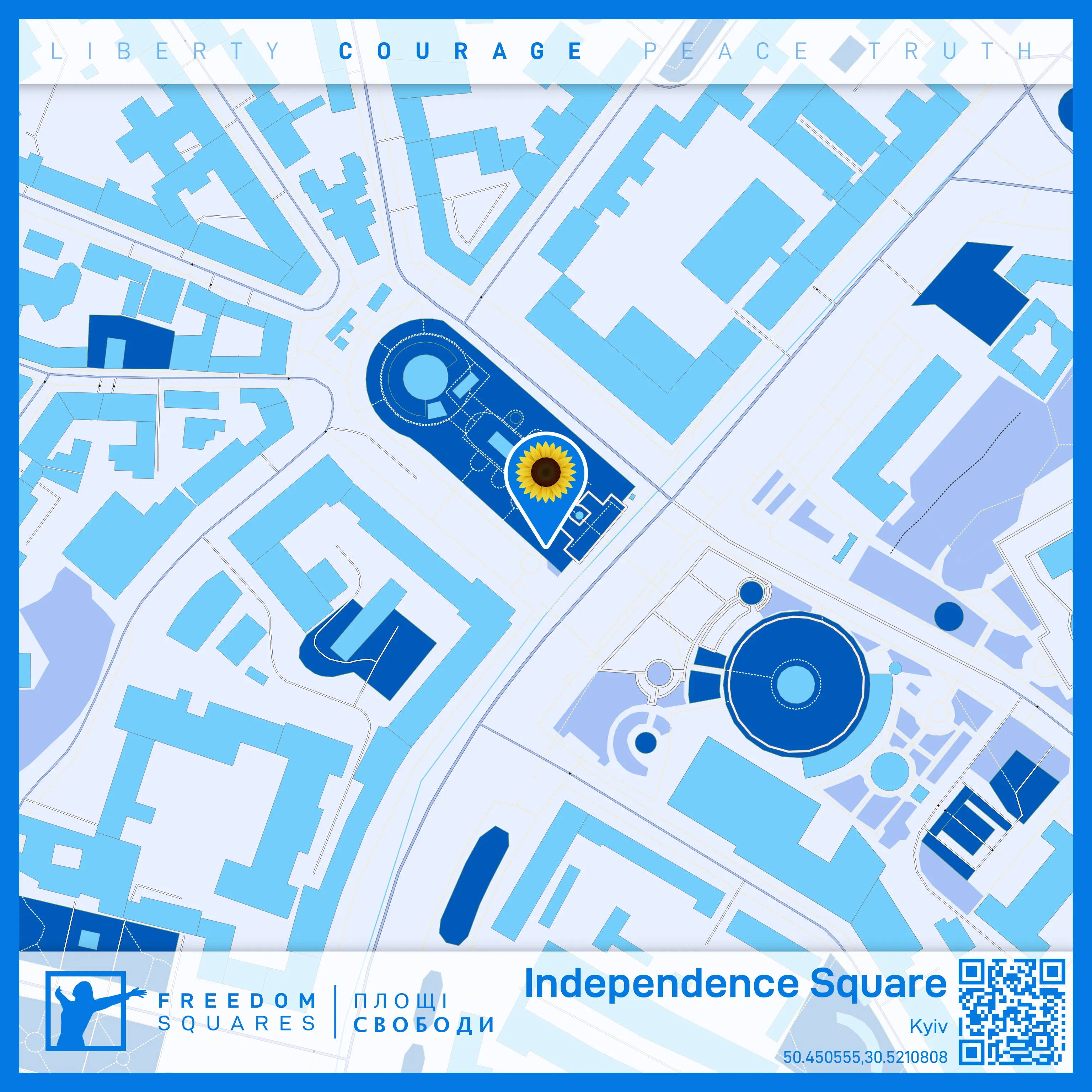 Freedom Squares is a series of NFTs based on mapping data from 1,617 total city squares across all of Ukraine, highlighting parks, memorials, and monuments. Each square is represented in four different styles, resulting in 6,468 base NFTs in the collection, and each will sell for 0.1 ETH (about $295) in the mint set to take place later this month.
Anyone who collects all four versions of a single square by a future, as-yet-unrevealed deadline will be airdropped an exclusive fifth "Guardian" version. Additionally, Freedom Squares will sell 100 animated, special edition NFTs for 1 ETH ($2,950) apiece, as well as hold auctions for a pair of two complete NFT sets based on the original Freedom Square as well as Independence Square in Kyiv. Auctions are set to begin on May 10.
An NFT serves as a deed of ownership to a digital item. In this case, it represents an image or animation of a stylized map of a Ukrainian locale. The NFT market swelled in 2021, and while the assets are often used for things like profile pictures, sports collectibles, and video game items, they can also raise funds for causes or serve as access passes into communities and events.
Ultimately, Freedom Squares aims to raise at least 755 ETH (or $2.2 million) via this initial drop to help the two United States-based charities providing humanitarian aid. All funds will benefit CORE and World Central Kitchen's relief efforts for Ukraine.
"We're honored to be partnering with the Freedom Squares team on this initiative that both raises critical funding for the humanitarian work we're supporting in Ukraine, while also increasing awareness of the actual communities that are under attack," said CORE's Lee, in a release.
Web3-led relief
Freedom Squares was created by a team of tech and web leaders and builders from around the world who came together for a shared cause. John Pleasants, CEO of Brava Home and formerly of Ticketmaster and Electronic Arts, said the idea came to him during a run through New York City's Central Park after hearing Zelensky's broadcast speech.
"I started picturing my run from an aerial view—like the map of Central Park from the air," he recalled. "That's where the idea came from: What if we could map all of the important squares that Zelensky has now called Freedom Squares? Would that be a powerful thing for people?"
Pleasants said that he was "going down the rabbit hole of Web3" before that, and considering ways that decentralized technology could help causes such as preserving democracy and the environment. At the same time, he pondered whether such use cases could help introduce the tech to a broader audience and perhaps legitimize it in the eyes of doubters.
He called Evite co-founder and former SurveyMonkey President and CTO Selina Tobaccowala, who was similarly considering possibilities in the Web3 space. With other contributors such as Openfit GVP Erica Jack and software engineer Josh Lee quickly onboard, they began developing Freedom Squares.
For Tobaccowalla, who sits on the board of other non-profit organizations, NFTs hold the potential to provide ongoing benefit to causes via secondary market royalties. Organizations are constantly trying to think of ways to find funding, she told Decrypt, but NFTs have that kind of functionality built right into the underlying smart contract code.
"There's a sustainable way that we see in this new Web3 way to actually do good," she explained, "and give some support to this Ukrainian relief."
Freedom Squares will also offer NFT holders the opportunity to purchase metal posters featuring their owned images, which are produced in Warsaw, Poland, by Displate and benefit Polish Humanitarian Action. That adds a physical aspect to buyers' support of the project, and may help the action feel more tangible—particularly for any NFT newcomers.
Beyond this initial drop, the team is looking at ways to sustain interest in the collection over time—such as a collaborative mural created exclusively by holders—as well as potentially release additional NFTs in the future, including by Ukrainian artists. They may consider similar projects to benefit other causes, as well.
"We've kind of just locked arms and said: Let's get this one done right and as well as we can," said Pleasants, "and then we'll take a day off, get a cup of coffee, and figure out the next step."