In brief
Joshua Skirtich is the artist behind Jenesis, an Ethereum NFT collection of digital sculptures made in VR.
He spoke with Decrypt about the potential for art in the coming metaverse, as well as his unique creation process.
When industrial designer and NFT artist Joshua Skirtich sculpts in virtual reality (VR), he's unbound by the constraints of the real world. He can dream up things not inspired by his immediate physical surroundings, with an endless digital canvas to use as he sees fit.
That's a key detail—because when he does take off his Meta Quest 2 headset, he returns to a near-empty 100-square-foot room in Queens, New York, with little more than a computer desk on one end of the space. The walls are intentionally blank and the floor is covered in soft, interlocking EVA foam panels ... like the midsole of a sneaker.
"My whole floor is basically one large shoe now," Skirtich told Decrypt. "It's very comfortable when I'm sculpting in VR, and my only contact with the outside world is through my feet."
Skirtich made a conscious decision to strip away reminders of the real world from his home space—a tiny room in an apartment that he rents month to month—to try and unlock the creative possibilities of designing in and for the metaverse.
[8/9] I don't believe digital art needs to be handmade to earn additional merit, but for this project, all figures were hand-sculpted in VR, prioritizing the best viewing experience in VR/AR/future applications. pic.twitter.com/LpY6EfKahK

— Joshua (@JoshuaSkirtich) March 3, 2022
"I removed virtually everything so I wouldn't be influenced by the way we have traditionally been living," he said. "This room looks empty, but in [augmented reality or] VR, I have infinite space and material to work with. In a way, this room makes me feel like I'm on a spaceship and allows me to take crazy ideas more seriously."
Skirtich is the designer of Jenesis, a series of digital sculptures sold in the form of Ethereum NFTs. An NFT serves as a proof of ownership for an item, and in this case, each Jenesis NFT represents a single 3D figure that he hand-sculpted in VR. The sculptures can be digitally dropped into real-world surroundings via augmented reality, or even 3D printed.
Jenesis is the first product of Skirtich's attempt to live in the metaverse, so to say—a concept that even he admits is "comical" right now, because "we have no idea what that is."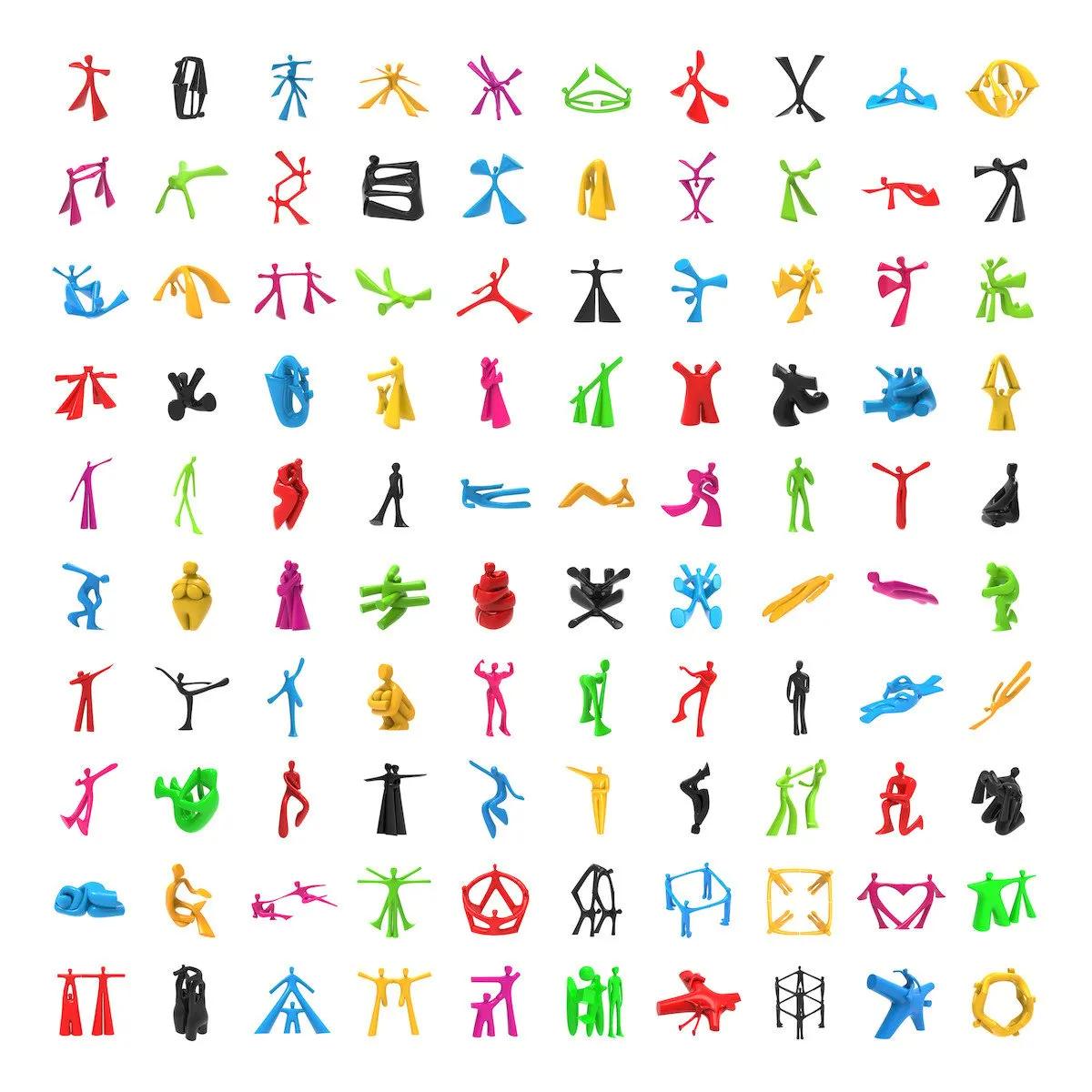 The metaverse refers to a future, more immersive version of the internet that people may use to work, play, and socialize via avatars in 3D environments. Blockchain technology is expected to power the future metaverse, with NFTs used to represent things like avatars and apparel that can potentially be accessed across various, interoperable online spaces.
As of right now, however, the term "metaverse" can be nebulous. Facebook is building toward the metaverse, but it may not be as open or crypto friendly as other visions for the space. When tech giants talk about the metaverse, it can sound like they're focused on VR and AR experiences rather than NFT-powered environments and spaces.
Ethereum metaverse games like Decentraland and The Sandbox (which hasn't fully launched) are current examples of what could be possible, but it could be years before the wider metaverse takes shape at scale.
In the meantime, Skirtich is considering the possibilities for creators with NFTs and in digital worlds.
The genesis of Jenesis
This isn't Skirtich's first tiny New York apartment, but he had a lot more stuff in the last one. Previously, he lived in a meticulously organized 88-square-foot room in Brooklyn that was featured in Dwell magazine in 2021, with tools neatly arranged on a pegboard and clothes hanging near the roof that were accessible via a pulley system.
He admits that he "got so anal with the design" of the space—he created a catalog of all of his belongings—but then said he realized he no longer felt the same attachment to the actual items. Ultimately, he sold nearly everything he owned via Instagram last summer and decided to live an increasingly minimal and digital life.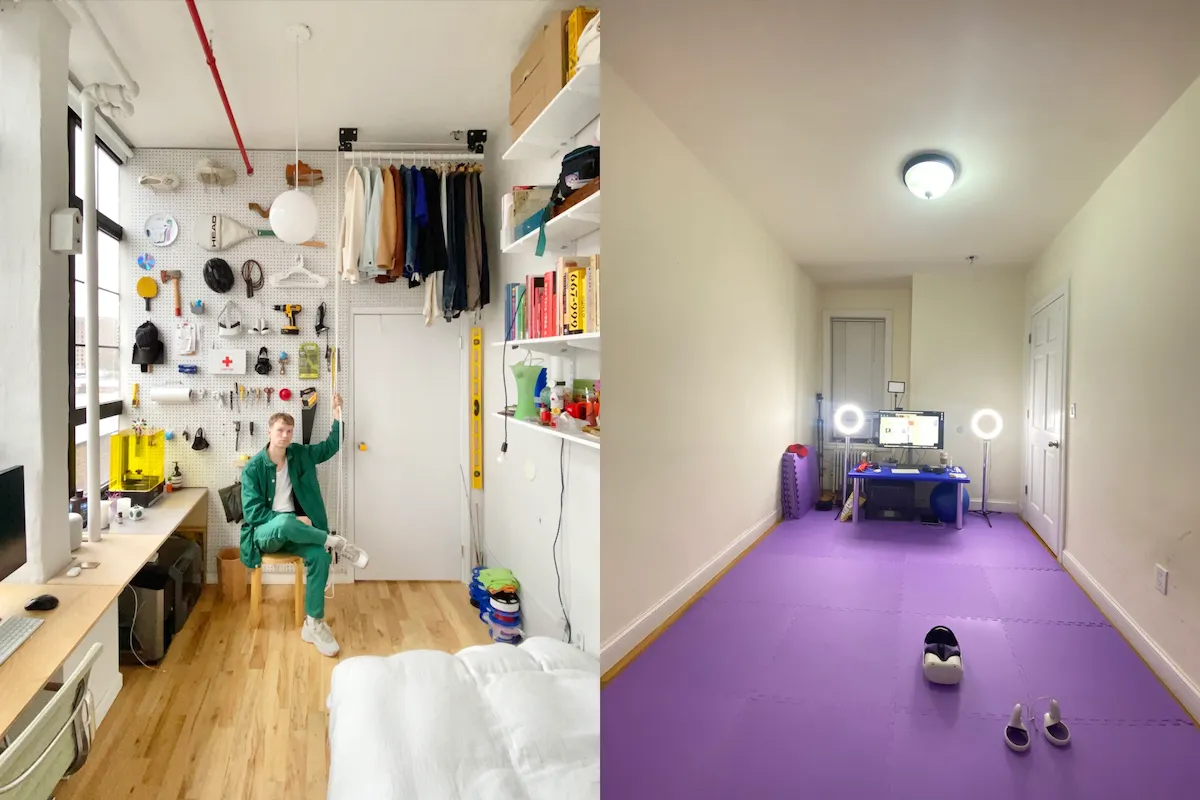 "A problem with physical objects is that you surround yourself with them, and then in a year or two, you don't really feel that anymore," Skirtich said of the memories and emotions tied up with physical goods. "You might want to explore something else, but you have the burden of these objects and they kind of keep you as your previous self."
That perspective shift was especially poignant for Skirtich as an industrial designer who was immersed in the world of physical goods, ranging from toys to watches to jars to appliances. Before the pandemic started, he designed products for the Museum of Ice Cream's gift shop, which he described as being "almost sculpture" in form.
Last year, with the NFT industry maturing and talk of the future metaverse ramping up, Skirtich started exploring the possibility of creating and selling purely digital art—sculptures that aren't necessarily informed by the realistic dimensions and traits of real-world inspirations.
Jenesis spans 103 digital sculptures that Skirtich describes as "creating cave paintings" in the metaverse. He called Jenesis his first step toward devising his own world in the metaverse, which explains the name—a nod to creation stories and myths, plus the "J" from his first name to represent his personal role as creator.
Each Ethereum NFT piece is unmistakably inspired by human forms, albeit in varying poses and dimensions that suggest body language—and with a glossy finish devoid of clear detail or texture. That leaves interpretation open to viewers and collectors, he said.
"What digital sculpture and NFTs are going to be able to do is provide people with forms that could never exist in the real world," he said, noting that such creations don't have to be bound by physical materials or display considerations. "I want more people to be thinking about the subtlety of how much we can do."
Art in the metaverse
The NFT market exploded in 2021, generating some $25 billion worth of trading volume across artwork, collectibles, video game items, and more—and this year could be markedly higher, with a Q1 tally already topping $12 billion, per data from DappRadar.
Many creators have turned their attention to NFTs, which not only prove ownership of the original asset but also enable scarcity for digital goods that can often be easily copied and shared. Skirtich acknowledged the impact of early, influential profile picture projects like CryptoPunks, but said that the space is now overrun with copycat collections.
"It's reached the point where a lot of them are very derivative, where you have people just copying each other and creating soulless objects," he said. "I look at them and I can't tell that a person really even created it."
Skirtich, who also recently designed NFT passes for the Flow-based metaverse app, some.place (which counts actress Brie Larson as a fan), suggested that there's an abundance of technologists driving the NFT space right now, and it's still early days for artists to make the move and embrace the medium.
But some notable artists are thinking about the metaverse. Sculptor and painter Daniel Arsham recently told Decrypt that he uses NFTs to make art that's "not possible" with physical materials and constraints, and that some of the concepts he's seen for creating in the metaverse are "pretty magical."
While we may see more established, traditional artists make the move into the NFT world—alongside Arsham, Damien Hirst, and others—Skirtich also believes that the endless digital canvas and improving tools and infrastructure will "democratize imagination," letting everyone bring their creative ideas to life and share them with the world via NFTs.
"There will always be a few trailblazing artists," he said, "but I believe the best art will come when the venues for distribution are heavily established for the average person to exhibit."
"We're going to get to a point where anyone can display their ideas virtually, and it will level the artistic playing field and give everyone a chance to express their ideas," Skirtich added. "Anyone who can get a headset or some type of tool to create will be able to say, 'This is what's on my mind. Here it is. Take a look.' I'm so excited by that."