In brief
A series of Damien Hirst artworks and NFTs dubbed "The Currency," go on sale today.
The project forms a unique experiment that forces buyers to choose either physical or digital ownership.
Contemporary British artist Damien Hirst is launching a series of 10,000 artworks and non-fungible tokens (NFT) in the form of a fascinating experiment that forces buyers to choose between possession of the physical artwork or its blockchain-based version.
Launched today, "The Currency," is a series of unique but almost identical spot paintings, with corresponding NFTs. They are available, on application, for $2,000 each. 
Every artwork is signed, numbered, watermarked, and features an embedded hologram, making them very difficult to copy or forge—much like a banknote.
That's no accident either. The idea is that the physical artworks could, as much as their NFTs, act as a real medium of exchange, as "currency." 
Which would you choose?
The project is designed very much as an "experiment" to question buyers' notions of "value through money and art," according to Hirst. Two months after the artworks are issued, owners will have to decide whether to keep the NFT or the physical artworks, which are being kept in a secure vault. 
At 3 pm. BST on July 27, 2022, if collectors have not opted for the physical version, the corresponding print will be burned. Conversely, if they opt for the physical work, the corresponding NFT will be deleted from the blockchain. 
The proportion of works that buyers choose to be destroyed will be of interest not only to NFT aficionados but to the art market more generally. Since Beeples' Everydays: the first 5000 days NFT sold for $69.3 million at a Christie's auction in March, the industry has suffered a minor earthquake, with artists rushing to profit from these unique cryptographic tokens.
Hirst has already made his first foray into crypto. In March, he released a series of 7,481 prints available for purchase with cryptocurrency. The sale amassed $22.4 million.
To publicize the new venture, Hirst recorded an interview for the Financial Times, with none other than former Bank of England governor Mark Carney. During his tenure as the chief of the UK's central bank, Carney often projected a crypto-friendly attitude that contrasts with the UK's more recent crackdown on unregulated exchanges.
In the video, Carney points out that all systems of money are based on trust but, with art, there's a further element of belief involved, and the artist's name becomes an essential part of the imputation of value.
The business of art
Hirst, however, has proved throughout the decades of his success that he is not just an artist, he's a savvy businessman with an eye continuously trained on the capricious market in his works. 
Art critic and author Ben Lewis, who fronts Art Bust, a new podcast series about crimes in the art world, is skeptical about the $2,000 price tag on Hirst's latest drop. The NFTs will be immediately tradable on the Heni, or Niftys, online marketplaces. But bearing in mind rumors of the recent lackluster performance in Hirst works, it's uncertain whether they will keep their value, said Lewis.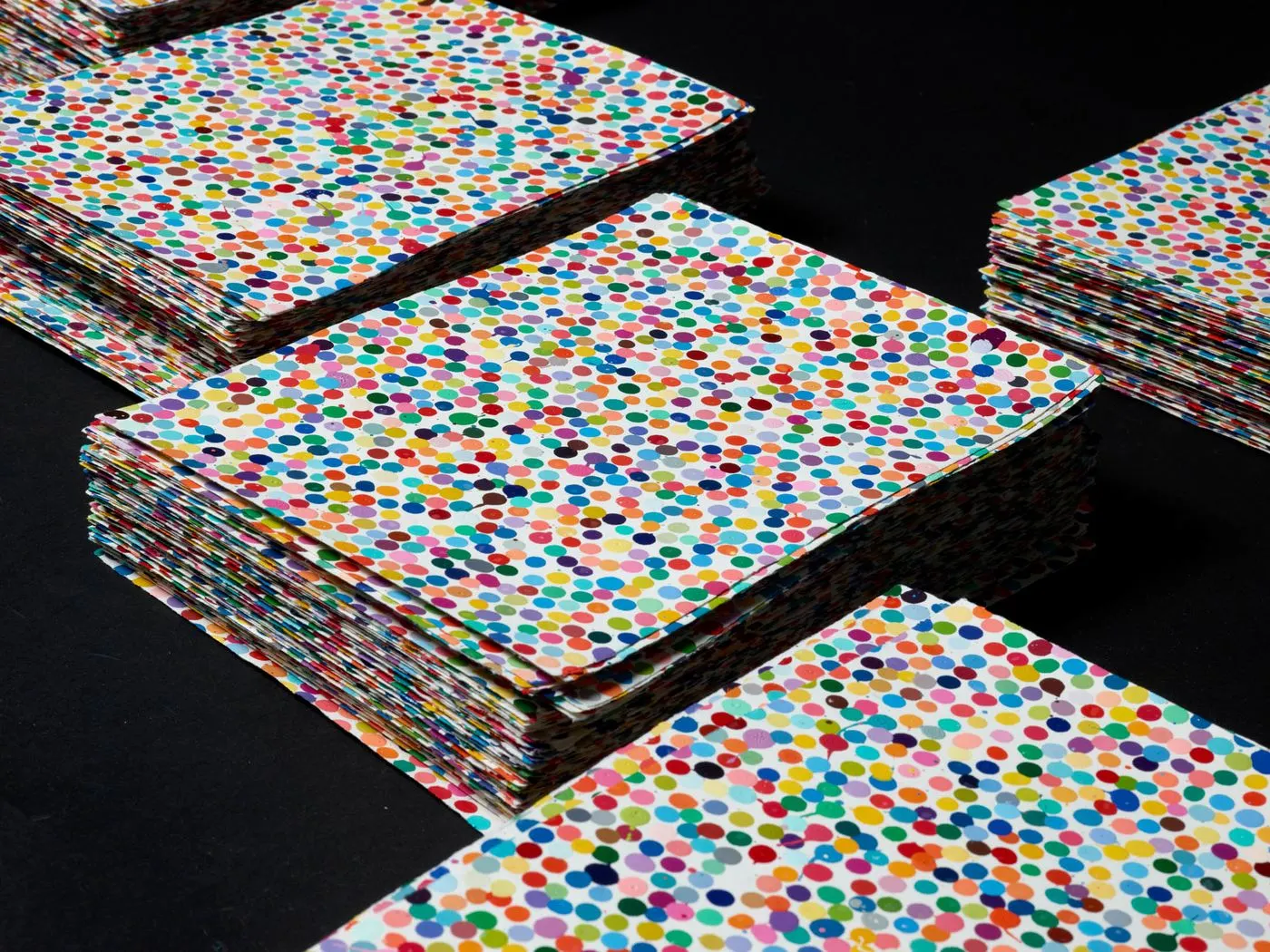 He did point out that the artist's earlier spot paintings, produced in the first decade of the 21st century, had properties in common with today's NFTs. "They were highly traded—easy to buy and easy to sell. And people bought a lot of them. They were a sort of cornerstone of the art market," he said. 
But rather than use that as an indicator for how Hirst's experiment will pan out, Lewis recommends that those looking to predict whether the physical works will triumph over NFTs should look to the health of the overall crypto market, as the two are intricately linked.
In recent months, the market has crashed hard from its heyday in May. Bitcoin, the leading cryptocurrency is trading at $32, 891, down nearly 50% from its all-time high of $64,804. It's an interesting time to be launching an NFT experiment.