NFT-focused startup Afterparty has raised $4 million from numerous investors to further develop its NFT ticketing platform, bringing the total amount raised so far to $7 million.
Notable angel investors in the project include Paris Hilton, Zillow co-founder Spencer Rascoff, Jason Calacanis, NBA star Andre Iguodala, "Project Runway" executive producer Desiree Gruber, and Nicole Farb of VC firm Headline. Acrew Capital, Blockchange, and TenOneTen Ventures—Afterparty's leading seed investors—also joined the unsolicited funding round.
Afterparty is an all-in-one event ticketer and organizer, having hosted the first music festival to be fully-ticketed with NFTs back in March. The NFT tickets, known as the Utopians collection, were minted on Ethereum and boast a number of celebrity holders, such as Heidi Klum, Josh Duhamel, Sia, and influencers David Dobrik, Loren Gray and Bryce Hall.
The Afterparty Music Festival in Las Vegas for Utopians holders was headlined by the electronic duo The Chainsmokers and rapper The Kid Laroi. It also featured performances from Sofi Tukker, Tokimonsta, Bob Moses, and others. 
Now, Afterparty is getting ready to launch its second NFT collection, the Guardians, on Polygon, along with its NFT ticketing marketplace. Afterparty CEO and Founder David Fields told Decrypt in an interview that version 2 of its NFT marketplace is set to launch on Polygon sometime in May. 
NFTs are unique tokens that exist on a blockchain like Ethereum and signify the holder's ownership over an asset or membership perks. 
Fields explained that the move to Polygon was in an effort to make buyers' fees as low as possible and distinguish Afterparty from traditional platforms like Stubhub and Ticketmaster, which have frustrated users with steep transaction fees. (Ethereum mainnet gas fees have also been a gripe for many in the past.) 
While the Utopians and Guardians NFTs grant access to their respective  Afterparty-organized events, Fields sees the company moving more toward becoming a dedicated NFT ticketing platform instead of an all-in-one event host in the future.
"We took the approach of launching our own events [for] one, to prove out the model at a large scale and two, to really build deep relationships… but over time, we see ourselves building out more of a marketplace for experiences… [with] concert ticketing being one," Fields told Decrypt.
Every Afterparty NFT gives the holder ownership over a piece of digital art as well as admission to an upcoming event and other promised benefits. Afterparty's NFTs also guarantee the holder future access to purchase future Afterparty event tickets, so the NFTs also function as future presale or "allowlist" passes of sorts.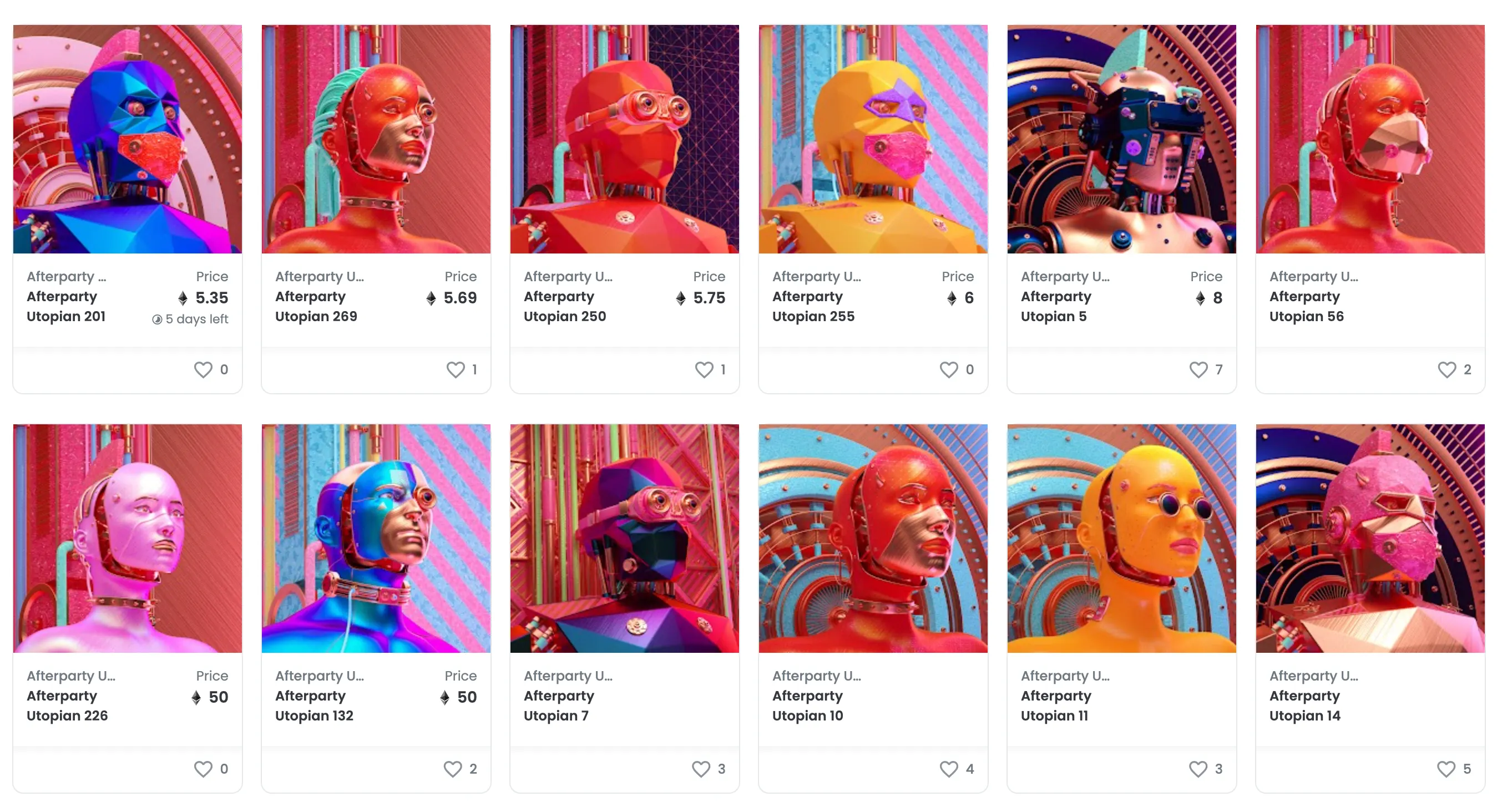 For its upcoming Los Angeles event in October, Afterparty has partnered with MoonPay to offer credit card payments for those without cryptocurrency wallets who wish to pay with fiat for their Guardians NFTs.
Afterparty will offer flexible NFT custody to holders, meaning that NFT owners are able to take full custody of their assets at any time and move them to their own wallets or cold storage if they wish.
"A big part of our mission at Afterparty is really about giving creators the tools to realize their full potential with Web3," Fields said. 
But he also recognized that NFTs are still a niche asset and that many fans will be new to crypto.
"Without 99.9% of those creators' fans having a crypto wallet," he said, "we're sort of far from a world where NFTs can really be used to their full potential for creators, and we want to be part of the solution there."