In brief
Retired NASA astronaut Scott Kelly has released a series of NFTs to benefit Ukraine relief. Some come with physical space gear.
Kelly holds various cryptocurrencies. He shared his thoughts about blockchain tech and the metaverse with Decrypt.
The latest public figure to launch NFTs has literally been out of this world: retired astronaut Scott Kelly, who spent nearly a full year at the International Space Station from 2015-16, has just released a series of Ethereum NFTs to benefit relief efforts in Ukraine.
Kelly's collection, Dreams Out of This World, just dropped today to mark International Day of Human Space Flight, with 3,333 pieces of generative artwork now available to purchase on OpenSea. Each image shows Kelly with different visual attributes and in various locales, such as floating in space, wearing a gorilla suit, or draped in the colors of Ukraine's flag.
"I'm a big believer in technology. I was really interested in cryptocurrencies and the blockchain—not early enough, but at least the last few years," Kelly told Decrypt. "I just look at this form of technology as another way to explore. In this case, it's exploring the metaverse and virtual worlds."
Kelly, a veteran of four NASA space flights and a retired U.S. Navy Captain before that, also cited his interest in artwork and photography when describing what led to his NFT collection. He released a book of his space photographs in 2018, and has released other books, including one out today called "Ready to Launch."
"They're digital representations of the dreams and the thoughts I've had when I was in space," he said of the NFT artwork, "but also traveling around the Earth and the parts of the planet that I've seen up close."
In addition to the standard drop of NFTs, Kelly will also hold three auctions for single-edition NFT collectibles that come with real-life space gear and memorabilia. An NFT paired with one of Kelly's worn spacesuits will start at 3 ETH (about $9,150), while another with space gloves will start at 2 ETH ($6,100) and one with his command cap will start at 1 ETH ($3,050).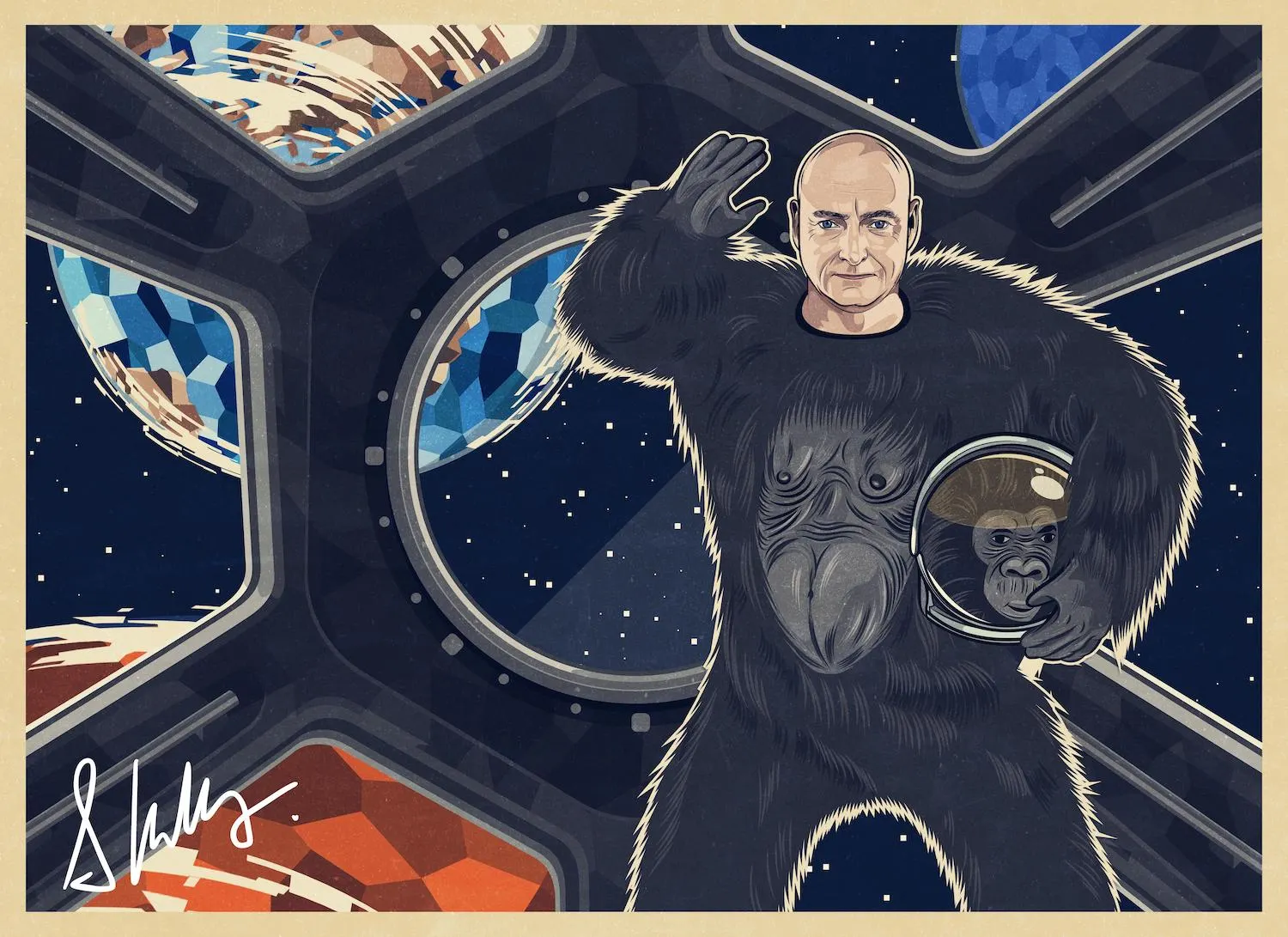 All net proceeds from the sale will be donated to the Global Empowerment Mission, a nonprofit that is currently providing aid in Ukraine amid the ongoing invasion by Russia. Kelly has been a vocal advocate for Ukraine on Twitter, where he has more than five million followers.
NFT startup Orange Comet, whose co-founders include musician Gloria Estefan and retired NFL star Kurt Warner, developed the project with Kelly. Orange Comet's other NFT partners include TV network AMC (for "The Walking Dead" collectibles) and multiple NHL teams.
An NFT serves as a digital certificate of authenticity and a deed of ownership to an item. They're often used to represent things like digital illustrations, profile pictures, and sports collectibles, and the wider market surged to $25 billion worth of trading volume in 2021 alone.
Asked what excites him about the prospect of NFTs, Kelly pointed to the ability to prove ownership of digital media, plus the potential of the metaverse ahead. The metaverse refers to a more immersive, next-generation internet that users experience via 3D avatars, and it's expected to be built on blockchain networks using NFTs for user-owned items.
"It's kind of the next step in digital media and technology, and the fact that there's the proof of ownership aspect to it that will sustain throughout time," he said about NFTs. "It's an exciting place. I'm interested in the metaverse. I think that will be, at some point, the next frontier—kind of like the internet was—and I'm happy to and want to be a part of it."
With that in mind, Kelly said that he'd like to do additional NFT drops in the future, including for 3D avatars that people can use within outer space metaverse environments.
"The space environment really would make for some exciting 3D images that would make the owner of the NFT maybe feel that they're much more connected to the space program—and feel like they're maybe out in space a little bit," he said. "I think there's a lot of possibility there."
Kelly told Decrypt that he holds numerous cryptocurrencies, including Bitcoin, Ethereum, Litecoin, and Cardano—even meme coins like Dogecoin and Shiba Inu. Beyond NFTs and the metaverse, he's also intrigued by the possibility of blockchain networks being used to validate media sources, given the risk of disinformation online.
NFT projects from celebrities and public figures often receive pushback from crypto skeptics, but Kelly said that he's not concerned about it. His project benefits an important cause, and ultimately, he believes that the tech will become more widely accepted in time.
"Anything new is going to have people that are critical of it, certainly," he told Decrypt. "So that's expected. But I think it's important enough, and I think it's the future, and I'd like to be involved with it—and early. I think it will catch on more and become more mainstream."