In brief
DAODAO says it will do for DAOs what OpenSea did for NFTs. It aims to help people launch DAOs starting with just a name and a funding goal.
The project is the brainchild of the controversial BitClout founder Nader El-Naji aka "Diamondhands."
DAODAO will launch in April, and will begin by asking people to buy its token and NFTs.
DAOs (decentralized autonomous organizations) are one of the hottest areas in crypto right now. Often described as "internet groups with a wallet," there are DAOs dedicated to everything from supporting Ukraine to producing crypto media to buying a copy of the U.S. Constitution.
But while DAOs are popular, they are also arguably chaotic and hard to manage. That's why the controversial crypto entrepreneur Nader El-Naji has announced a new service he says will do for DAOs what Coinbase did for buying and selling tokens.
The project, called DAODAO, is itself a DAO, and aims to make it easy for anyone to set up a DAO of their own.
In an interview with Decrypt, El-Naji explained how DAODAO works and why he believes it will turbocharge a new era of DAO-driven crypto activity. He makes a compelling case, but El-Naji's past ventures—most notably the notorious social media site BitClout—will give some people pause.
A DAO creation platform "owned by the people"
DAOs have become a new way to raise money and organize people quickly—some have come together and raised millions in just a few days. But the process is not easy. Running a DAO typically means collecting Ethereum from members, creating a so-called governance token, and then arranging a series of votes to determine policies and spending.
A number of tools already exist to help DAOs with tasks like voting and treasury management, but DAODAO wants to take it a step further. The idea is to create a one-stop shop where anyone can launch a DAO, raise funds and manage voting, and engage in the sort of crypto discussions that usually occur on platforms like Discord and Twitter.
According to El-Naji, DAODAO aspires to replicate the easy-to-use interface of services like NFT marketplace OpenSea, but also to incorporate the decentralized ideals of crypto. "The biggest winners in crypto have been centralized entities like Coinbase and OpenSea," says El-Naji. "There's an opportunity for the next [thing] to be owned by the people."
On DAODAO, those wishing to start their own DAO start by entering a name and the amount the DAO aims to raise. In terms of fundraising and treasury management, El-Naji says the platform will support multiple currencies and blockchains beyond Ethereum.
Social media activity that takes place on DAODAO, however—and some of El-Naji's critics will view this as a serious caveat—will be limited to the DeSo blockchain, which El-Naji launched last year.
The DAODAO platform is already advertising future DAOs with names like PokéDAO, though these projects appear to be little more than a logo and slogan for now. (The DAODAO site, almost in preemptive defense against critics or pesky regulators, promises, "Yes, they're real.")

All of this is set to go live in three weeks. Until then, DAODAO is offering people a chance to get in early by buying NFTs that will guarantee them a portion of tokens and a cut of future DAO launches. DAODAO will also encourage people to buy DAODAO tokens (surprise!) and use them to start their own projects.
A counter on the DAODAO website claims it has raised $500,000 so far. El-Naji, who has raised hundreds of millions from venture capitalists for past crypto projects, says DAODAO is not soliciting funds from professional investors.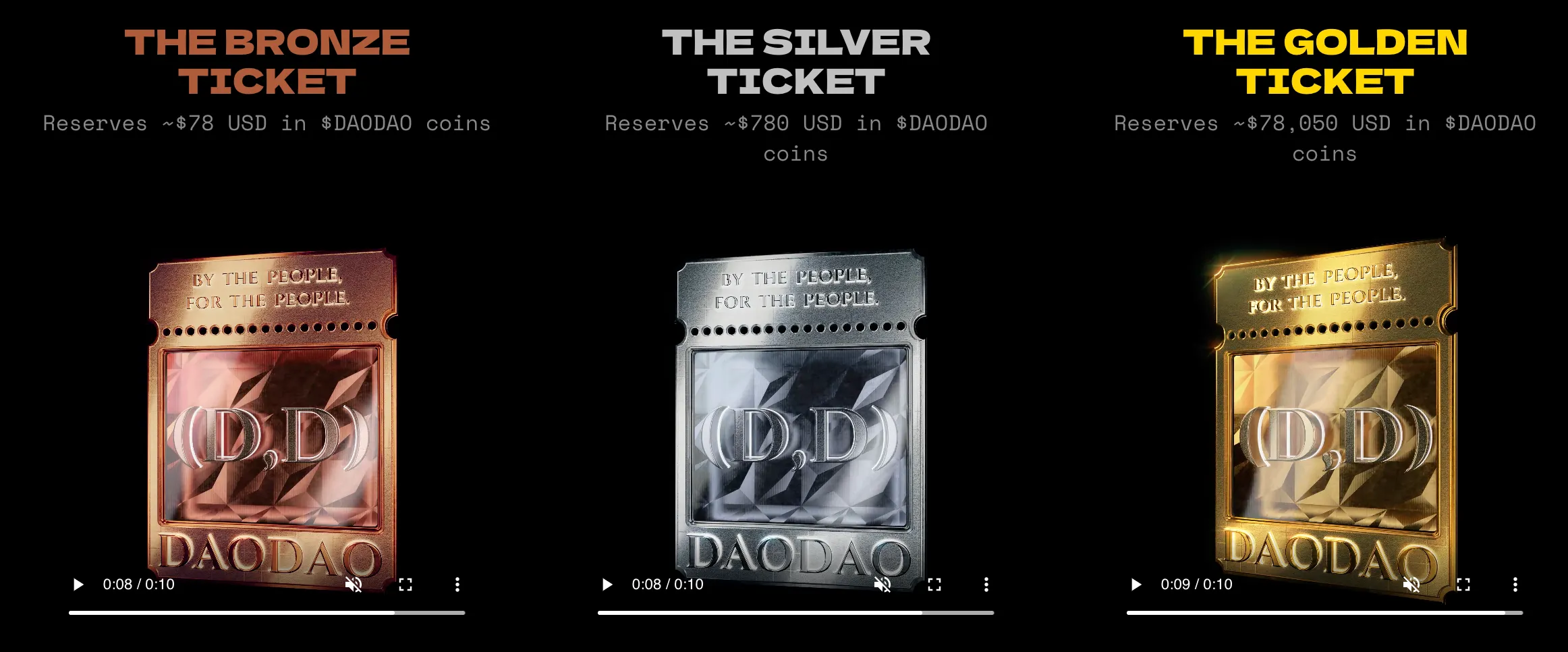 According to Eshita Nandini, an analyst with research firm Messari, there is likely to be demand for services like the one DAODAO plans to offer. She points out that some "all-in-one" solutions already exist, including SuperDAO, but the existing platforms might not necessarily fit the needs of every new DAO.
"There has been an increase in DAO tooling providers recently in response to needs that builders and contributors in the space have surfaced. Given its nascency, there is still no 'right' stack for every DAO as depending on composition and contributors, the type of tooling required differs greatly," Nandini says.
While this suggests that DAODAO may be well poised to compete in a hot new sector of the crypto market, the fate of El-Naji's past projects may keep some crypto folks away.
The shadow of BitClout
It was a year ago that the blockchain world was buzzing about BitClout, a new type of social network that let users buy tokens tied to crypto celebrities like Vitalik Buterin or Elon Musk. The project received plenty of attention, but no shortage of criticism as well—particularly over how BitClout copied prominent Twitter profiles and turned them into token commodities without permission. Today, BitClout has only a handful of users, and its people-based token trading appears to have floundered. (My own token on BitClout trades at $102.57, for reasons unclear.)
It didn't help that El-Naji launched BitClout under a pseudonym, posing as "Diamondhands" for months before disclosing his real identity. El-Naji would later say that he conjured up "Diamondhands" in order to show that BitClout was a truly decentralized project whose founder would eventually disappear—in the same way as the mysterious Satoshi Nakamoto founded Bitcoin and then vanished. In any case, the pseudonym served to increase the marketing buzz around BitClout.
The "Diamondhands" act only increased mistrust over BitClout, especially as rumors trickled out that El-Naji and a coterie of wealthy venture capitalists were behind the project.
Yet the controversy over BitClout did little to shake investors confidence in El-Naji. Last September, he raised $200 million to build the so-called DeSo blockchain, which backers hyped as a decentralized challenger to social networks like Facebook.
The news was surprising both for the amount of money raised by an untested project—$200 million is a significant sum even by crypto standards—and because El-Naji had botched a previous crypto venture, Basis, in 2017. Basis raised over $130 million from blue-chip investors for an algorithmic stablecoin—a type of token that is meant to keep its price pegged to a fiat currency—but quickly collapsed amid regulatory scrutiny. (El-Naji returned the unspent funds).
Today, El-Naji frames both Basis and BitClout as learning experiences. El-Naji acknowledges that BitClout is all but defunct, but says this doesn't really matter since other social networks on DeSo are poised to succeed.
It's unclear if the investors who put $200 million into the DeSo blockchain are as blasé about BitClout's implosion, or what they make of El-Naji launching a new DAO venture. One prominent crypto investor, who spoke on the condition of anonymity, expressed surprise that El-Naji has moved on to another major project that does not have backing from any of his previous investors.
El-Naji says he does not want to viewed through the prism of BitClout, and that DAODAO will benefit ordinary users rather than wealthy insiders. He describes it as "completely grassroots."
The DAODAO white paper makes a similar claim: "The possibilities are endless, but the best part is that it's not up to us, it's up to the people — it's up to you."