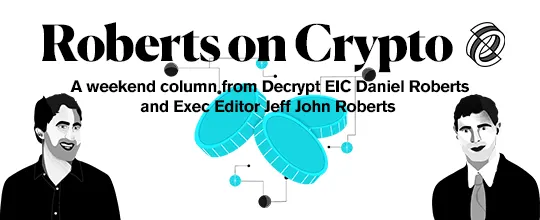 What a story—and what a twist!
I'm talking of course about the frenzied auction on Thursday for a rare original copy of the U.S. Constitution. Thousands of patriotic crypto nerds came together in a DAO (decentralized autonomous organization) and in barely one week raised more than $40 million—what should have been more than enough for a successful bid. But at the last minute, a Wall Street titan swooped in and took the prize for himself.
It's hard to imagine a more poetic, if painful, outcome. The winning bidder was Ken Griffin, the CEO of Citadel, a high-frequency trading firm that got fat off Robinhood investors. Griffin, who is an outspoken critic of crypto, is also known for buying the most expensive penthouse in America in 2019. The upshot of his winning the constitution auction is that the precious document will not be owned by more than 18,000 internet citizens, but instead by a single tycoon who says he'll place it in the Bentonville, Arkansas museum owned by the Walmart heirs.
The media has so far framed the purchase as a master act of trolling by Griffin, and as a victory by TradFi (traditional finance) over DeFi (decentralized finance). Both of these takes are right. But there's so much more to the story. Start with the fact that many of the ConstitutionDAO bidders are already vowing to regroup and buy another historic document—perhaps the Bill of Rights. They're energized. Thursday's loss wasn't the end, it was the beginning of a new movement powered by DAOs and crypto tokens.
Crypto Twitter is abuzz about using the momentum from the Constitution auction to challenge anti-crypto politicians in Washington and the Wall Street bankers who keep them in power. The legions of crypto believers are bigger and richer than ever, and DAOs are proving to be the most exciting new tool for them to pool their influence.
But whether this promising new movement succeeds will depend on what happens next. The confusion over the bidding process—even members of the DAO had no clue which Sotheby's live bidder was their rep, or whether they had won (initial tweets by many of the members said they had), or why their bid fell short—showed how decentralized governance has a long way to go before it's ready for the big leagues. There is also uncertainty over what will happen to the more than $40 million the DAO raised. Will the DAO put the funds toward a different purchase, and what if a majority of contributors disagree? What they decide to do will have a huge impact on whether these projects will be viable in the future.
For everyone who wants to continue riding with us, you'll also be able to sign a message (without paying for gas) committing your funds to the DAO's treasury and get our governance token $WTP (We The People) back.

Of course, you can also do nothing and see how things play out 😁

— ConstitutionDAO (📜, 📜) (@ConstitutionDAO) November 20, 2021
As the dust settles and ConstitutionDAO licks its wounds, let's not forget about the positive impact of this effort. It demonstrated what's possible when a group of crypto people pool their funds. Even the most jaded Crypto Twitter voices admitted to being moved by seeing so many people, including many outside the U.S., come together to support an act of public patriotism.
ConstitutionDAO exemplified one of America's biggest strengths: the ability of ordinary citizens to come together and work for a common good. That tradition made the country great and is reflected in everything from its public schools to charity groups to the Girl Scouts. Unfortunately, in recent years, this great tradition has been harder to see as too many of our political leaders—on the left and right—abandoned their duties in favor of trolling the other side and shit-posting on social media.
If organizations like DAOs continue to flourish, it could provide an alternative to performative politics, and reinvigorate a sense of civic participation that has been languishing of late.
This is Roberts on Crypto, a weekend column from Decrypt Editor-in-Chief Daniel Roberts and Decrypt Executive Editor Jeff John Roberts. Sign up for the Decrypt email newsletter to receive it in your inbox. And read last weekend's column: Why Discord's Crypto Clash Matters.