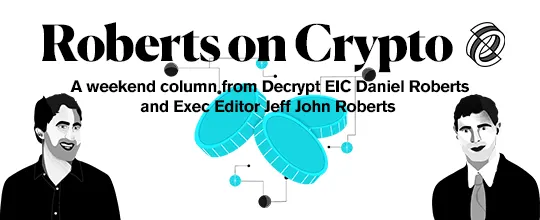 The chat app Discord has quickly become the de facto home for DAOs, the hottest new thing in crypto. DAOs (decentralized autonomous organizations) are working groups that come together with a shared purpose like investing in NFTs or building blockchain tools, and have no single overseer. Most of them function exclusively over Discord.
So it was a surprise to discover this week how many of Discord's core users vociferously dislike crypto. On Monday, Discord founder Jason Citron tweeted an image teasing a possible Discord integration with crypto wallets MetaMask and WalletConnect.
The blowback from Discord users was loud and immediate. "Can't wait to tell my friends that Discord is encouraging pyramid schemes at grand cost to the environment," tweeted one user, encouraging people to cancel their subscriptions to Discord's premium service Nitro. Another tweeted, "Discord needs to see a drop in revenue to impact their decisions NOW so this is the best time to cancel subs and move."
By Wednesday, Citron walked back the crypto feature: "Thanks for all the perspectives everyone. We have no current plans to ship this internal concept."
That's too bad, because Discord has a chance to become the go-to social network for all of crypto. Right now, that's arguably a toss-up between Twitter and Telegram. But Discord was gaining fast. As Lauren Garcia, a crypto O.G. and PubDAO advisor, told Decrypt founder Josh Quittner for his DAO Diary column last month, "I don't remember Discord being a thing in the 2017 bull run—it was all about Telegram back then. Somehow it flipped to Discord because it has more features."
Indeed, Citron's initial tweet was in response to a post by crypto scribe Packy McCormick that touted how DAOs have flocked to Discord for its helpful group management tools. "If you're starting a DAO today, it's extremely likely you'd choose Discord to leverage bots," McCormick wrote. "These tools give your community superpowers you cannot fully access elsewhere... Discord needs to lean in here."
Citron tried to do just that and lean in, but it backfired. His app was built for gamers, and those gamers don't want Discord to support crypto. (Do they know about all the DAOs already there? Does someone want to tell them?) Amy Wu, a partner at Lightspeed Ventures who has invested heavily in gaming NFTs like Axie Infinity, wasn't surprised by the blowback, but is optimistic that eventually, gamers could warm to crypto. After all, metaverse worlds like Axie, Decentraland, and The Sandbox already merge NFTs with gaming.
"I think gaming people have long known that there's a deep trend of anti-crypto sentiment in the hardcore gaming community," Wu said on Decrypt's live week-in-review roundtable video on Friday. "They really think that there are a lot of scams. People who are working at the intersection of gaming and crypto really need to think about how to authentically engage both communities, they are very separate communities today. I think in the future they will merge, but that's not the reality today."
But some Discord users sound truly immovable. Even after Citron tweeted that Discord won't add a crypto wallet, one user replied: "Remember: Don't re-sub your Nitro until Discord takes a hardline anti-crypto stance. Backpedalling on Twitter is easy and CEOs will hope you forget this in like a month and push it out anyway."
Zulip, a rival chat app, is already trying to use Discord's crypto kerfuffle to market itself: "Our commitment: @zulip will not integrate a crypto asset wallet, issue crypto assets, promote NFTs, or otherwise attempt to profit from the crypto asset gold rush," it tweeted on Friday.
A few things going here, I think.

1) We saw the exact same thing with the rise of mobile, social and free to play ("pay to win", as the haters used to call it). The most hardcore gamers hate and are threatened by new approaches. https://t.co/ZwUvohMK7e

— David Kaye (@davidkaye) November 13, 2021
I personally find Discord extremely noisy, but I also see why it works so well for DAOs, with its permissioned channels and proposal threads. Discord is the most promising platform for combining the good attributes of crypto and Web 3, including governance tools that can vet for scams in the first place.
If Discord sides with gamers and resists crypto, it risks losing DAOs and crypto people to another platform like Telegram or Signal—and losing the future.
This is Roberts on Crypto, a weekend column from Decrypt Editor-in-Chief Daniel Roberts and Decrypt Executive Editor Jeff John Roberts. Sign up for the Decrypt email newsletter to receive it in your inbox. And read last weekend's column: The View from Colorado's Crypto Scene.