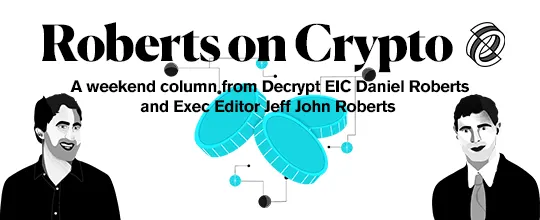 Congressman Tom Emmer (R-MN) took to Twitter this week to wish his followers a hearty "gm," which Decrypt readers know is crypto-speak for good morning. It was just a tweet, but as one Washington observer noted, Emmer is the second GOP member of Congress to offer up a "gm," while no Democrat has done so.
So what? Does it matter if politicians throw around a piece of crypto slang?
It might matter a great deal. The "gm" gap is significant because it underscores a broader trend in U.S. politics: Republicans are becoming the party of crypto, while Democrats are earning a reputation as anti-crypto. While figures like Sen. Cynthia Lummis (R-WY) push bills to boost the industry, Democrats are taking their cue from tech-averse figures like Elizabeth Warren (D-MA), who has declared she views crypto as a thing for "shadowy super-coders."
President Biden's pick to run the OCC was a vocal crypto skeptic; she withdrew her nomination earlier this week. Other Biden appointees, most notably SEC Chair Gary Gensler, have disparaged crypto at all turns and erected regulatory barriers to slow its growth and even drive it from American shores.
This is a terrible mistake.
While there are legitimate concerns over crypto—notably scams and rug pulls, and its implications for the U.S. dollar as a reserve currency—that is no reason to shun it. Like any technology, crypto and blockchain can be used for good or bad; the tech is apolitical. And those who mock it—like Rep. Brad Sherman (D-CA) did during a rant in Congress this week—are likely to be seen as fossils akin to the politicians in the 1990s who blasted a then-new technology called the Internet.
Why are Democrats opposed to crypto? Their hostility may be rooted in the libertarian leanings of many early crypto adopters, few of whom are inclined to support a party associated with big government. What they're missing is that Bitcoiners will happily support any politician who supports Bitcoin, no matter how flawed, from Nayib Bukele to Ted Cruz.
Today, crypto is used by millions of Americans, and is especially popular among younger people and Blacks—two groups that are important Democratic constituencies. By ridiculing crypto and adopting paternalistic policies, such as Gensler's inexplicable aversion to Bitcoin spot ETFs, the party risks alienating these voters in the same way its embrace of "Latinx" has reportedly turned off Hispanics.
The irony is that crypto offers Democrats an opportunity, and some younger members of the party clearly see this. This was evident during this week's Congressional hearing when Rep. Antonio Torres (D-NY) asked how crypto can lower the cost of his remittances for his constituents in the Bronx, and when Rep. Jake Auchincloss (D-MA) proposed writing bipartisan rules to promote Web3. Colorado's Democratic governor, Jared Polis, has also been an advocate for crypto and helped found the Congressional blockchain caucus.
Alas, their voices have been drowned out by older figures like Warren, Biden, and Gensler, who have made clear that the Democratic party line is that crypto is dangerous. In adopting this stance, they are rejecting a fast-growing constituency that also contains numerous potential millionaires and billionaire donors. Republicans like Lummis, who has raked in a bundle from crypto owners, and Emmis, who leads a national committee to get Republicans elected, appear to recognize the importance of these crypto whales.
The Democrats are already expected to take a drubbing turning next year's mid-term elections, and angering the crypto community won't improve their chances. Fortunately for party leaders, they still have eleven months to change their tune.
Saying gm would be a good start.
This is Roberts on Crypto, a weekend column from Decrypt Editor-in-Chief Daniel Roberts and Decrypt Executive Editor Jeff John Roberts. Sign up for the Decrypt email newsletter to receive it in your inbox. And read last weekend's column: Metaverse Land Grab!