In January this year, Nigerian computer software engineer Opeyemi Olabode was one of 1,000 people to join a free, eight-week masterclass for blockchain developers, hosted by Binance, the world's leading crypto exchange by volume. The course was well oversubscribed, with over 10,000 applicants.
Ultimately, 300 of the students graduated—one of whom was Olabode. Today, he's a blockchain developer himself, for bonding curve token protocol Brinc. The eight-week Masterclass "exceeded my expectations," he said. "I got to learn so much technically as well as the business side."
The course he attended, Masterclass Developers Edition, is just one of around 700 events Binance has launched during the last two years—taking in everything from blockchain basics to crypto safety and careers. Over 400,000 Africans have participated in the events to date.
When it comes to cryptocurrencies, "as of today, Binance is the biggest educator in Africa," Emmanuel Babalola, director for Africa at Binance, and creator of its Masterclass program, told Decrypt. A deeper dive explained why the events have been so successful, and why cryptocurrency education is so vital for Africa.
Binance Masterclasses: filling an educational void
Babalola is a self-taught software developer, who has produced a multitude of financial products and dapps. He's also the interim CEO of Bundle, an Africa-focused social payments app.
Prior to becoming Binance Africa director, he was the company's business development manager and is based in Nigeria, a tech hub, known for its savvy youth (the average age is 18).
Nigeria consistently tops the charts for Bitcoin searches on Google, and the Masterclasses were launched there at the beginning of 2020—initially to combat misconceptions among many Africans that all cryptocurrencies are scams, and to surmount barriers to entry, says Babalola.
They were designed to fill a void in the market, for free, quality content. "In a continent like Africa, blockchain and crypto potentially hold the most use cases," he said.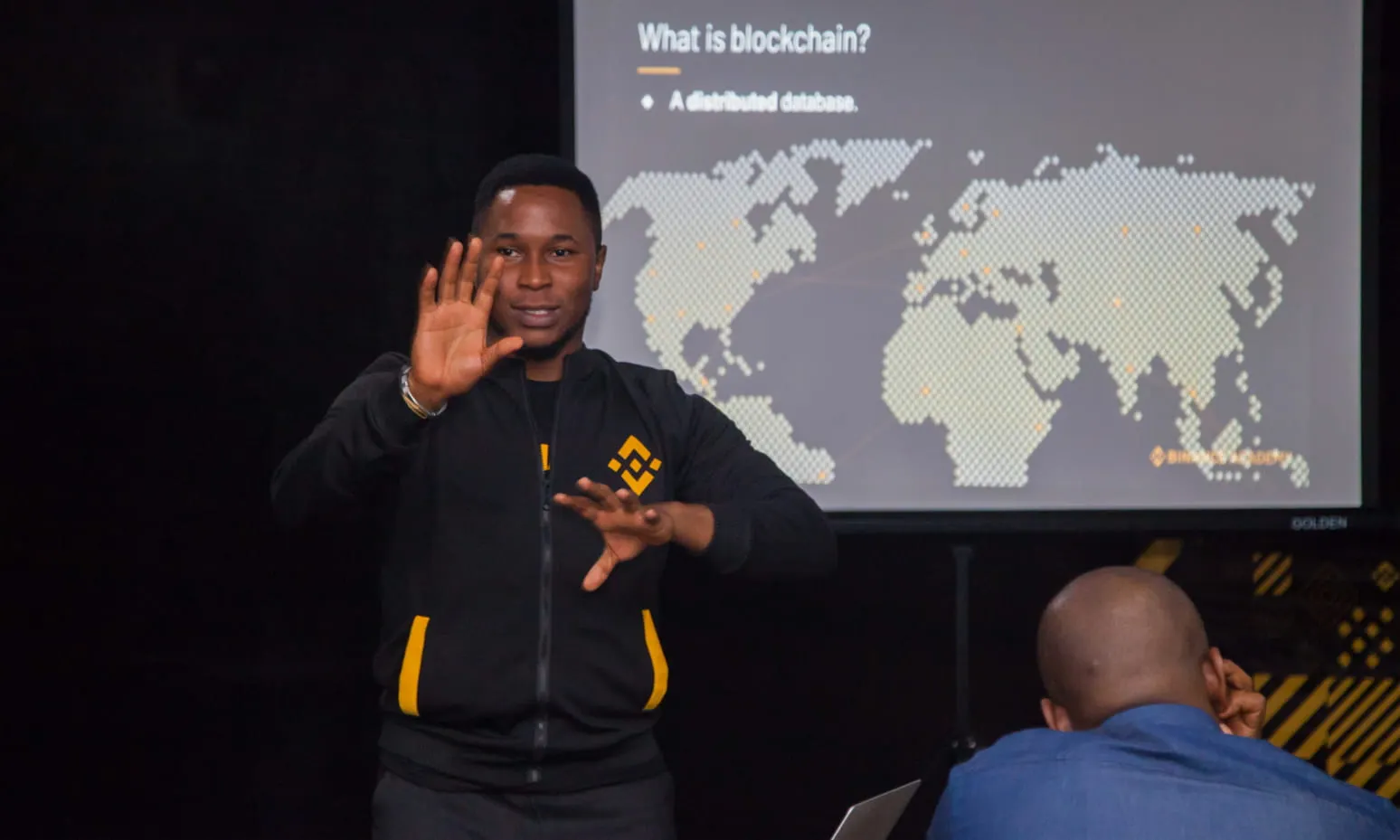 In Africa, mobile payments and a flourishing fintech ecosystem have unlocked new fields and markets in e-commerce and crypto. They've found room to grow on a continent unencumbered by outmoded infrastructure or monopolies. But fragmented infrastructure still means that Africans pay the highest remittance costs in the world, and are the second-highest unbanked population (after China).
The COVID pandemic derailed a planned five-nation Masterclasses tour but, when events moved online, Babalola found there was even more interest, as people lost their jobs and income, and were forced to stay home.
🌟 The Binance Masterclass impacted over 70,000+ Africans this 2020! We are proud to take this step again spreading FREE Crypto education across Africa in 2021!

We look forward to educating more people around the world about crypto next year! 🌎

Read 📌https://t.co/AipVbqw0g3

— Binance Africa (@BinanceAfrica) December 18, 2020
Catering to this trend throughout 2020, Binance's Masterclasses focussed largely on crypto trading and showing people how they could build wealth through crypto. But this year, the team wanted to demonstrate how they could build a career, and showcase the multitude of options beyond crypto trading that were available.
"Looking at Africa, with the level of unemployment and underemployment, it just made sense for us to do that. And we received massive, massive feedback—we had about 36,000 people [on the opening day]," said Babalola.
The opening event, showcasing blockchain careers, preceded the developer masterclasses and was introduced by Binance CEO Changpeng "CZ" Zhao.
And the final event was a demo show by the most outstanding attendees, including Olabode, who displayed the skills they had mastered in the form of newly built products for Binance Smart Chain (BSC). Their projects took in the gamut of use cases, including staking and yield farming, stablecoins and insurance.
Africa first in blockchain education
In Africa, the ubiquity of mobiles means that $25 buys a phone, with a browser and WhatsApp capabilities, so accessing learning content is not hard, said Babalola.
Language barriers can present less surmountable obstacles, although that hasn't stopped Binance, which hosted its first-ever masterclass for French-speaking Africans last July. The class, which dealt with crypto basics, such as the easiest ways to buy and sell cryptocurrencies, and how to make passive or active income, had 3900 attendees.
Binance now plans more work in countries such as Senegal, Cameroon, and Republic of Congo.
"We want to go where there is real need, so that's why we're spreading across the entire French-speaking region, said Babalola. "We've seen the need to localize more."
In keeping with this strategy, the team is also launching "My Binance Class," a series of events for those who want to be blockchain educators themselves. The goal is to decentralize crypto education through the creation of smaller learning communities.
Other initiatives in the pipeline include a million-dollar hackathon, focused on Decentralised Finance (DeFi)—a major driver of company business. And always on tap are webinar replays on YouTube, and the Binance Academy, which contains over 280 articles covering everything from computer security to economics in 21 different languages.
Africa's overall trading crypto volumes are a tiny two percent of global volumes, but cryptocurrencies have created some life-changing value here, compared to other regions, as Akin Sawyerr, a US-based crypto investor and ecosystem builder told Decrypt at the end of last year.
"It's allowed people to operate businesses where they couldn't before; it's allowed young people to have some level of sovereignty and independence and allowed them to create value—to be paid for it in this way—that's huge," he said.
Perhaps that would explain why Binance has seen attendance at its events, as well as African registrations on its exchange, double throughout this year. And perhaps some of them will join Opeyemi Olabode and embark on a crypto career.