In brief
Elon Musk has said that Bitcoin is too energy-hungry and Tesla is looking for a greener alternative.
Tesla's announcement has focused attention on cryptos that use more eco-friendly consensus mechanisms.
Cryptocurrencies crashed across the board today—an event already being dubbed "Rug Wednesday"—after erstwhile Bitcoin champion Elon Musk declared that Tesla would no longer be taking payments in the cryptocurrency for its era-defining electric motors. 
Musk cited concerns over the energy expenditure of mining Bitcoin—immediately shaving around $5,000 off Bitcoin's price—but he held out a carrot to altcoin fans (anyone who's not a Bitcoiner). "We are also looking at other cryptocurrencies that use [less than] 1% of Bitcoin's energy/transaction," he said.  
Many hope that, once the bloodbath is over, the tweet may spur a shift towards more environmentally friendly cryptocurrencies—those which use the less energy-intensive proof-of stake or other greener methods of achieving consensus (which is what blockchains need in order to process transactions). And there are plenty of alternatives out there nipping at Bitcoin's heels.
Proof-of-stake alternatives
Proof-of-stake (PoS) is the most common alternative to Bitcoin's proof-of-work (PoW) consensus mechanism. It's based on pre-existing coin ownership. The more coins owned by a miner, the more mining power they have. To get an idea of how much lower its energy use is, consider that Bitcoin uses more energy in a year than the entire country of Argentina, according to the BBC. An Ethereum client, Nimbus, estimates that PoS is 99% more energy-efficient than PoW.
Ethereum, the second-largest cryptocurrency by market capitalization, currently uses energy-intensive PoW but could make the transition to PoS as early as the end of this year.
Currently, however, Ethereum consumes an estimated 62.56 KWh, per transaction, and has a carbon footprint compatible with Sudan.
But some blockchains are already using PoS, including Tezos, Cosmos, Solana, and Cardano—to name but a few. Some, such as Algorand, claim to be fully carbon neutral. In April, the platform partnered with Spanish fintech firm ClimateTrade, which is building a CO2 marketplace that enables companies to track emissions.
But energy usage figures for Proof of Stake blockchains are still evolving, and data is sketchy.
A carbon-neutral strategy
Per the data, the most energy-efficient choice is Ripple (XRP) or Stellar. Both blockchains use pre-mined tokens, and thus minimal energy to process transactions. XRP incurs just 0.0079 KWh, making it the greenest blockchain, even if it's not the most decentralized.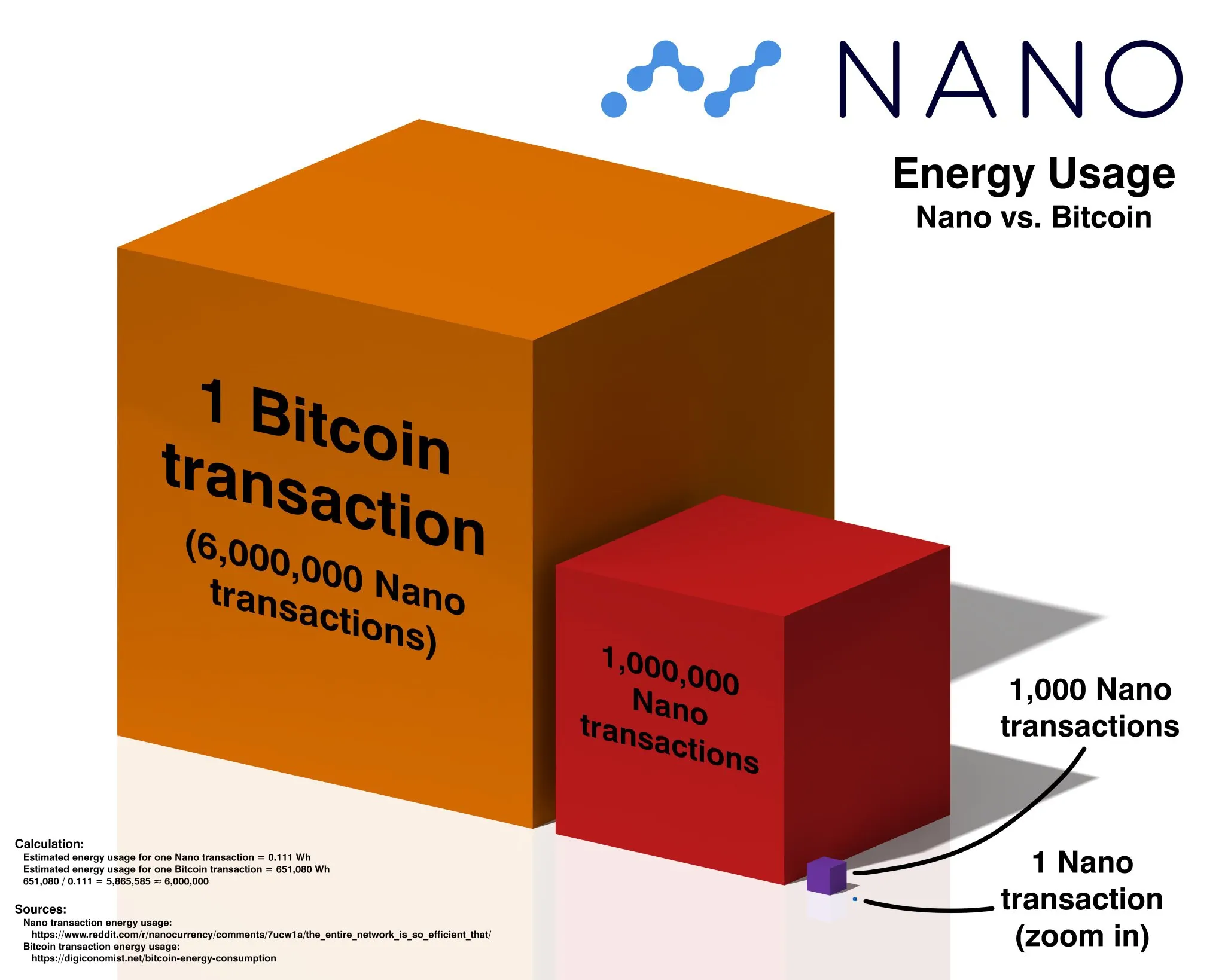 Another contender is Nano, which uses a consensus protocol known as Open Representative Voting (ORV) for minimal energy consumption. Nano claims that one Bitcoin transaction is equivalent to 6 million nano transactions. And another platform, IOTA, is even more energy-efficient, according to its supporters.
To get a more bipartisan perspective, Decrypt turned to Energy Web, which is behind a sector-led initiative to decarbonize the cryptocurrency industry in record time. The nonprofit enables energy assets to participate in a global marketplace and administers the Energy Web Chain, an enterprise-grade, public blockchain tailored to the energy sector. Its validators include internationally recognized service providers such as Vodafone and EDF. 
But Energy Web Chief Trading Officer Micha Roon told Decrypt that Bitcoin was far from the main issue in terms of energy consumption. Instead, he put the blame on cloud service providers and the companies that use them.
"All data centers should run on green energy and have the means to prove it," he said. "BTC is not the biggest energy guzzler. Netflix and YouTube are just two well-known examples who use at least as much. There is more available compute power and more energy consumption in the data centers around the world than BTC will ever need."
The drive toward decentralized cloud servers and storage has recently been gaining steam. Last week, Dfinity launched The Internet Computer to take on the $370 billion cloud computing market and end the crypto industry's reliance on giant server farms. 
And the newly launched Chia Network (XCH) also focuses on storage. It touts itself as the solution to Bitcoin's power-hungry operation, is mined with a high-capacity storage device, and uses a consensus mechanism called "proof-of-capacity." 
And an older platform, burstcoin, launched in 2014, recently decided to supplement "proof-of-capacity" and upgraded to combine it with yet another consensus method, "proof of commitment." 
Not all PoW coins are created equal
While proof-of-stake, proof-of-capacity, and proof-of-authority are attracting attention, many in the crypto industry are content with proof-of-work, and question the need to change.
The Litecoin network also uses PoW, but instead of Bitcoin's SHA-256 algorithm, it's mined using Scrypt, which is quicker and consumes less energy. 
Litecoin power usage is estimated at 18.5 KWh; Dogecoin, which uses the same algorithm, is estimated to use even less energy at 0.12 KWh per transaction.
That puts it among the top cryptocurrencies in terms of low energy use—with only XRP being more energy-efficient. 
"[Dogecoin] gets the benefits of high hash rate without as significant of a carbon footprint as other Scrypt coins, making it very robust and secure," the meme coin's cofounder Billy Markus said in April.
Do you want Tesla to accept Doge?

— Elon Musk (@elonmusk) May 11, 2021
Musk is a big fan of DOGE; his space exploration company SpaceX has even accepted it as payment for a Moon mission. But his intentions in respect of the Shiba-Inu-themed coin remain veiled; he recently posted a Twitter poll pondering whether Tesla should accept the cryptocurrency, but has previously stated that his posts about Dogecoin are "just meant to be jokes."
His announcement that Tesla's electric cars could be bought with Bitcoin (which the company planned to keep) sent crypto into an upward frenzy. The market is still digesting his apparent reversal, and pondering his next move.