In brief
Topps and MLB are launching a 2021 baseball card NFT series on Wax blockchain.
These are the first NFT cards that MLB has officially signed off on.
Major League Baseball is taking a swing at the NFT market.
Topps on Monday announced it will release its 2021 flagship baseball card collection as NFTs for the first time, in partnership with MLB and MLB Players Inc., the for-profit commercial arm of the MLB Players Association.
These are the first official MLB-sanctioned NFTs; Panini has launched blockchain-based cards, but does not have a licensing deal with the league.
The Topps MLB NFT series will go live on April 20 on the WAX blockchain (Worldwide Asset Exchange), which Topps also used for its Garbage Pail Kids NFTs and its Godzilla trading card NFTs, both announced last month. WAX has hosted all of Topps' NFT collections to date.
Topps says its Series 1 NFTs will include "iconic throwback card templates, anniversary sets, and a Legendary Limited-Edition 1 of 1 Platinum Anniversary Signature card."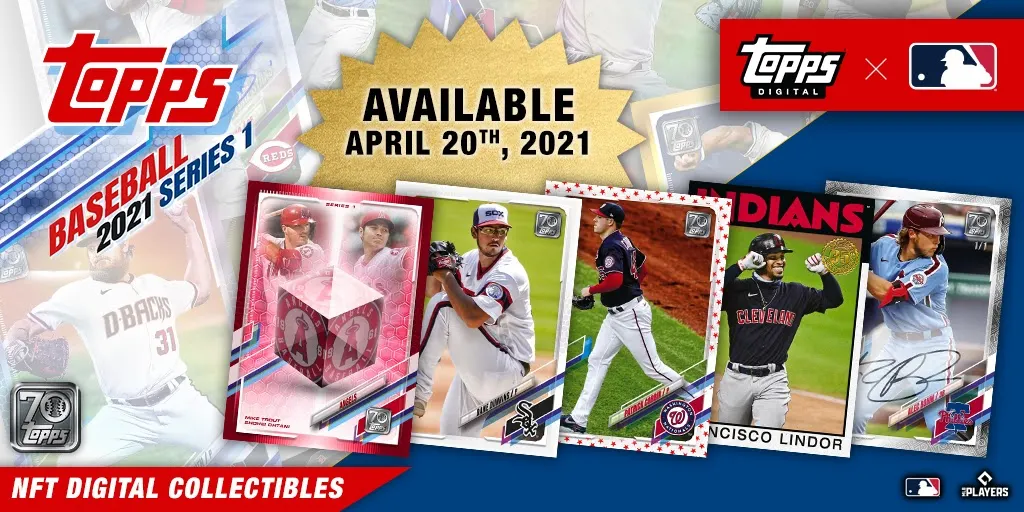 NFTs, or non-fungible tokens, are blockchain-based crypto tokens that, unlike Bitcoin, represent ownership deeds to digital or physical assets (like virtual trading cards, albums, artwork, or in-person event passes) and are verifiably scarce, typically one of a limited batch or sometimes one of a kind. The market for NFTs has exploded, with certain rarer examples fetching millions of dollars.
MLB has tried crypto collectibles before. In 2018, it partnered with LucidSight to launch MLB Crypto Baseball, cartoon bobbleheads traded via the Ethereum blockchain. They did not catch on, even though CryptoKitties was wildly popular at the time.
Three years later, NFTs are booming, and MLB sees an opportunity to get it right. CryptoKitties developer Dapper Labs and the NBA have a massive success with NBA Top Shot, where the NFT "moments" are video highlight clips like a LeBron James dunk or Zion Williamson block.
The question is whether MLB Crypto Baseball was simply before its time, or wasn't quite the right swing for MLB in the crypto space, or—the worst case for MLB—its fanbase just isn't interested in crypto collectibles the way NBA fans are.
Topps making big NFT play
Topps has now made three NFT announcements in the past month, and it announced last week that it will soon go public by merging with a SPAC (special-purpose acquisition company) in a deal that values Topps at $1.3 billion. Coverage of the deal has focused on Topps's clear effort to prioritize NFTs.
But although NFTs are the trend of the moment—especially in sports, where everyone from the NBA to the WWE to Tom Brady to Rob Gronkowski is doing them—they are highly controversial. Critics see two main issues: the environmental impact (most NFTs are built on Ethereum, and Ethereum mining, like Bitcoin mining, utilizes big computers that suck up a lot of energy) and new concerns over whether some NFT platforms are even storing the NFTs on blockchain, or simply selling a web link to an asset somewhere else that you could lose if the host goes out of business (which doesn't sound very decentralized at all).
At a SportTechie sports and tech conference last month, Topps digital VP Tobin Lent addressed questions from Decrypt about whether Topps is concerned about any possible backlash due to those issues.
Lent said the No. 1 priority for Topps is keeping its partners (like MLB) comfortable.
"The first issue we always have to work through with our partners is the copyright issues," he said, "and also in a more open environment in blockchain, where does that content sit? Can it sit next to something that's a little unsavory that doesn't reflect well on the brand? Working through those kinds of issues is really important. But I think these companies are getting more comfortable and familiar with how it's working."
As for the environmental concerns about NFTs, Lent said it's a "big issue, but the good news is there are some technologies out there that have a lot lighter impact on the environment, some proof-of-stake blockchains out there that are a lot better about that. Look, there are a lot of problems that we're all trying to solve in this space, but there's a tremendous amount of potential in the space that far outweighs these problems, that frankly we just need to work through."