In brief
Ex-NFL star Vernon Davis is launching a crypto collectibles NFT drop today.
Davis told Decrypt about the "golden ticket" that lets one buyer meet him in person.
Across 14 seasons in the NFL, including a Super Bowl win with the Denver Broncos in 2016, tight end Vernon Davis developed a reputation for his swiftness and reaction speed on the field. He has harnessed that same kind of agility off the field since retiring last year, rapidly pivoting into acting and producing with several films in the pipeline.
Now he has jumped into crypto collectibles while the market is blazing hot. Today, Davis will launch a series of digital collectibles sold as non-fungible tokens (NFTs) via marketplace Rarible. An NFT can represent a still or animated image, video clip, or other digital item, and can be authenticated via the blockchain—making them ideal for limited-edition item drops, including crypto artwork and sports memorabilia.
In the case of Davis, the drop includes animated trading cards and 3D renders of a signed football, cleats, and a Davis action figure, each available in limited quantities. However, the drop also includes a single-edition "Jump Man" NFT—which has yet to be revealed as of this writing—that comes with a "golden ticket" granting the buyer a chance to meet Davis in person on an upcoming film set.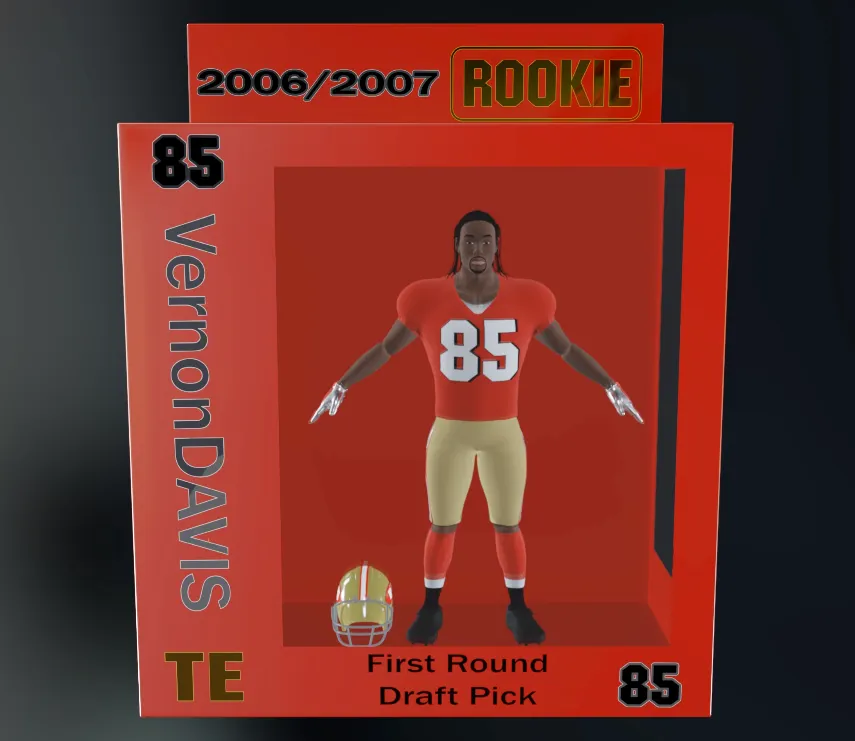 In an interview this morning, Davis told Decrypt that the idea was carried over from his philanthropic work, which often featured auctions including a meet-and-greet component. Davis said he was calling from the set of an upcoming film starring Bruce Willis and Frank Grillo, and that while the "golden ticket" is officially for a meet-up with him, the ability to visit a film set could bring other surprises as well.
"I think it's a great opportunity for them because you never know who you'll see as far as the cast," said Davis, who Forbes recently reported has shot seven different films since retiring from the NFL. He also runs two film production companies and has invested in a third. Davis described his acting and producing efforts as a "new lane" in his career.
Davis is the latest high-profile football start to get into crypto collectible NFTs during the current boom, in which the top three NFT marketplaces reported $342 million in trading volume in February alone. Tampa Bay Buccaneers star Rob Gronkowski pulled in more than $1.6 million worth of Ethereum in a recent NFT drop, while Kansas City Chiefs quarterback Patrick Mahomes generated $3.7 million in a crypto artwork sale.
The NBA has been the biggest winner of the early NFT drive in the sports world, thanks to NBA Top Shot and its more than $500 million of trading volume, helping to drive creator Dapper Labs' newly-announced valuation of $2.6 billion via a $305 million funding round. However, all sorts of athletes are jumping into the NFT space, from skateboarding legend Tony Hawk to New York Mets player Pete Alonso. Now Vernon Davis is joining the fray.
"Gronkowski is a good friend of mine. I saw his [drop] and what he was doing, and then I had Mark Cuban's team reach out to me about doing some stuff together," said Davis. "That's how I became familiar with it, and I was like: Wow, I'll try this. I'm not an expert in this lane, but it seems pretty cool."
Davis told Decrypt that he owns small amounts of cryptocurrency, but that he's been deliberate about investing in the space. "I try to be careful with it since it's so volatile," he said about crypto assets. "I just want to take my time with it, but I do have a little bit."
While Davis seems to have no shortage of opportunities in his post-playing career, he praised the rise of NFTs as a strong option for athletes and celebrities—who can harness their brand and create something potentially valuable in the process.
"It's great because if you have a vast following or notoriety, if you have things that are significant to your fan base—the people who follow and love you—then I think you have a great opportunity to really create a revenue stream when it comes to these NFTs," he said. "People love this stuff. People want to get items that they can have and can be worth something now and in the future. If you have that fan base, then I think it can be something of interest to the public."