In brief
Chainlink Labs is launching Off-Chain Reporting, a scalability upgrade to make more data available on-chain.
CEO Sergey Nazarov said the upgrade will benefit the DeFi sector and enable Chainlink to expand beyond price feeds.
Decentralized finance is about to see "a rapid evolution," according to Chainlink founder Sergey Nazarov. A major new upgrade, launched today by the decentralized oracle provider, is bringing 10 times more data on-chain to boost DeFi products and services, he told Decrypt. 
The new upgrade, dubbed Off-Chain Reporting (OCR), is the network's biggest since its mainnet was launched in May 2019. It will open Chainlink up to applications beyond the price feeds it's become famous for, as well as introducing "a whole slew of other uses," according to Nazarov.
Chainlink securely connects blockchains to real-world data and has built out an enviable reputation for doing so. It's the dominant decentralized oracle provider within Ethereum's DeFi ecosystem, and over 300 projects have now integrated its oracle technology. 
The startup was named as one of the 100 most promising Technology Pioneers of 2020 by the World Economic Forum. Meanwhile, its LINK token, which reached new highs this month, was one of 2020's best-performing crypto assets.
A scalability solution that aggregates data off-chain
The upgrade was a year in development and radically overhauls the way Chainlink oracle nodes pull data. Where, previously, data had to be brought on-chain, and then aggregated—a process which incurred prohibitive fees (known as gas on Ethereum)—now, data aggregation happens entirely off-chain.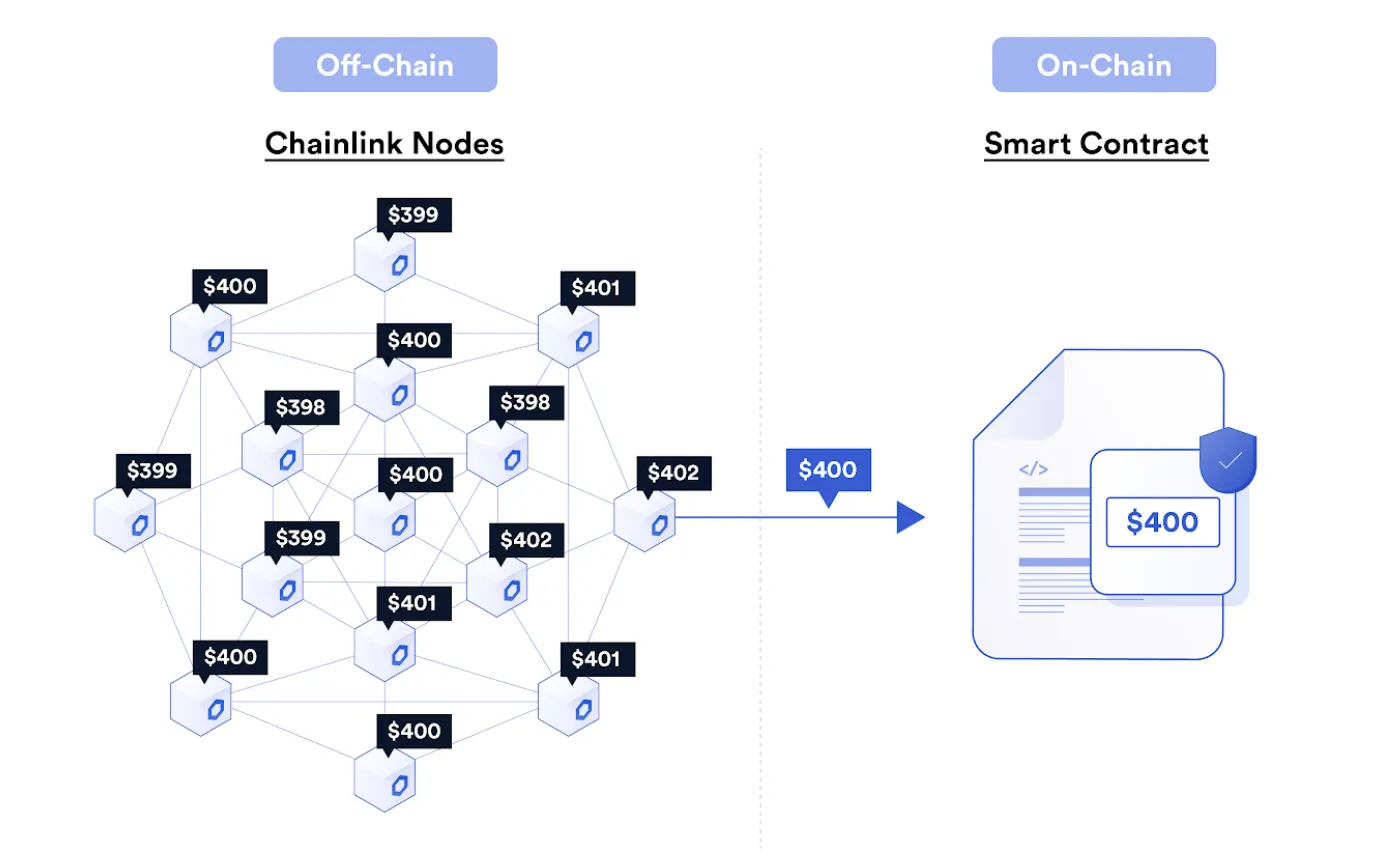 This reduces nodes' operating costs by up to 90% because operators no longer have to pay for multiple transactions to bring data on-chain for aggregation. It also dramatically increases the amount of data that the nodes can handle—which enriches the entire DeFi ecosystem.  
"We have historically seen that as we put data on-chain, more DeFi protocols go live, and existing DeFi protocols that use us have more markets to go live, which makes the whole category more useful to users," said Nazarov.  
Decentralized insurance and blockchain-based gaming are just some of the newly emerging sectors that smart contract developers will service in the coming months, as newly available datasets emerge for a wider range of financial products and markets, he added.  
OCR was developed by Chainlink's Chief Scientist Ari Juels; Head of Research and Development, Lorenz Breidenbach; Ben Chan, formerly of BitGo, and a new face, Christian Cachin, who used to head up IBM research. It's trust minimized, which means that participants' vulnerability to each other's and to outsiders' potential for harmful behavior is reduced; it also has additional advantages, such as increased decentralization.
Beyond price data
Up to now, Chainlink has been focused largely on rapidly increasing the amount of data it provides on-chain through its price feeds—which it's continually expanding.
But there are other services Chainlink already provides that will benefit from OCR, such as "Proof of Reserve," a mechanism that enables oracles to update and provide on-demand data about reserve funds, such as those held by stablecoins. These can then be used by other DeFi applications on Ethereum, and Proof of Reserve is already used by the tUSD stablecoin, and crypto custodian BitGo.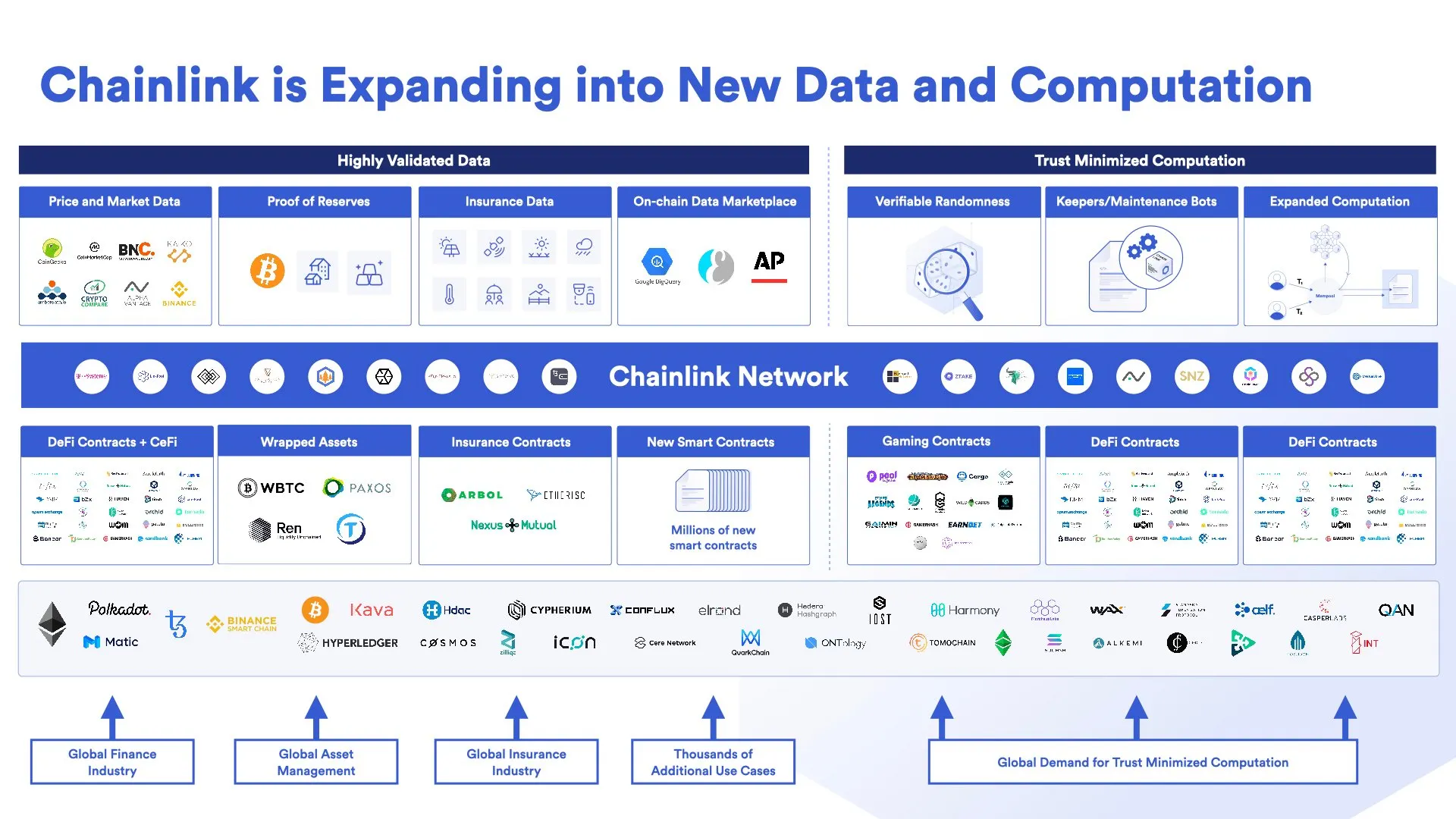 Other services Chainlink will provide via OCR include weather data, for insurance purposes; trust minimized computation for applications such as "verifiable randomness" for gaming; "fair sequencing" to combat front running, and Keepers, a Chainlink application that maintains smart contracts.
These will only grow, said Nazarov. But developers will also gain access to a diverse set of assets: data on real-world events from marketplaces such as news agency AP and Google's Big Query; data from other blockchains, such as Tezos and Polkadot—as well as data from mainstream financial applications. This will give them the infrastructure they need to service new industries and exciting use cases, Nazarov said. 
"People consider the Chainlink network to be about price data, but that's because we're focused so heavily on enabling that right now," he said. Initially, the objective is that OCR will increase the volume of the data the oracle provider puts on-chain, giving rise to more DeFi use cases. Subsequently, Nazarov explained, it will see the Chainlink network extend "to more and more data and more and more services."
The upgrade promises to galvanize smart contract development—a sector Nazarov has focused on for 12 years (he registered the domain smartcontract.com on October 25, 2008, six days before the Bitcoin whitepaper was published). 
For Nazarov, the most exciting thing is that Chainlink provides a vital piece of infrastructure to service smart contracts. "The faster we can enable people to build," he said, "the faster our industry gets there."