From the outside looking in, Ethereum is a hot bed of contradiction. There are no leaders, vital decisions are taken, seemingly, on the fly, on the basis of "signals" and key contributors are free to work for rival blockchains. But for Ethereum, the world's most famous decentralized organization, this way of working has—up to now—served it well. Much admired co-founder, Vitalik Buterin is hands off, project management is left to an informal group calling themselves the Ethereum Cat Herders and developers, such Afri Schoedon, are allowed to work on competing projects while retaining key roles on Ethereum's flagship Serenity upgrade. Until recently, that is.
Last weekend, an ill-advised tweet by Schoedon appearing to favor Polkadot, which is developed by Parity, the company he works for (it's also a competing project) led to a hail of pitchforks from critics. The ensuing tweetstorm resulted in Schoedon's resignation, a multitude of conspiracy theories and a community crisis from which Ethereum is still reeling. We try and make sense of the latest twist in this strange, winding tale.
Pitchforks
Schoedon had been an active contributor to Ethereum, moderating its Reddit forum, coordinating hard forks, and posting developmental updates all while maintaining his day job at Parity. Parity, led by Gavin Wood--who is an Ethereum co-founder--powers large chunks of Ethereum, handling some $50 billion worth of assets. But Parity is also building an interoperable blockchain, Polkadot, perceived by many as a big threat to Ethereum. But no one seemed to mind Schoedon having a potential conflict of interest, that was until he nailed his colors to Parity's mast in his ill-advised tweet (now deleted) that read: "Polkadot delivers what Serenity ought to be."
The firestorm that came back was intense. Everything from death threats to questions as to how Schoedon could possibly be working for a competitor at the same time were flung in his direction on Reddit and Twitter.
The Ethereum community did its best to rally around Schoedon. On Monday, a Reddit AMA, organized by Cat Herder, Hudson Jameson tried to assuage fears Ethereum was being inadvertently crippled from within. While the response to Jameson's firefighting seemed positive, many still had questions around conflicts of interest, Parity's role within Ethereum, and knowing precisely who works on what and why.
Playing into the hands of Polkadot?
The perception, among many within the core community, was that Afri was the subject of a witch hunt, orchestrated by trolls working for competitors. Among the vitriol were comments such as "it's like a drunken clown show troop found a keyboard" and "I urge everyone to pry out this cancerous tumor for the health of our Ethereum ecosystem"
But aside from the loathsome trolling, there were also key questions raised by investors and miners, that the organisation should not be so quick to ignore. Many of them centered on transparency within the organization and how Parity had a "huge financial incentive" to cause Ethereum to fall behind on its roadmap.
Critics expressed doubt about Polkadot's claims to complement Ethereum. "I see how this benefits Polkadot, but I do not see how it benefits Ethereum," wrote "DC investor," who claims to be a management consultant working at a firm which conducts audits. "The potential conflicts of interest in a situation like this are absolutely baffling."
While some, on Reddit, countered that an interoperable blockchain would benefit the entire ecosystem, Polkadot's claims to superiority are hard to ignore. During an interview with Decrypt back in October, Parity CEO Jutta Steiner was very clear about how Polkadot will trump Ethereum when it comes to scalability.
A recent grant for $5 million given to Parity by the Ethereum foundation, was also subject to debate. Redditors wanted to know what was to stop Parity, using this to further develop Polkadot?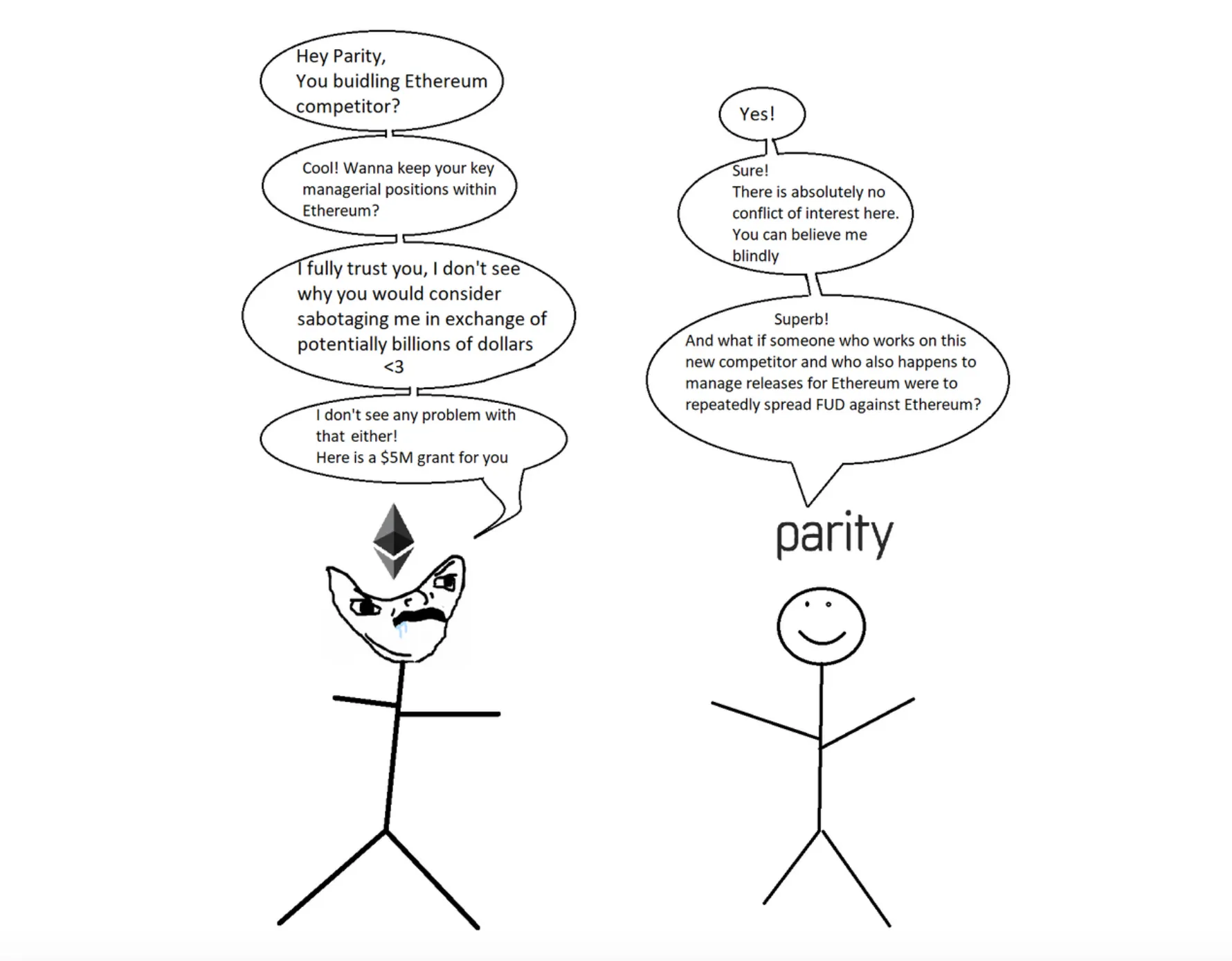 "Why does Parity get special treatment?" asked "cutsnek." "This has festered for some time and it seems the tweet was the catalyst for this to blow up (and some of the more insane theories to surface)."
When I was a student, I've always wondered why prominent open source developers are unreachable, making it hard to get relevant information right from the source. Starting to get my answers. #Ethereum

— Péter Szilágyi (@peter_szilagyi) February 18, 2019
While Buterin and other Ethereum heavyweights took to Twitter to man the barricades, Parity, meanwhile, were largely silent on the matter. Spokesman Peter Mauric told Decrypt that: "At Parity we are respecting Afri's right to assess his options after the violent threats he received from members of r/ethtrader and others on Reddit who have no real role in [the] Ethereum community before speaking publicly. We all need to digest this disgusting behavior from Redditors who serve no purpose other than to attack those building this decentralized future."
We asked Mauric whether the incident had given Parity any cause to consider re-evaluating its relationship with Ethereum. "No," was his answer. "None of what those on Reddit said has any basis in reality."
Questions of professionalism
In the aftermath, Vitalik Buterin sought to remedy questions over a lack of transparency inside Ethereum by disclosing his own interests and encouraging others to do the same. But questions regarding working practices were not so easy to answer. In a community where blurred lines define roles and many have links to other organizations, loyalties come into question.
"We have groups where we share best security practices, best community practices, and we share them across teams," says María Paula Fernández, who looks after external relations at Golem Factory, but also works on Ethereum and has worked for the Web3 Foundation, which administers the Polkadot project. "I don't think there's room for bringing out old practices from the corporate world and putting them into our ecosystem, because they just don't belong there."
Developers on open source projects see little problem working on projects that could be perceived as competitors. Many within the Ethereum community work hard for the organization for little or sometimes no return. Kristy-Leigh Minehan, the developer at the heart of a recent furor about the much-debated upgrade to the blockchain, ProgPow is one of these. She has a day job (pending work authorization), with Core Scientific, a blockchain and AI intelligence company. Among other things, it's in the business of predictive analytics to help optimize mining processes. She recently came under fire from the wider community over her motivations and links to GPU manufacturers but insists there's no conflict of interest.
"When all you do is work for the greater good and devote all of your time to helping people, it can be incredibly disheartening—soul crushing—when you're put to trial for it," she says. "There is nothing wrong with wearing multiple hats—not when code is open source. Open source inherently means you owe nothing."
But investors may not concur. As Ethereum grows, it will increasingly rub up against the traditional centralized world, with its more structured ways of working and increased accountability practices. A recent report highlights an array of issues that could threaten progress for Ethereum, including funding, standardization of processes and public perception of what the team builds and what it means for everyone else.  
While the community recognizes that change is necessary, structures to implement this are sorely lacking. A meeting will be held in Paris in March to debate some of the concerns raised. However, aside from berating the trolls, the community is yet to offer a cohesive voice in response to criticisms raised. It is still working on a response—which Decrypt has seen—which has undergone so many alterations that publication has been postponed.
The crisis is not over. Figuring out who's to blame here is the least of it. New questions are emerging which are just as pressing as issues of scalability: Will unpopular management practices be imported from the corporate world, will Ethereum see a growing disParity (yes that's a pun) or will the crypto world eat itself and save Facebook the bother?