In brief
Bitcoin isn't the most widely used cryptocurrency; in terms of trading volume, it's left in the dust by Tether (USDT).
Tether is a stablecoin that's pegged to the US Dollar.
In 2019, Tether admitted in court documents that its stablecoin was only 74% backed by cash and cash equivalents.
When most people think of cryptocurrencies, Bitcoin (BTC) is undoubtedly the first that comes to mind. Not only is it the first cryptocurrency ever launched, it's also the largest cryptocurrency by market capitalization, and the most widely distributed cryptocurrency of all.
Despite this, however, it's not the most widely used cryptocurrency. That accolade belongs instead to the USD-pegged stablecoin Tether (USDT), which, per data from CoinMarketCap, clocks in almost as much trading volume as the next three most popular cryptocurrencies combined: BTC, Ethereum (ETH), and XRP.
Available as a token on more than half a dozen different blockchains, including Omni, Ethereum, EOS, Liquid, and Algorand, the US dollar-pegged stablecoin has weaved its way into practically every corner of the cryptocurrency landscape.
Tether to be the first stablecoin to launch on Solana, an ultra high-speed Layer 1 Blockchain!

The collaboration between #tether and @solana will enable Institutions to trade $USDt at Nasdaq Speeds, confirming USDt's pivotal role in supporting innovation in the crypto ecosystem. pic.twitter.com/QODNei7DZ8

— Tether (@Tether_to) September 9, 2020
Now, with more Tether being printed each month than ever before, we take a look at the current state of play surrounding the world's longest-standing stablecoin platform.
Tether: the current state of play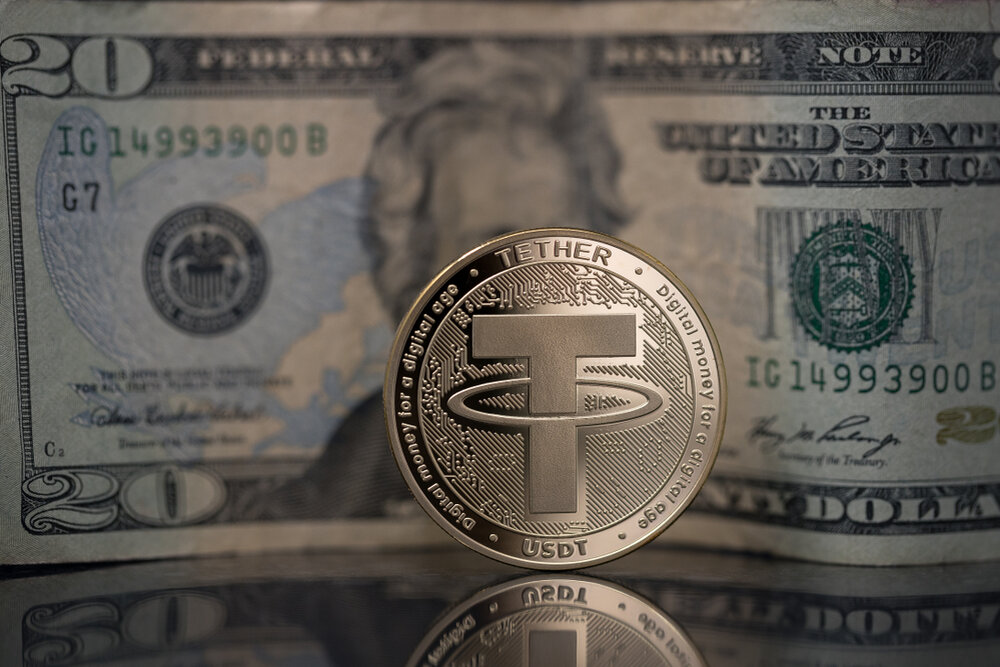 When the Tether stablecoin first launched in July 2014, it was almost immediately met with criticism—most of which focused on whether all the Tether in circulation were truly backed by US dollars held in a bank account, i.e. whether Tether was fully solvent.
As of November 2020, the stablecoin still hasn't unequivocally proven that it's not operating a fractional reserve. In 2019, Tether admitted in court documents that its stablecoin was only 74% backed by cash and cash equivalents, though the Tether website states that its reserves may include "receivables from loans made by Tether to third parties."
These receivables may include the remaining part of Bitfinex's $700 million debt to Tether, which it has been paying off in $100 million chunks since 2019. Whether it's solvent or not remains up for debate, but Tether has managed to maintain its dollar-peg in all but the most extreme circumstances and remains one of the least volatile USD stablecoins.
Since 2017, the stablecoin has been embroiled in a class-action lawsuit that described Tether as a "part-fraud, part-pump-and-dump, and part-money launder" operation, and argued that Tether parent firm iFinex was attempting to defraud investors and manipulate the market.
The most recent update on the case was a September 2020 motion to dismiss, on the basis that the plaintiffs have yet to provide any factual evidence behind their assertions.
Tether's growth in 2020
Despite these hiccups, Tether has achieved staggering growth in 2020. Not just in terms of trading volume, but also when it comes to market capitalization.
"Concerns over Tether seem to be declining, with more exchanges that have previously distanced themselves from USDT, such as FTX, now offering Tether among their trading pairs," Bithumb Global CEO Javier Sim told Decrypt.
Since the start of 2020, the number of tethers in circulation has grown exponentially. At the start of the year, Tether's market capitalization was $4.1 billion, a figure that has since nearly quintupled, with Tether now at its highest market capitalization of all time, close to $20 billion.
During this time, its average trading volume also exploded, more than doubling between January and November 2020, and further solidifying Tether's position as the most traded cryptocurrency.
The reasons behind this growth? There are a couple of main ones.
For one, it's massively popular in Asia. According to an August 2020 report by Chainalysis, Tether accounts for 33% of all value transacted on-chain in China—close to double that seen in North America (17%). This is because Tether is one of the most popular cryptocurrencies to buy OTC through brokers and other under the table methods—despite China's bans on exchanging Chinese yuan to cryptocurrencies.
A June 2020 report by Sino Capital noted that "USDT is a very popular way for Chinese crypto investors to enter the market with most exchanges offering a range of OTC options." Sino Capital CEO Matthew Graham told Decrypt that, "OTC transactions including and especially with respect to USDT are an 'open secret' in China."
On top of this, Tether also saw a dramatic surge in interest following Black Thursday in March 2020, when the vast majority of cryptocurrencies collapsed in value in one of the biggest sell-offs in recent history. As individuals and businesses looked to exit their volatile positions, demand for Tether soared—and has continued to this day, as traders use it to avoid volatility.
"Simply put, there was a liquidity crisis in exchange derivatives that created a demand for stablecoins," said Alex Alexandrov, CEO of Velas and founder of CoinPayments. "It's been supported by several top projects that have incredibly fast blockchain processing times; this is what drives interested in USDT—because they integrate their tokens in a wide range of blockchains, making it accessible to all."
Tether's rivals
Like Tether, there are a handful of other USD-backed stablecoins other there, as well as others that are pegged to the value of the US dollar but are instead backed by other assets. Though none of these have achieved the same absolute levels of success as Tether, many have surpassed it in other key areas.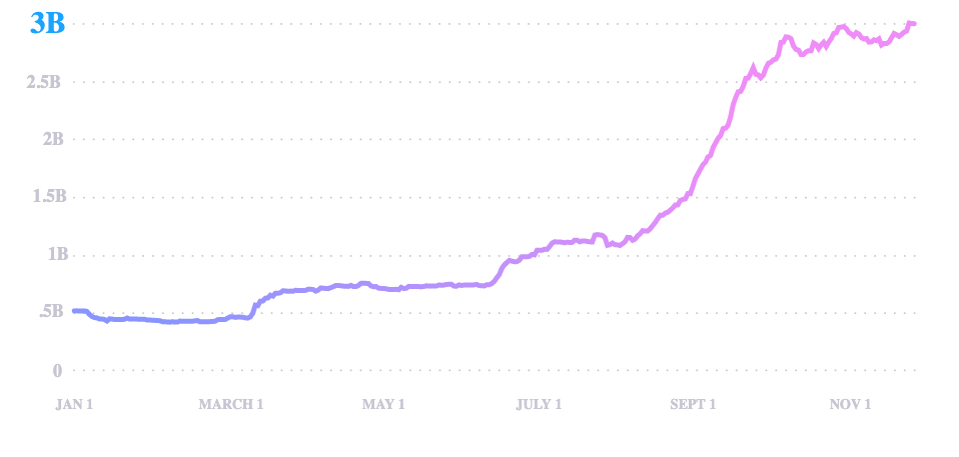 USD Coin (USDC), for example, managed to multiply its circulating supply by six-fold since the start of 2020, while Binance USD (BUSD), grew from a $17 million asset to a $670 million one over the same timeframe—due in large part to their rapidly growing number of decentralized finance (DeFi) use cases.
As it stands, USDC is by far the most popular stablecoin for DeFi applications, followed by the Ethereum-backed DAI stablecoin. Tether, on the other hand, is just the third most used stablecoin in DeFi, as measured by the total value locked in DeFi applications.
A number of DeFi-centric USD stablecoins have also sprung up in recent months, including BXTB's yield-generating CHIP stablecoin which is backed by other stablecoins (like Tether), and Kava's USDX stablecoin—both of which are targeted directly at DeFi users, further challenging Tether in this area.
Still, if Tether is facing challengers, it's validation of the broader concept of stablecoins. "The demand for stablecoins is validated by the proportional market growth of other US-pegged stablecoins such as Binance USD," said Sim.
Other stablecoins aren't the only competition faced by Tether, though; central bank digital currencies (CBDCs) are looming large on the horizon.
Governments and regulators are turning their attention to stablecoins, too; in November 2020, the British Chancellor of the Exchequer tweeted that the Treasury would publish a consultation to ensure that "new privately-issued currencies, stablecoins, meet the high standards we expect of other payment methods."
And in the US, a proposed Congressional bill would require stablecoin issuers to have a banking charter and earn regulatory approval from the Federal Reserve, FDIC and other agencies. The bill's name, the STABLE act, appears to be a not-so-veiled dig at Tether; the acronym stands for "Stablecoin Tethering and Bank Licensing Enforcement Act".