In brief
A new research note from Deutsche Bank ranks Bitcoin in the top three world currencies by market cap of its circulation, behind only USD and EUR.
But it's not an apples-to-apples comparison, and the report comes with some serious caveats.
Since its creation just over a decade ago, Bitcoin (BTC) has seen its price climb from practically nothing up to its current value of over $59,000.
In that time, Bitcoin's market capitalization—its circulation supply multiplied by the value of each unit—has skyrocketed to above $1 trillion, making Bitcoin not only the largest cryptocurrency, but also larger than most government fiat currencies.
Now Deutsche Bank crowns Bitcoin the No. 3 world currency and calls it "too important to ignore," in a new research note this week entitled, "The Future of Payments: Series 2: Part III: Bitcoins: Can The Tinkerbell Effect Become a Self-Fulfilling Prophecy?"
But the report has serious caveats and omissions.
Deutsche Bank writes, "In terms of total currency in circulation, Bitcoin is the third-largest in the world, after the US dollar and the euro. This is mainly due to the vast increase in Bitcoin's value recently. In early 2019, Bitcoin represented 'only' 3% of the US dollars in circulation, but in February 2021 it surged beyond 40% of the US dollars in circulation."
Bitcoin and fiat currencies aren't an apples-to-apples comparison, for a number of reasons that DB acknowledges in its note, including that Bitcoin has a fixed supply (capped at 21 million coins), while government fiat currencies do not. Still, DB is roughly estimating where Bitcoin sits in the world currency rankings by comparing its coin market cap to the value of total banknotes in circulation for the fiat currencies.
DB warns in a footnote that these rankings "would change dramatically if we looked at monetary base, or M1 or M2, to define the universe of USD in existence. Just the amount of cash/coins printed appears small, as it does not include all the assets held in USD in deposits at banks."
And of course, Bitcoin's market cap is dependent on its current price, which fluctuates constantly. As DB declares, "Bitcoin is here to stay and its value will remain volatile."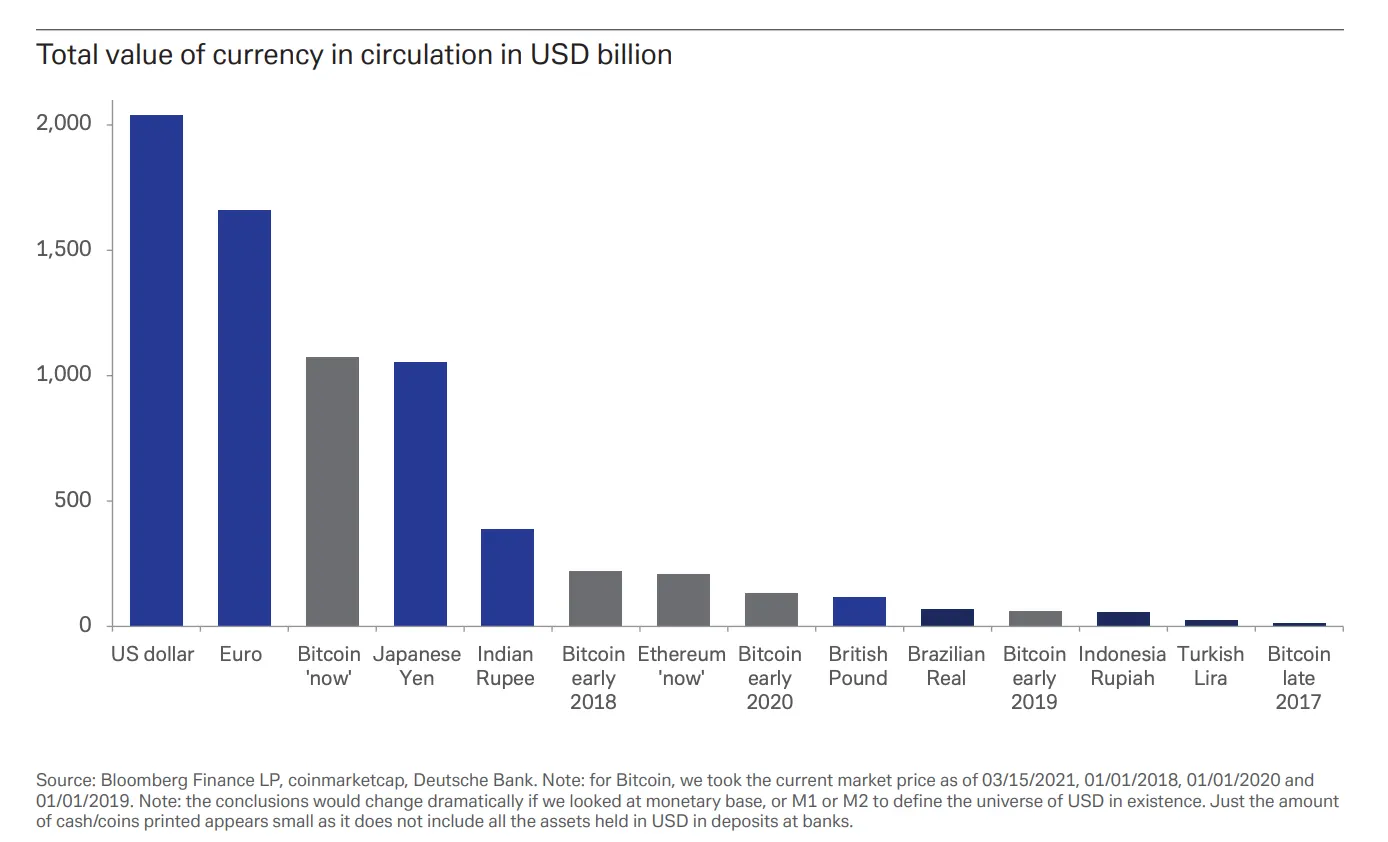 But there's another big caveat with DB's chart above. Do you notice any major currency missing? The chart, and report, entirely omits the Chinese yuan (CNY).
That's likely because China maintains strict capital controls that make the yuan not freely convertible, and the spread between the onshore and offshore yuan has been widening, all of which makes it far from straightforward to arrive at circulation volume for the yuan in this context.
That said, based on publicly available estimates, there may be around 9.19 trillion CNY in circulation, with a circulation value of $1.41 trillion. This would place CNY third and Bitcoin fourth. (Decrypt reached out to Deutsche Bank analysts for an explanation of why the bank left the Chinese yuan out of this research report.)
Where Bitcoin fits into the world currency rankings
The US dollar (USD) is still by far the largest fiat currency by circulating supply and market value. DB puts its total circulation value at $2 trillion.
According to the US Federal Reserve, there is $1.8 trillion worth of Federal Reserve notes and coins in circulation—more than three-quarters of which is made up of $100 and $20 bills.
Next up is the Euro (EUR)—a relatively new currency that first launched in 2002 and is now used throughout much of Europe and by most EU member states.
Like the US Federal Reserve, the European Central Bank maintains an up to date reference for the amount of EUR banknotes and coins it enters into circulation. According to the official statistics, there was just over 1.43 trillion euros in circulation as of the latest update (March 2021). This has ballooned more than threefold since the euro first launched, and the total value is mostly made up of €20 and €50 notes.
The Japanese yen (JPY) isn't far behind in fourth place (after Bitcoin) with at least 118.3 trillion circulating JPY notes and coins in circulation as of the last update by the Bank of Japan, or just shy of $1.09 trillion when measured against the dollar.
The Indian rupee (INR) currently has more than 34 trillion INR in notes in circulation, worth just north of $469 billion.
Bitcoin currently has 18.66 million units in circulation, each worth $59,000 at the time of writing. This places Bitcoin's M0 (money supply) cap at $1.1 trillion, just narrowly edging out the Japanese yen and sitting at just over half of the size of the US dollar. At its current market cap, Bitcoin has a money supply worth more than 170 different fiat currencies.
But transaction volume is a different thing entirely from market cap.
Deutsche Bank notes that Bitcoin transactions "are growing, but not as exponentially as its market cap. Currently, Bitcoin transactions average about 0.5 billion per day, which is minuscule. This is only 0.02% of the euro and 0.009% of transactions in dollars. The average daily traded value for USD is 5.8 trillion and for the euro is 2.1 trillion, according to the 2019 BIS triennial FX survey. Thus, Bitcoin is comparable to the smallest currencies. Bitcoin's liquidity is much closer to the Thai baht."
At its current market cap of $1.1 trillion, Bitcoin would need a further 82% price growth to become the world's largest currency (crypto or otherwise) when measured by circulation value.