In brief
Binance reportedly told the Maltese authorities in October 2019 that it's no longer seeking a license on the island 
The lack of a license from a European jurisdiction may not preclude the exchange from operating in the EU
Friday's statement, by Malta's financial regulator, that Binance is not regulated on the island, signifies a shift in the country's approach to the  crypto industry  
A statement by Malta's financial regulator, the MFSA, has raised questions about the legal status of Binance, the world's biggest exchange by volume. 
Amid much fanfare, Binance moved its base to Malta in March 2018 to take advantage of the Mediterranean island's trailblazing cryptocurrency regulations. But increased international scrutiny of Malta's financial affairs following the murder of investigative journalist Daphne Caruana Galizia has led to a change of leadership—and policy. Malta is no longer the "Blockchain Island" of yore.  
A source claiming knowledge of the matter today told Decrypt that Binance informed the authorities in October 2019 that it was no longer seeking a license on the island. But the exchange still maintains a customer service team there, and could even be expanding its Malta operation. At the same time, Martin Albert, a regulatory and anti-money laundering expert, told us that Binance does not even need a European license to operate within the EU.
Binance no longer seeking a license in Malta
The source, who is close to the MFSA, said that the authority's statement was in response to an article in a well-established local news publication, the Times of Malta. The article, which claimed that the exchange was based on the island, focused on stories from users that had allegedly lost all funds in their Binance wallets. The paper said that Binance had been obliged to apologise for a 'litany of errors."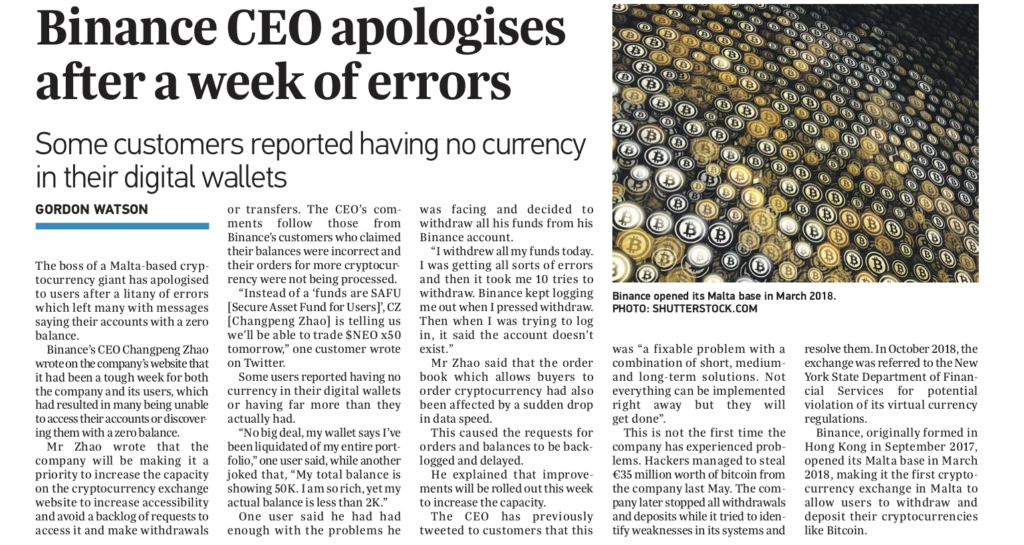 The source further said that the statement was an attempt to clarify that Malta was not the headquarters of Binance, and that Binance does not have any licensable activity in Malta. But they also claimed that the exchange had already informed the Maltese authorities that it was no longer seeking a license on the island, or an extension of "grandfathering"—a transitory period whereby license applicants were regulated by the MFSA pending the result of their license application.
While it received 340 preliminary crypto license applications last year, the MFSA is yet to issue any licenses. 
The authorities had not anticipated the furore the MFSA statement would unleash, according to Decrypt's source. Their intention was simply to correct the Times of Malta article.
However, the MFSA's statement sparked incredulity on crypto Twitter. In the months after Binance moved to Malta—having run afoul of regulators in its previous home, Japan—both the exchange and the Maltese government made much of the move.
Crypto Twitter was soon flooded with questions about why Internet pages referencing Malta had been changed, and Malta had been quietly removed from Binance's terms and conditions. Coincidentally or not, the changes appeared to have been made not long after disgraced premier Joseph Muscat—the architect of Malta's blockchain island policies—stepped down. 
Neither could observers fathom how the exchange could function without a clearly defined location for its headquarters. 
Even after dozens of people ask where binance is actually HQ'ed, CZ does not give a definite answer. China, Japan, Taiwan, Malta, Bermuda, Caymans, Jersey, Signapore,...? Why do you guys trust a company that doesn't even reveal where they're located? pic.twitter.com/KNsP6LDmKS

— Robin Timmerman (@Est0nian) February 21, 2020
Binance CEO Changpeng Zhao took to Twitter to dispel the "FUD," stating that the exchange was never headquartered in, or operated in Malta.
Where next for Binance?
Decrypt has previously established that Binance is, in fact, registered in the Cayman Islands, with offices in locations throughout the world, including Malta. It's also applying for licenses in a number of other jurisdictions, but that may not include Europe, with its tough new anti-money laundering rules.
In fact, Mariana Gospodinova, formerly head of operations for Binance Europe, left the cryptocurrency exchange in January, and has not since been replaced.
European business is likely to be a mere fraction of Binance's worldwide volume. The euro is the third most traded national currency for Bitcoin, but euro trades make up less than 5 percent of global exchanges' total volume, according to data from price data provider Coinhills. 
So although Binance could look to crypto-friendly European jurisdictions like Portugal, to take advantage of the country's 0% cryptocurrency tax (or in Estonia, Lichtenstein or Switzerland, which are also crypto-friendly jurisdictions), it's possible that the exchange many forsake a European license altogether. 
According to independent regulatory expert Martin Albert, Binance doesn't even need a license to operate in Europe, so long as the exchange is not based there, and not "actively" targeting the market. 
Albert used German legislation as an example. He said that under German law, a foreign exchange cannot market its products at Germans explicitly without a license—by translating its website into German, for instance. 
The German financial regulator, BaFIN, blocked localbitcoins.com when the peer-to-peer exchange began hosting a German site, Albert pointed out. 
Binance can, of course, incorporate a German subsidiary and then actively target the German market. 
And, from March this year, the regulations in Germany will change; a license is needed to be a cryptocurrency custodian. Germany adopted this measure as a response to the European Union's 5th European Money Laundering Directive. However, not all EU countries have interpreted the directive in the same way. 
Binance declined to comment on whether it's taking steps to acquire a license in Europe or launch any new subsidiaries there—whether in Germany, or elsewhere. Coincidentally, Zhao posted a snap of himself in Germany on the day the country's new regulations were announced. 
Malta built a crypto industry on the back of Binance
Despite its crypto-friendly image, Malta's so-called "trailblazing" regulations are stringent, industry insiders have told Decrypt. On top of this, the island's activities have come under increased scrutiny in the wake of Caruana Galizia's murder.
"Malta offered Binance two years refuge from international regulators on the back of a lie," tweeted anonymous Maltese blogger BugM, when the MFSA statement was published. 
The blogger is one of many determined to bring Caruana Galizia's killers to justice. In January, BugM revealed to Decrypt that following the allegations of corruption made by Galizia, and her subsequent murder, the government was looking for something to show off. A move to Malta by the world's biggest cryptocurrency exchange would have fit the bill perfectly.  
Malta built a crypto industry on the back of Binance's move. But in the wake of the departure of the disgraced Muscat, licensing the world's biggest crypto exchange is likely to be too much of a stretch for a government now keen to keep a low profile, and to toe the EU line. 
"The regulation in Malta came out of a mindset of technocracy, rent-seeking and EU-obedience, exactly the opposite of what's needed," Leon Siegmund, a board member of Malta's Blockchain Association and founder of Bitcoin Club Malta, told Decrypt.
"As a result, the Binance headquarters are on the Cayman Islands, not on the Maltese Islands," he added.  
Perhaps the MFSA's casting off of Binance really is the last nail in the coffin for Malta's "blockchain island" dreams.