Singapore, Singapore, May 9th, 2023, Chainwire
Warner Music Singapore and Affyn, a prominent Singapore-based Web3 company, announced today that they are partnering to create new opportunities for artists and audiences in the gaming industry.
The deal aims to motivate and inspire creators to explore the endless possibilities of the Web3 gaming world, and provide everyone with unique experiences that have never been seen before.
As part of the partnership, Warner Music Singapore will produce a customized song featuring bilingual artist J.M3 (pronounced Jamie) for Affyn's new game. In addition, she will also be performing as a main character via an avatar in the game's trailer, creating an immersive audio-visual experience for fans.
Commenting on the alliance, Lucaz Lee, CEO of Affyn said: "This collaboration with Warner Music Singapore represents a new era of digital content consumption, leveraging Web3 technology to support musicians, artists, creators, and collaborators in delivering an even more immersive and interactive experience to our audiences. We look forward to the exciting possibilities that this partnership will bring to our platform and to the wider entertainment industry."
Gerald Ang, Managing Director of Warner Music Singapore added: "We are delighted to collaborate with Affyn to explore innovative and creative approaches to promote Warner Music Singapore's artists by taking audience engagement to unprecedented levels. By tapping into new avenues and fans, we can broaden our reach in ground-breaking ways. We look forward to continuing our close partnership with Affyn and identifying more exciting opportunities for collaboration."
Affyn will be revealing more details about its new game set to launch this year at their keynote event, Evolution, on May 10. Separately, J.M3, with her recent releases such as 'Castle', 'Don't lmk', and 'Hot Sauce', will also be dropping her hotly anticipated debut EP titled 180:Athena on all major DSPs on May 19.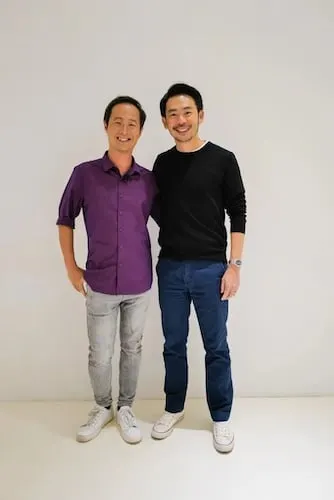 Lucaz Lee, CEO of Affyn & Gerald Ang, Managing Director of Warner Music Singapore
About Warner Music Group
With a legacy extending back over 200 years, Warner Music Group (WMG) today brings together artists, songwriters, and entrepreneurs that are moving entertainment culture across the globe. Operating in more than 70 countries through a network of affiliates and licensees, WMG's Recorded Music division includes renowned labels such as Asylum, Atlantic, Big Beat, Canvasback, Elektra, Erato, First Night, Fueled by Ramen, Nonesuch, Parlophone, Reprise, Rhino, Roadrunner, Sire, Spinnin', Warner Records, Warner Classics, and Warner Music Nashville. WMG's music publishing arm, Warner Chappell Music, has a catalog of over 1 million copyrights spanning every musical genre, from the standards of the Great American Songbook to the biggest hits of the 21st century. Warner Music Group is also home to ADA, the independent artist and label services company, as well as consumer brands such as Songkick, the live music app; EMP, the merchandise e-tailer; and UPROXX, the youth culture destination. Follow WMG on Instagram, Twitter, LinkedIn, and Facebook.
About Warner Music Singapore
Registered for business in 1978, Warner Music Singapore has been a leading major record label in the country for international artists, as well as homegrown domestic talents such as Nathan Hartono, J.M3 and OHMYMEITING. Follow WM Singapore on Instagram, Twitter, TikTok, Youtube, and Facebook.
About Affyn
Affyn is building a blockchain-powered Multiverse of interoperable games and metaverses. Together with a global community of co-creators, we are forging a sustainable economy converging the virtual and real worlds. Affyn is based in Singapore.
Contact
Angela Leung, Mellisa Abdullah
Angela.Leung@warnermusic.com, Mellisa.Abdullah@affyn.com
Disclaimer: Press release sponsored by our commercial partners.