Opening Day marked fresh beginnings for Major League Baseball teams and fans, but ghosts of crypto's past are still haunting at least one ballpark.
As spotted during the Washington Nationals' first home game on Thursday, Nationals Park in Washington D.C. is still promoting Terra—the crypto ecosystem that collapsed in May 2022, sending the wider industry into a tailspin. Terra founder Do Kwon was arrested in Montenegro last week after months on the run from authorities.
The Nationals signed a five-year deal worth $40 million with Terra in February 2022. An exclusive Terra Club opened behind home plate as a luxury field-level space for fans willing to pay $290 or more per ticket. Interestingly, the deal was struck between the team and the Terra DAO, or decentralized autonomous organization—a community of investors and supporters.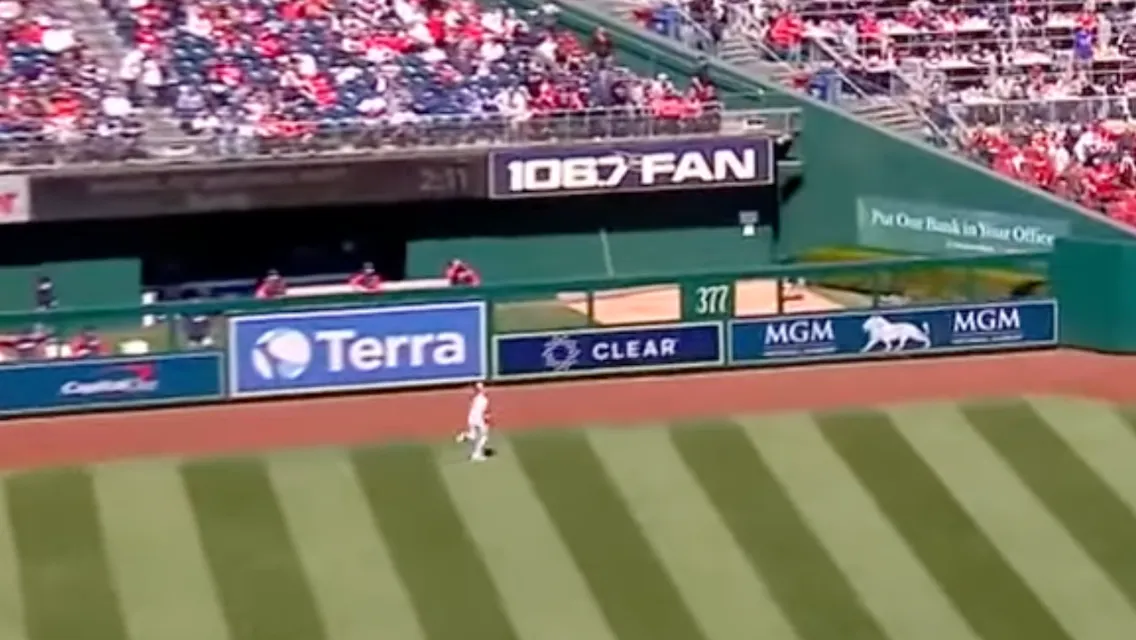 The Nationals lost their home opener on Thursday against the Atlanta Braves, but Washington Post reporter Jesse Dougherty pointed out that Terra's branded seats still appeared behind home plate. Terra also still has a large sign along the outfield wall at National Park, as clearly seen in an official MLB highlights video and in the screenshot above.
"Sounds like a solid company. Will check out," one Twitter user joked upon seeing Terra's "A decentralized economy needs decentralized money" ad appear on a screen at Nationals Park.
Decrypt reached out to the Washington Nationals for comment, but did not immediately hear back.
Terra's UST stablecoin lost its U.S. dollar peg last May and cratered in value, and the intertwined LUNA cryptocurrency quickly followed suit. Investors lost tens of billions of dollars worth of value in the rapid implosion, which in turn tanked crypto prices across the market.
Even shortly after the collapse, the Nationals continued promoting Terra—including by sharing a "Crypto 101" video presented by Terra posted on the team's official Twitter account on May 10, 2022.
The team's decision to keep Terra branding in the stadium is opposite to that of Major League Baseball's choice with collapsed crypto exchange FTX, which was the league's first-ever umpire patch sponsor. The patches did not return this season after MLB ended its FTX sponsorship amid the fallen exchange's ongoing bankruptcy proceedings.
Terra, FTX, and Voyager are all crypto firms that collapsed over the past year after signing sponsorship deals in sports. Despite the turbulent times, new crypto deals in sports haven't slowed completely—this week, Formula 1's Williams Racing added crypto exchange Kraken as a partner while rival team McLaren expanded its existing deal with the OKX exchange.