Tether's stablecoin market capitalization swelled to nearly $75 billion on Thursday morning, its highest level since May 2022, data from CoinGecko shows.
USDT's market cap is now almost twice as much as that of USD Coin (USDC), the world's second-largest stablecoin issued by the Boston-based company Circle.
The two stablecoins are the current market leaders by market capitalization for this category of cryptocurrency. Stablecoins have become a key feature of the digital asset economy, ballooning in value over the past several years. In March 2020, for example, USDC had a market cap of roughly $564 million; today, that figure is now $37.7 billion, per CoinGecko.
Circle's market cap took a major hit recently, though, amid the latest banking crisis. The stablecoin briefly lost its intended $1 peg last week amid the debacle surrounding the Silicon Valley Bank (SVB), where Circle held as much as $3.3 billion in reserves.
Many investors fled to alternatives during the depegging, and data now shows that they have yet to return.
Tether dominance increases
Though USDC's woes appear to be resolved and is now trading back at parity with the greenback, the aftershocks from the SVB bank run show that investors have nevertheless been increasingly opting for USDT.
This has been demonstrated by USDT's dominance, which has surged to 58.1%, the highest level since mid-September 2021, according to Glassnode.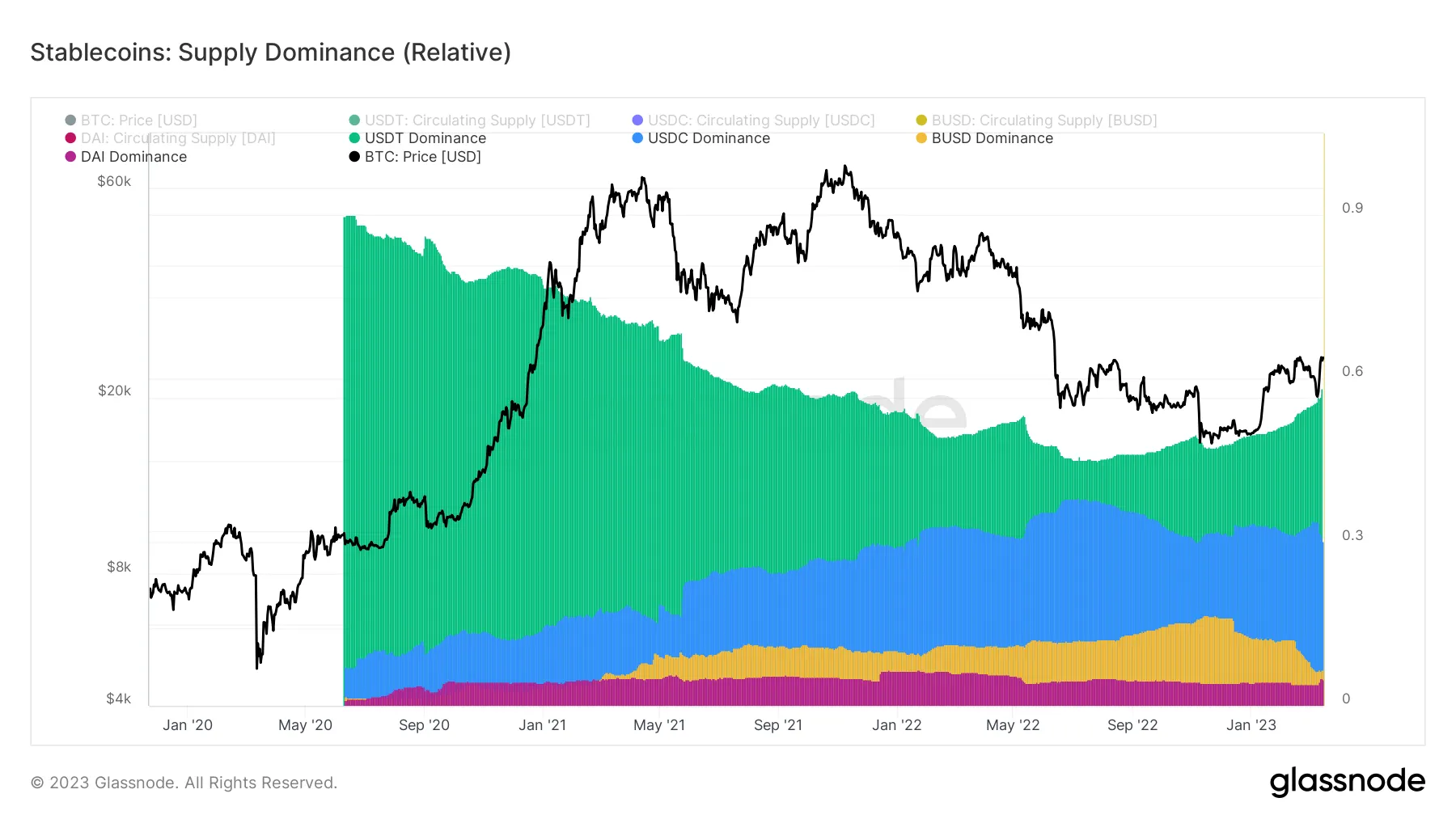 USDC's dominance, meanwhile, fell to slightly over 30%, a significant drop from almost 38% last summer, when Circle's stablecoin sought to capitalize on USDT's troubles amid the Terra meltdown.
Back then, USDT briefly lost its dollar peg, with Tether holders redeeming more than $7 billion worth of the stablecoin for cash in roughly 48 hours.
Another reason fueling USDT's growing dominance is the sharp decline in Binance's BUSD stablecoin supply following the regulatory crackdown, which lead to Paxos, the issuer of the stablecoin, halting the minting of the token.
As data from CoinGecko shows, BUSD's market fell from $16 billion on February 13 to just $8.3 billion as of today.