Despite the fierce headwinds the crypto industry faced over the last year, Web3 development activity has grown at an impressive rate, according to a new report.
One such key indicator is the number of smart contracts deployed on the Ethereum mainnet, which grew 293% as compared to 2021, reaching rates that resembled the peaks of the previous year, per the "Q4'22 State of Web3 report" released today by blockchain software and development company Alchemy.
Remarkably, this peak of activity came in the fourth quarter of 2022, just as FTX collapsed, driving hefty outflows of funds across the industry's largest exchanges.
Per the report, the number of deployed smart contracts in Q4 2022 grew 453% quarter-to-quarter, reaching a staggering 4.6 million.
Additionally, the deployment of smart contracts on Ethereum's Goerli testnet grew 187% over the last three months of 2022—and as much as 721% year-to-year—to reach an all-time high of 2.7 million and signal that more decentralized applications (dapps) may enter the market in the future.
The report used several sources for data collection purposes, including Dune Analytics, DappRadar, and Github, among others.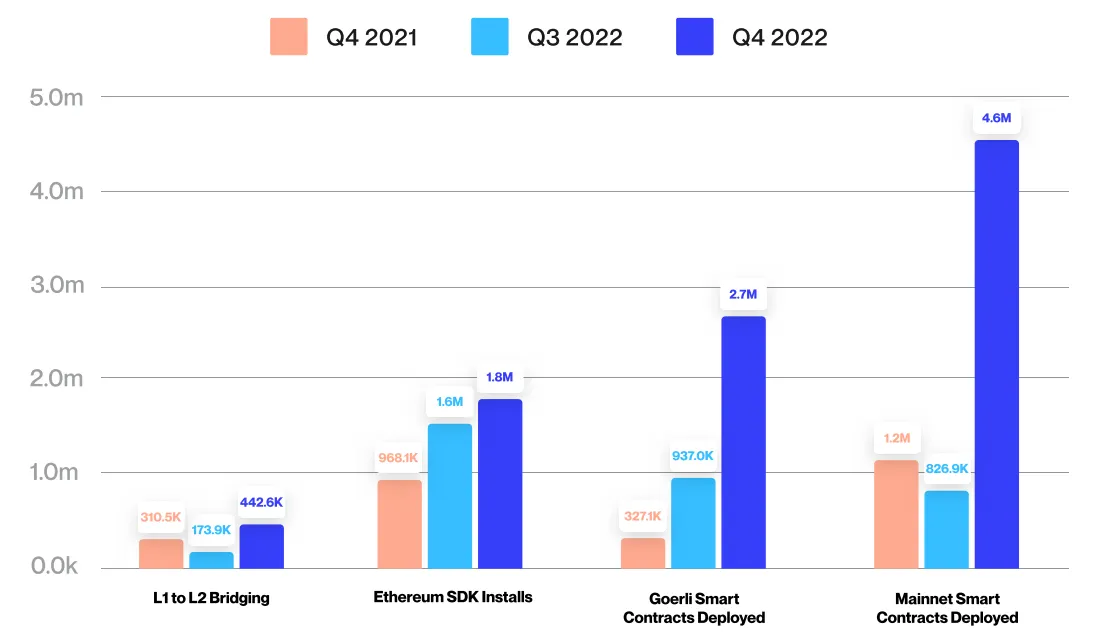 Developer activity on the rise
Smart contracts, a term coined by blockchain pioneer Nick Szabo in the 1990s, are self-executing pieces of computer code that debuted on the Ethereum blockchain, laying the groundwork for decentralized exchanges (DEXs) and non-custodial lending and borrowing apps.
"The Web3 developer community is proving to be extremely resilient. This report shows that they're as focused and motivated as ever to build the future of this ecosystem—while honestly acknowledging the unnecessary setbacks we have seen in 2022," Alchemy's head of growth Jason Shah told Decrypt.
Additionally, in December Alchemy surveyed 985 developers, and of those, 94% said they were committed to building in Web3, which "highlighted a positive outlook despite being in the thick of crypto winter," per Alchemy.
Following the launch of its Alchemy University in October, the San Francisco-based firm said that more than 100,000 applications poured in, indicating strong interest in building Web3 development skills.
"We're encouraged by these numbers and expect developer activity to continue to increase in 2023," Shah told Decrypt, although conceding that this may potentially be happening at a slower rate given decreasing investment in Web3 companies.