A day after former FTX Chief Executive Sam Bankman-Fried was arrested in the Bahamas, United States Attorney for the Southern District of New York Damian Williams provided insight into the charges levied against him.
Earlier today, Bankman-Fried's indictment was unveiled by the attorney's office, revealing the disgraced crypto entrepreneur has been charged with eight crimes, including wire fraud and conspiracy to commit money laundering.
"It's fair to say that [...] this is one of the biggest financial frauds in American history," Williams said.
Williams added that it was only possible to bring a case against Bankman-Fried this quickly through the coordination of multiple government agencies.
"For every day of the past month, the dedicated prosecutors of this office and our partners from the FBI, SEC, and CFTC have been working around the clock to figure out what happened and to begin the process of seeking justice," Williams said.
Williams said that FTX had been misappropriating funds as far back as 2019. He also claimed that FTX had lied to investors during the bear market in cryptocurrencies this year about the state of his business and risk management practices.
"FTX operated behind a veneer of legitimacy," said SEC Director of Enforcement Gurbir Grewal. "That veneer wasn't just thin, it was illegitimate."
Grewal said that claims about customer protections were "bogus" and alleged that Bankman-Fried provided Alameda Research, a sister company that he also founded, with an unlimited line of credit that stemmed from customer funds.
Bankman-Fried also allegedly misled investors as he tried to secure money to fill the hole in FTX. 
The former FTX CEO is being charged with not only allegedly defrauding customers of FTX, but also lenders who gave money to Alameda Research and those who invested in his exchange. Bankman-Fried is also being charged with violations of campaign finance law. Williams said that stolen customer funds were used by Bankman-Fried to donate to political candidates and pursue influence.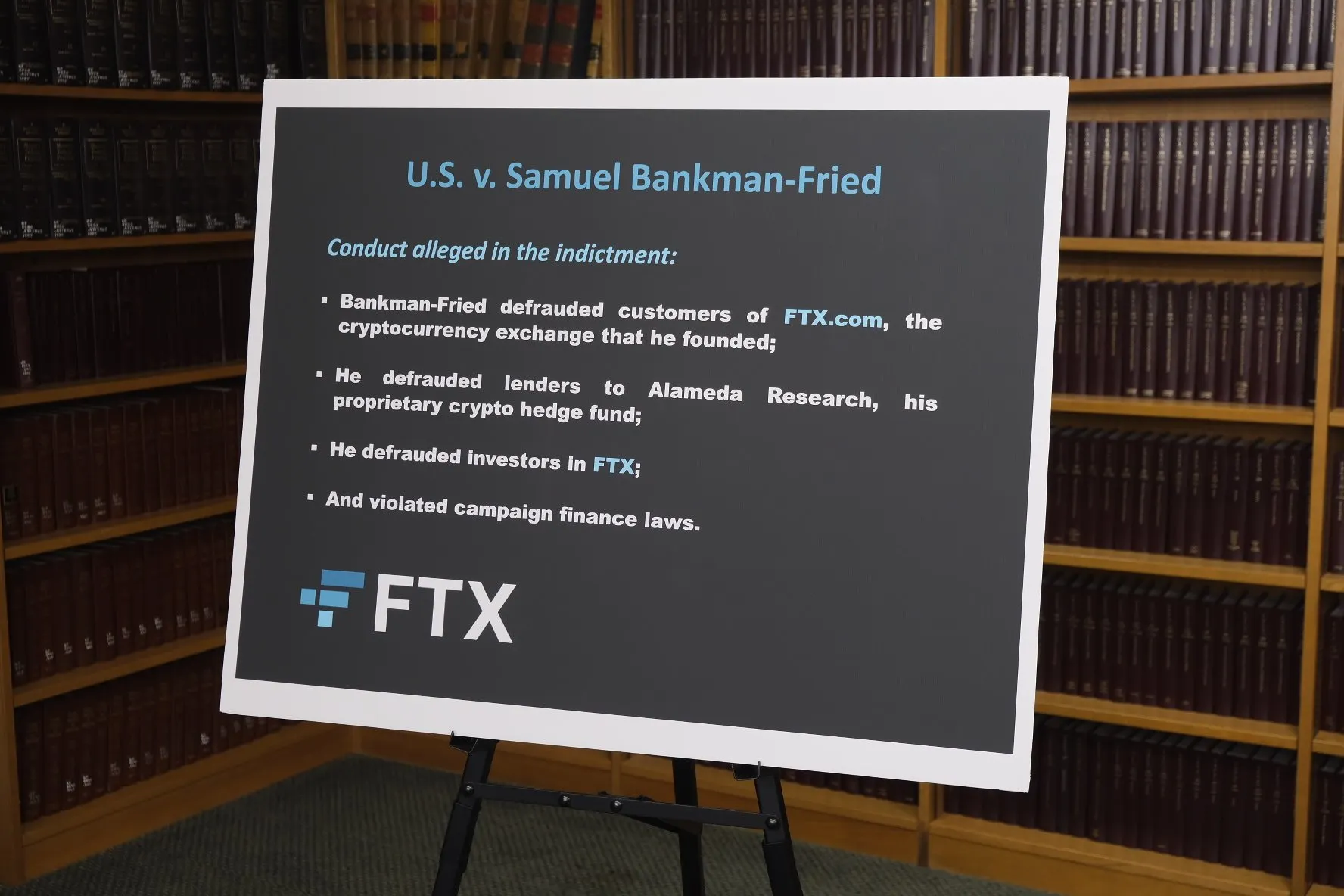 Bankman-Fried was set to answer questions about the collapse of his company before the House Financial Services Committee today. Members of Congress, including House Financial Services Committee Chair Maxine Waters, have questioned the timing of Bankman-Fried's arrest.
"The public has been waiting eagerly to get these answers under oath before Congress, and the timing of this arrest denies the public this opportunity," Waters said in a statement.
In response to questions about why Bankman-Fried was not allowed to testify before Congress prior to being arrested, U.S. Attorney Williams said that his office authorized charges against Bankman-Fried last week on Wednesday and indicted him on Friday. "We had a warrant for his arrest," Williams said, adding that the "timing was dictated by law enforcement, rather than any other considerations, including the timing of his testimony in Congress."
The hearing went on without Bankman-Fried, and newly appointed FTX CEO John Jay Ray III, who is leading the company's liquidation process, provided insight into the now-bankrupt exchange's mishandling.
Ray, who previously oversaw the liquidation of Enron, described FTX as having ​​"virtually no internal controls and no separateness whatsoever" to keep track of trading positions or manage its closeness to Alameda Research, the hedge fund that is alleged to have received customer funds in the billions.
Bankman-Fried was arrested just over a month after FTX filed for bankruptcy on Nov. 11. The exchange found itself in a position where it was unable to satisfy customer withdrawals after it was revealed Alameda's balance sheet was heavily reliant on illiquid tokens connected to various ventures backed by Bankman-Fried.
A lawsuit against Bankman-Fried was also announced today by the Commodity Futures Trading Commission today over alleged violations of commodities law. Gretchen Lowe, acting director of the division of enforcement at the CFTC said it has identified $8 billion in customer losses as of today.