The Sandbox, an Ethereum-based metaverse game, is kicking off its three-part LAND sale on Thursday in collaboration with popular brands like Tony Hawk, Snoop Dog, and Playboy, among others, the platform told Decrypt. 
The Sandbox is a crypto-powered game akin to Roblox or Minecraft, but which harnesses blockchain technology to provide users with ownership of in-game assets via NFTs and the ability to trade virtual land on marketplaces such as OpenSea. 
The upcoming sale will auction 1,967 LANDs—50 estates, 695 regular LANDs, 134 premium LANDs, and 19 1-of-1 pieces of LAND—with standard and premium LAND sales allocated via a blind ballot system. An estate is several LANDs that have been connected to make a larger parcel in the game. 
LAND is an NFT-ified virtual piece of real estate that makes up the building blocks of The Sandbox game. Users can purchase plots of land, similar to traditional real estate, and use the space to host experiences or simply trade them on marketplaces. The game has a total supply of 166,464 LANDs currently valued at 1.119 Ethereum a piece.
The sale begins November 24 with an inaugural wave titled California Dreamin' representing "California-themed brands such as Playboy and The Marathon," and progress through two more thematic launches until completion in early 2023. 
The Sandbox ties up with big brands
This is the first time that The Sandbox has partnered with multiple brands during a single LAND sale. 
"By including multiple brands that share a similar theme, like the California brands of California Dreamin' [...] users now have the chance to be neighbors of multiple partners that share a similar theme, like choosing the district you want to live in for a city," co-founder and COO of The Sandbox Sebastien Borget told Decrypt.
Due to the blind ballot, users will be granted the opportunity to "acquire a prestigious virtual LAND and become Paris Hilton's or Snoop Dogg's neighbor, or even build their own club close to Cipriani," he said.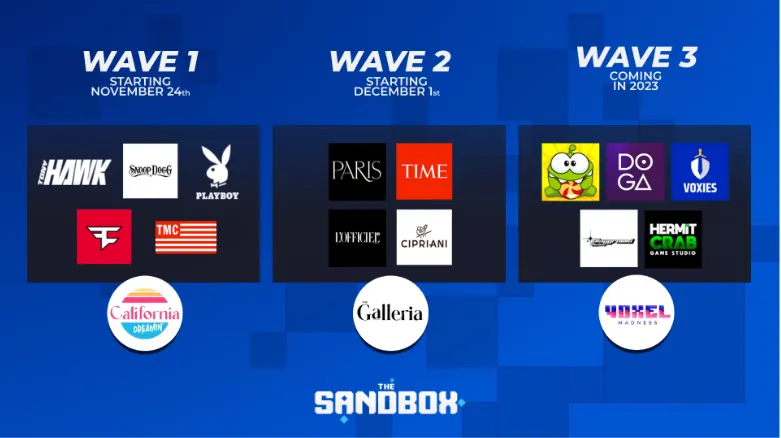 To participate in the auction, users must have a minimum of 1,011 SAND in their blockchain wallet, equivalent to $526.43 at press time. The sale will be limited to one asset per user. 
On their decision to implement stringent entry requirements for the sale, including requiring users to hold a minimum value of SAND in their wallet and KYC security procedures, Borget said that he anticipates this approach will democratize the distribution of assets.
"The biggest challenge we're facing with our LAND sale is ensuring we serve our community by continuing to push toward decentralization and true ownership of its metaverse," he added.
The second wave of LAND sales, titled The Galleria, will feature a virtual neighborhood experience built around the sectors of fashion, media, and hospitality. This sale is slated for December 1, and the third sale is expected in early 2023.