Web3 film funding platform Decentralized Pictures has announced the launch of its blockchain-based film financing application, set to go live during the Cannes Film Festival on May 20.
The app will launch with a documentary film award in partnership with The Gotham Film & Media Institute; up to two winning projects will receive up to $50,000 each in finishing funds, alongside mentorship from the Decentralized Pictures Foundation and The Gotham.
The platform effectively works along the same lines as a decentralized autonomous organization (DAO). Filmmakers are invited to submit proposals on the platform for review, paying a small submission fee in the project's native token, FILMCredits.
They can earn FILMCredits tokens by providing feedback on other projects' proposals. The community then votes to determine which projects should be considered for funding awards.
Founded by producer-director Roman Coppola and members of Francis Ford Coppola's production company American Zoetrope, the Decentralized Pictures Foundation (DCP) is a 501(c)(3) nonprofit. It receives a portion of the profits from successful films funded by the platform, which are then allocated to new funding awards.
"After years of hard work, we're opening our doors to the community and inviting independent filmmakers around the world to submit their projects for a chance to bring their visions to life," said DCP co-founder Roman Coppola, in a statement accompanying the news.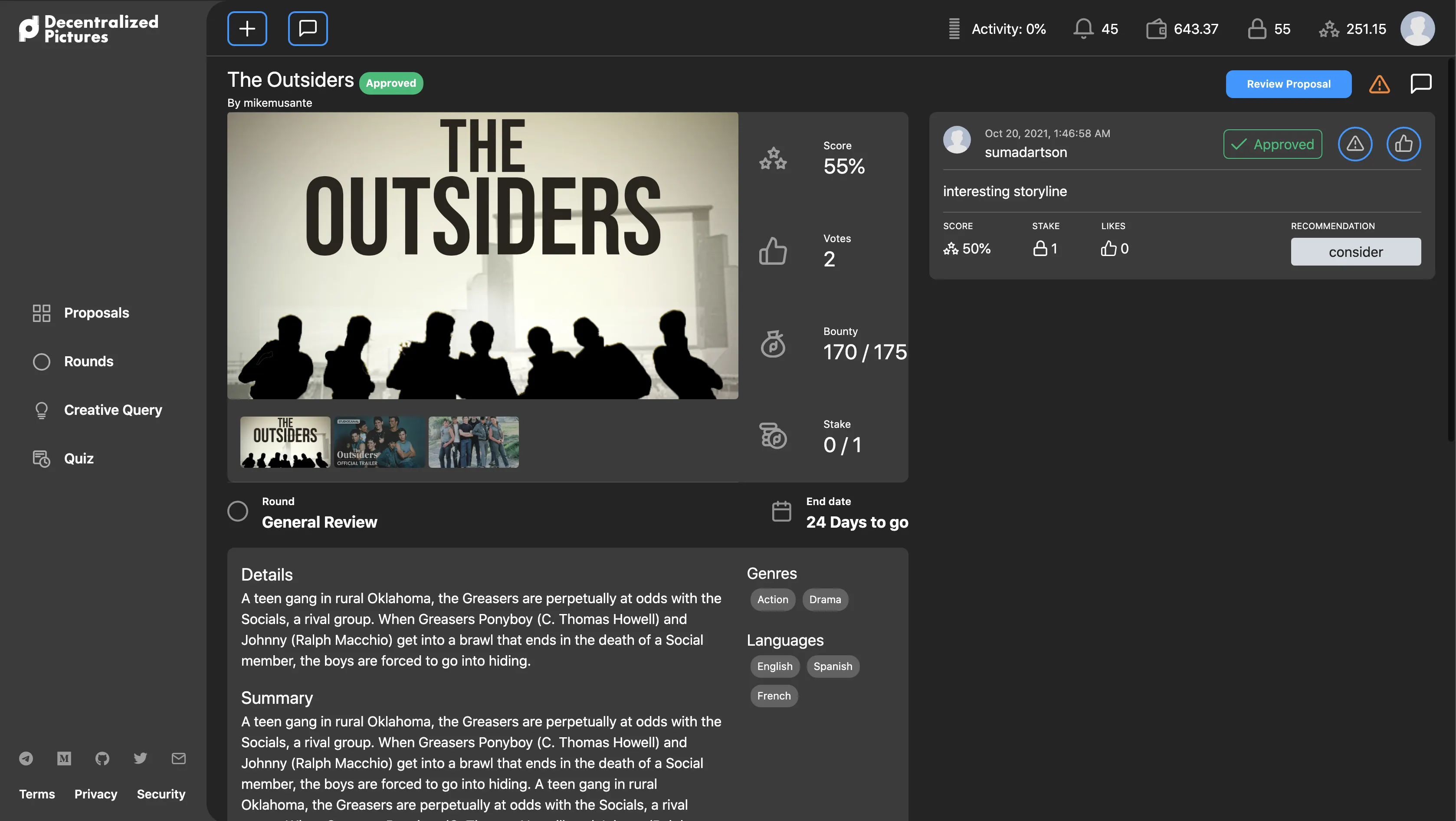 "What we're trying to create here is an evergreen, self-sustaining film fund," Decentralized Pictures co-founder Mike Musante told Decrypt in a December 2021 interview.
Built on a "slightly tweaked" version of the Tezos blockchain, the platform has ambitions of eventually evolving into a "virtual studio," in which blockchain technology will play a part in every step of the production process. Our vision is that this virtual studio will be a constellation of apps that support independent artists and underserved artists," Musante said.
Although Decentralized Pictures has DAO-like elements, it's not fully decentralized at launch; projects voted on by the community will be submitted for review by an expert panel before funding is allocated. Still, the platform hopes to provide an alternative to the centralized gatekeepers that control access to the film industry as it stands.
"We're building another road," Decentralized Pictures co-founder Leo Matchett told Decrypt, describing the platform as a "filtering" mechanism to find quality filmmakers.
Hollywood players are already pitching in too.
Last month, "Ocean's Eleven" director Steven Soderbergh contributed $300,000 to fund an award on the platform. "As with a lot of things I've done, it's kind of an experiment," Soderbergh told industry publication IndieWire, adding that he wants "to get up in the grill of this blockchain approach or structure to see if it's going to do what it's supposed to do."
On the platform's launch on May 20, participants will be able to sign up, submit, and review proposals on the Decentralized Pictures site. The submission process for The Gotham and Decentralized Pictures Documentary Initiative kicks off on May 20 and will run through June 20.  
Decentralized Pictures will be presenting the platform at The Future of Film, a series of talks hosted by Decrypt and FF3 at the Cannes Film Festival on May 20.